This house was designed by architect Jaroslav Joseph Polivka. Originally from Prague, in what was then Czechoslovakia, Polivka got his big break in the mid-40s after getting in touch with Frank Lloyd Wright about one of his projects, impressing Wright with his attitude to modernist design, and subsequently embarking on a collaboration with Wright in the final years of his life.
You can tell from several aspects of the house that it was built by a disciple of the great modernist house-builder. You need only look at the beams, which extend from the centre of the house several metres, creating the kind of exaggeratedly overhanging eaves we saw earlier this year in the Bynya House.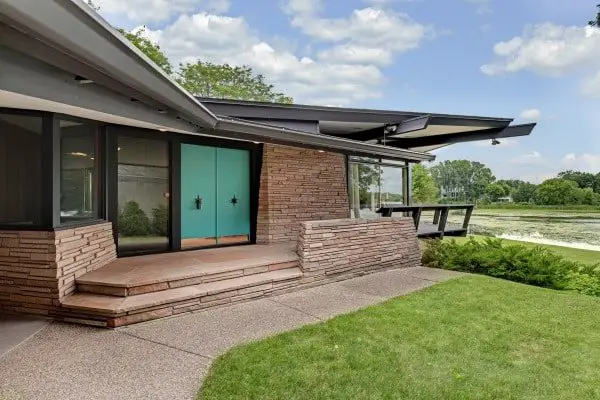 But there are also several signs that confirm the Minnesota House was not a product of the Wright himself, but rather a product of Polivka's own unique vision.
Most notably, the emphasis the architect has placed on making a statement lends it to another aspect of the mid-century style not associated with Wright: the curious Googie sub-genre that flourished in the period.
Googie is everywhere to see. Viewed from the exterior, the structure explodes outwards as any road-side diner would. The turquoise doors indulge demonstrate the futurist elements of the style, with chrome skirting panels at the bottom topped off by black, twinkling star-shaped door knobs.
Meanwhile, the jagged pattern of the floor tiles in the entrance hall are showcase the wacky shapes that are so characteristic of Googie architecture.
This collision of Googie and Frank Lloyd Wright aesthetics could come across as over the top but it's such an interesting and well executed design that you have to leave such doubts at the door.
Wright may have balked at the zanier aspects of the design but he would have approved of the captivating shapes it manages to pull.