We often share the experience of lucky Eichler home owners, living in beautiful houses with open plan interiors, floor to ceiling windows and inner patios. Building homes like this, helped to make Joseph Eichler one of the most loved and famous American developers of the 21st Century.
But during his career as developer and advocate of the Modernist aesthetic, Eichler also built residential apartment blocks.
Ryan and his wife are the lucky owners of an apartment in one of the Eichler buildings in San Francisco. Initially attracted by its peculiar facade and minimalist look, Ryan tells us how they fell in love with both their building and Joseph Eichler's work.
First of all, could you tell us a little bit about your background?
I am originally from the greatest midwest city of them all, Kansas City, KS. I grew up outside of the city though, with plenty of fields to roam and woods to play in.
Growing up in a place that was close to city life and open country, I learned to appreciate the beauty of design, in both nature and architecture. Whether that was in the low, clean lines of my Grandmother's living room, or the incredible sunsets over the golden fields of my "backyard" – everything around me was a springboard for inspiration.
Throughout my childhood, I was naturally drawn to the creative arts, drawing, painting etc. I completely fell in love with drawing in particular, which led to an interest in graphic design. Fast forward a few years and I couldn't be happier, designing every single day for a living.
READ ALSO: Becoming Eichler Home Owners: Sometimes It Is Just Meant To Be.
Following on from that, what brought you to living in your house and what drew you to the mid-century style?
My wife and I live in a Eichler built tower in downtown San Francisco, erected in 1964. It's a simple building, with clean lines and a no-frills attitude. However, the one thing that immediately drew us in were the large semi-circular balconies that slice into the facade of the building.
In a confident way, it stands its ground among a mix of art deco ornamentation and victorian apartments that populate the downtown Tenderloin neighborhood.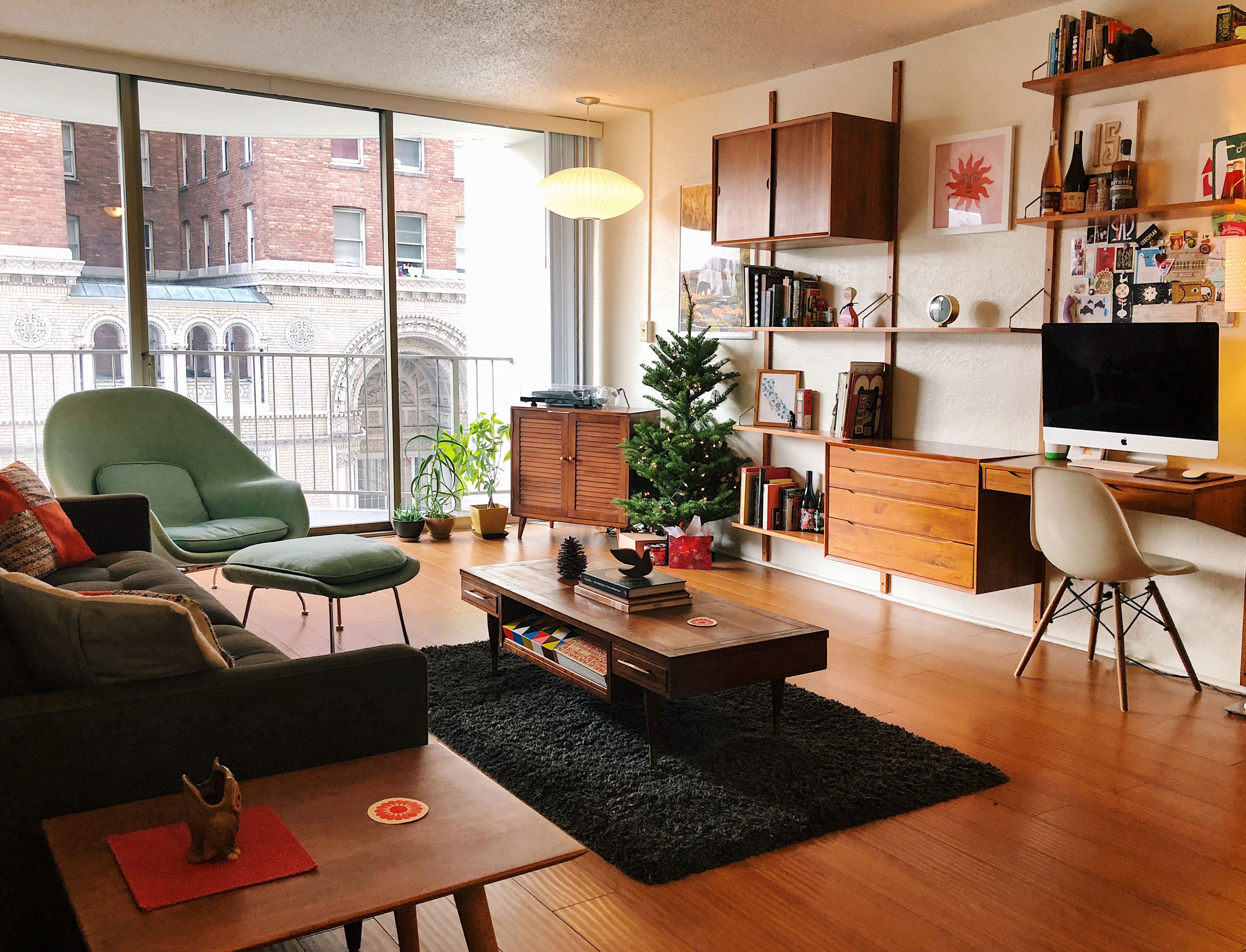 What do you think was special about the mid-century period in design?
I think what's special about design in general in the mid-century is that there was a radical shift to simplicity and clarity. Whether that's letting materials do the talking in furniture design or communicating a message boldly and iconically in a piece of graphic art — it's really a period of design that achieves a sophisticated warmth.
When looking around me (literally), I see Eames, McCobb and Saarinen designs. All exquisitely clean and ground breaking in their elegant designs, yet so friendly and inviting; something that was unprecedented before.
RED ALSO: This "Super Eichler" by Claude Oakand is Full of Colour
What did you know about Joseph Eichler before moving in?
Honestly, we had no idea the building was even tied in any way to Eichler. I, of course knew of his work, but not a clue he was actually the developer of ours, too.
A visit to the Tenderloin museum (which I highly recommend) got us interested in the history of our building more than ever before. With some digging, and the careful eye of a close friend, we tracked down the building's history. When we found out, we were amazed and actually felt a new level of pride for our humble abode.
What are the advantages, and struggles, of living in a mid-century building?
Our place is actually quite wonderfully built. It's unburdened by twee elements or frivolous furnishings, lending to virtually no maintenance and a ease of living that may not be found in your usual San Francisco, 1920's era apartment.
The design of the apartment is so that the major focus is the large wall to wall, floor to ceiling windows in both the living space and bedroom, which are updated and quite efficient.
They, along with the large open plan of the living room, make for a versatile space that has the ability to turn from entertainment room, to painting studio to design office all with ease.
READ ALSO: The Eichler Homes Remodelling Expert: John Klopf
You have a beautiful collection of mid-century design. Do you feel constrained in your interior design choices because of the house heritage?
It was definitely a conscience effort to find an apartment that would lend itself to mid-century furnishings, we just happened to find a perfect fit.
On the other side of things, I think you could really have any style of furniture you'd like and it would work seamlessly. I mean, what doesn't look good with large windows and clean walls, it's almost like a blank canvas.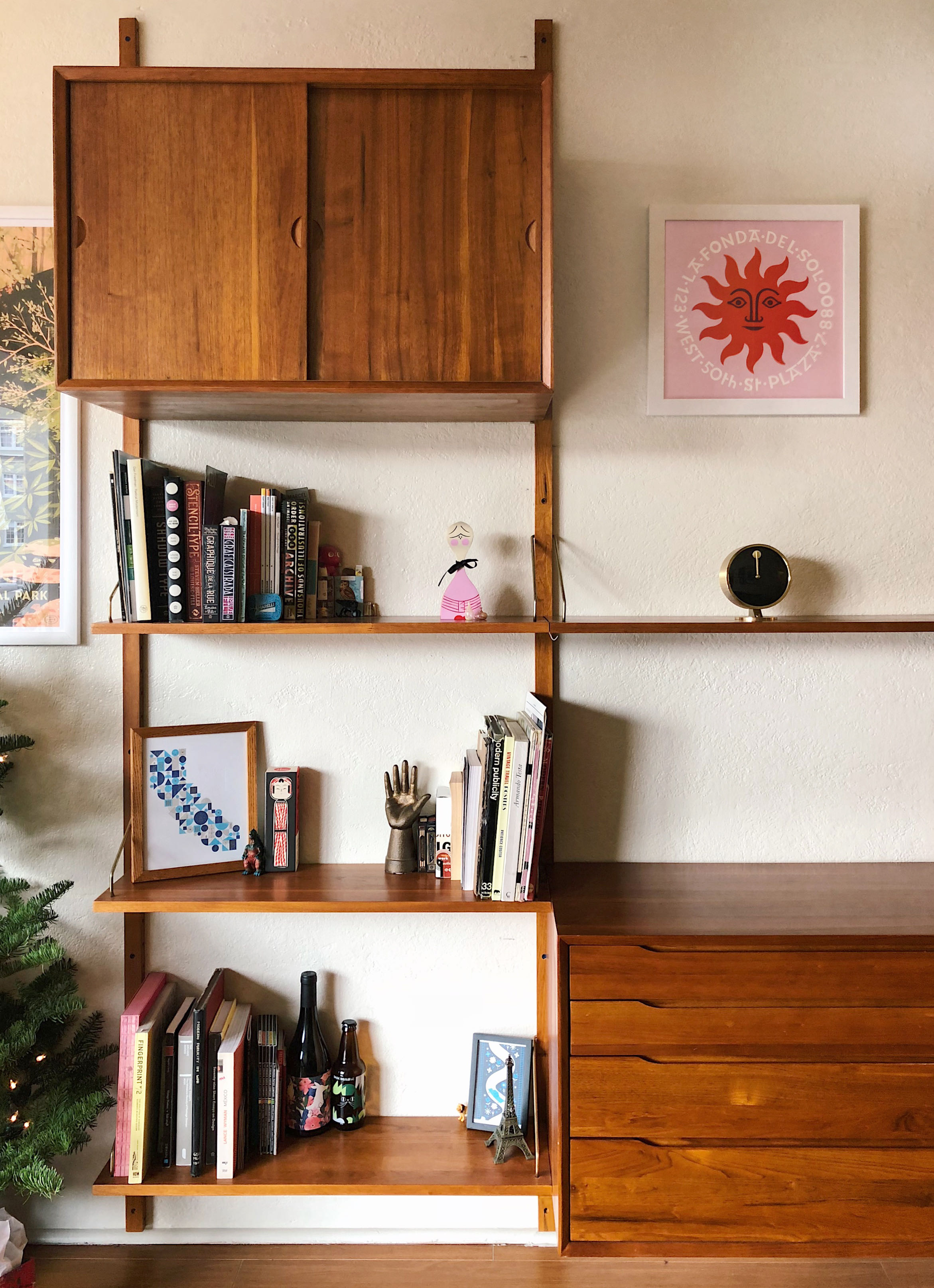 Last but not least, do you have any tip for people interested in buying a mid-century house today? What they should pay attention to and why?
I think, specifically in San Francisco, the biggest and most important virtue to excel at is patience, because unfortunately they are somewhat scarce to come by. I would also suggest connecting with local enthusiasts, collectors and keep your ear to the ground: you might just get some valuable insider info.