American architect John Lautner designed the Elrod House in 1968. The Elrod House is an example of Lautner's so-called free architecture designs, where nature and architecture are fused into one element.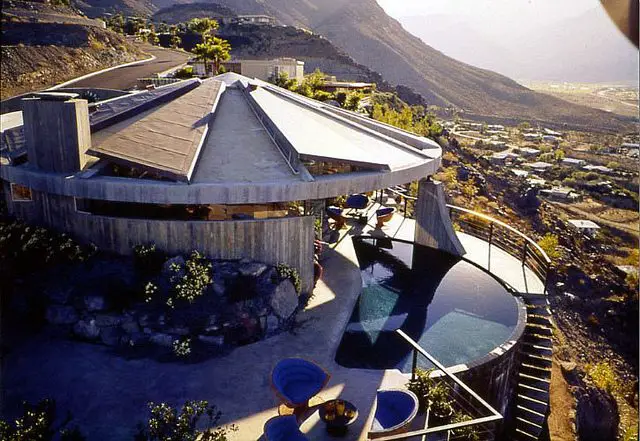 When construction  started, Lautner instructed the excavators to extract the soil and leave the rocks in place.
Part of the interior is formed by these rocks and runs straight through walls and surroundings. From the outside, the house does not seem very attractive but once inside, it's as if you are being mesmerised by the elegant,  timeless beauty of John Lautner's Elrod House.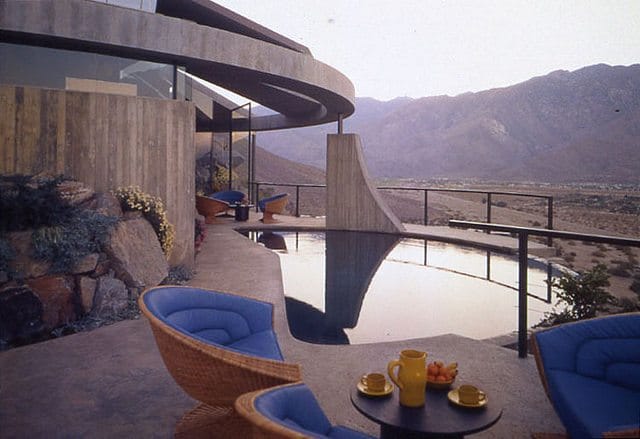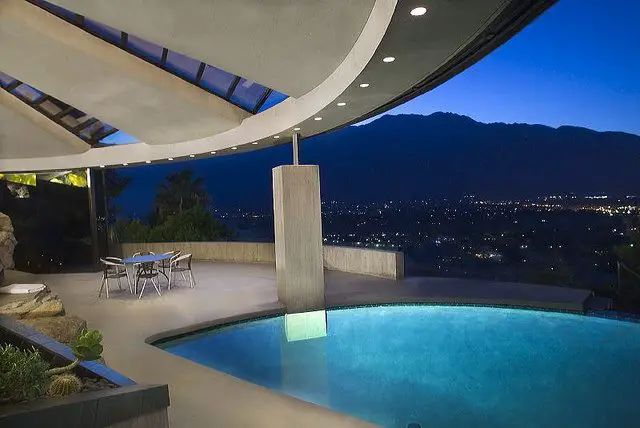 The upper level carport is just off the street, adjacent to the main entry of the house. At first glance, concrete slabs and nature are the dominating elements. Following a curved concrete wall, adorned by lush greenery, nicely tucked away is the main entry walkway.
A gate-door made of copper separates the courtyard from the street level and also provides a first glimpse of the magnificent concrete roofline of the house. The front-door is just short of spectacular with frameless glazing, creating an illusion of entering a luxurious cave.
The masterful use of concrete allowed Lautner to create long spans and to mould spaces from a material expressive of itself. In a sense John Lautner's Elrod House marks a turning point in the development of his architecture which leads to the extravagant flowing forms of the Segel Residence (1979).
READ ALSO: John Lautner, The Wolff Residence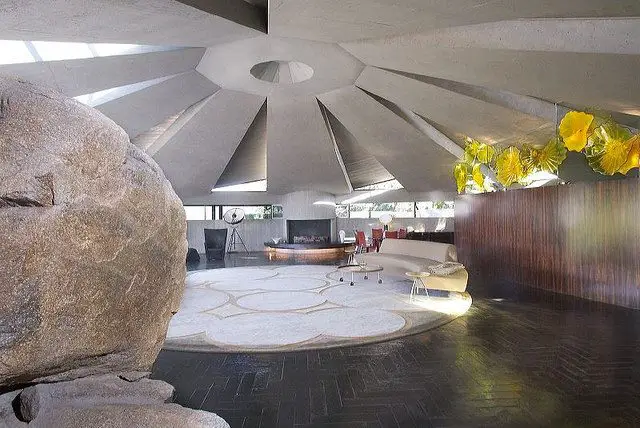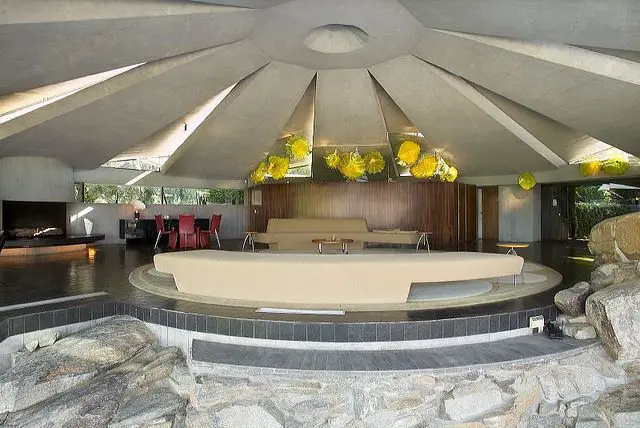 Lautner built more than 100 private houses during his career. They all were experimental and representative of his creativity and innovative spirit. Some of these houses include the Carling House (1947), the Foster House (1950) and the Malin House also known as Chemosphere (1960). John Lautner also designed the Sheats/Goldstein House (1963) in Los Angeles, Califorma, as well as the Stevens House (1968) in Malibu Bay Colony, California.
When entering the main space, with its 60ft in diameter, the clear-span roof opens to the sky above, with light penetrating the space through the angled sun protectors of the roof. The chamfers to the edges of these openings accentuate the thickness of the concrete shell, beautifully made by an old contractor of Frank Lloyd Wright's, Wally Niewiadomski. This room eminates a feeling of lift off from an outer space projectile. The floors are cut down into the rock so that the bigger boulders are at roof height.
At night the black slate throws no reflection, and from the seating area on the circular carpet in the living room, the view of stars and lights in the valley, which twinkle in the reflection of the pool, must seem a special performance seen from a private island.