Born and raised in bustling Shanghai, William Krisel and his parents moved to California in 1937. It is often noted that Krisel's fathers interaction with architect Lilian Rice, who had designed the family's California home, was to thank for his early interest in architecture.
After serving during World War II, Krisel graduated in 1949 and earned the architecture license the following year.
This same year he entered a partnership with Hungary-born architect Dan Saxon Palmer. Palmer, who also served during WWII as a mapmaker, draftsman, and photographer, had earned a B.A. in Architecture from New York University in 1942.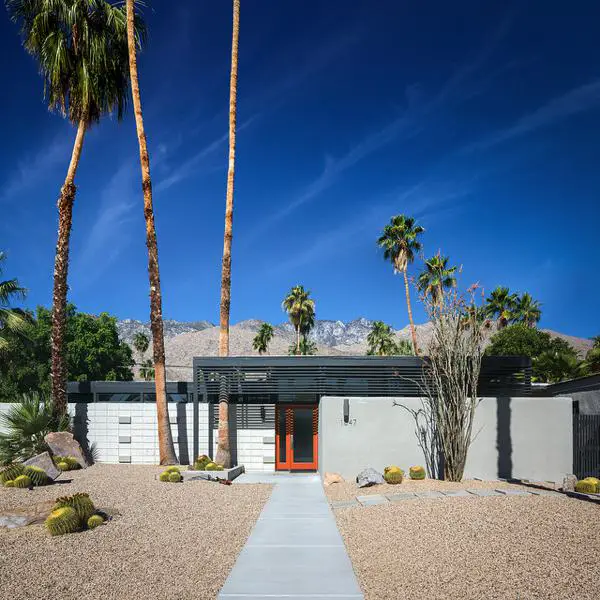 The two architects designed Modernist tract homes, that established the foundations for Southern California's suburban boom during the mid-century period.
The early works of architects Palmer & Krisel, focused primarily on commercial and residential designs emphasizing indoor-outdoor living in a casual way, constantly experimenting with building methods, layout patterns, and materials to address the modern lifestyle.
In particular, the firm developed a post-and-beam system which led to the modular design in the their first tract development in 1952, Corbin Palms, in the western San Fernando Valley. The former agricultural area was quickly repurposed as suburban community by World War II veterans and other transplants attracted by good jobs in the aerospace and entertainment industries.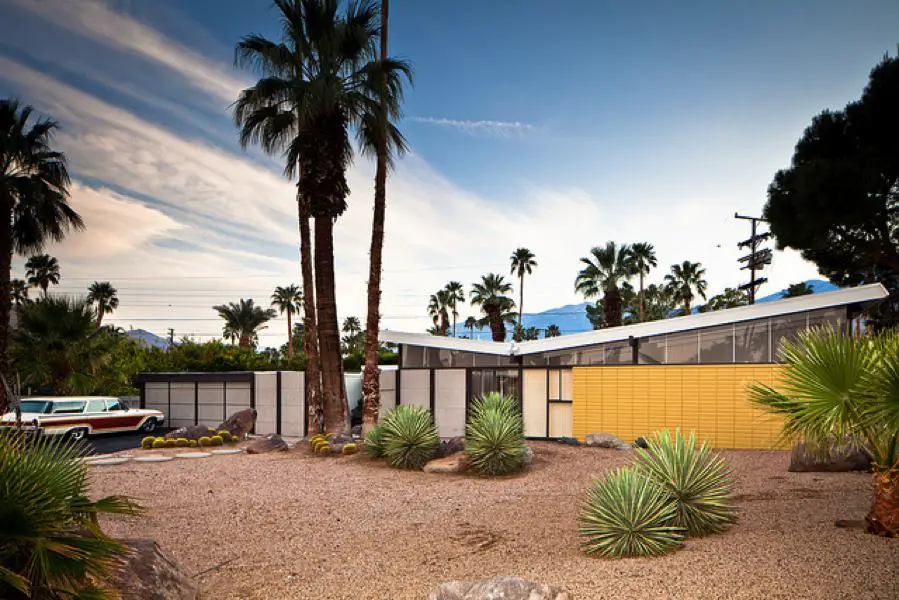 The development consisted of a dozen homes built in partnership with the family-owned Alexander Construction Company, a collaboration which lasted for several years and produced the so called 'Alexanders'.
Eventually, the duo designed roughly 20,000 residential units in the Southern California region.
In 1954, the Alexander Construction Company set their prospects on recreational development in the Coachella Valley, Palm Springs, and contracted Dan Palmer and William Krisel to build a resort called the Ocotillo Lodge.
The Ocotillo was completed in 1957 with nearby tract homes, making second-home ownership outside of Los Angeles more feasible to the region's middle class.
Some of these dwellings include the Twin Palm Estates and the Sandpiper Condominiums, among others: recognizable for their unique landscaping, stone walls, swimming pools, and views of the desert.
During this time, William Krisel also made an impression designing an upscale home called "The House of Tomorrow", an experimental project for Bob and Helene Alexander later known as the Elvis Honeymoon Hideaway.
Krisel worked independently for several years after his partnership with Palmer ended in 1964, Palmer going on to manage residential and commercial designs for projects in Saudi Arabia. With architect Abraham Shapiro, under the name Krisel/Shapiro & Associates. Krisel put his architectural skills to use on large office complexes, commercial buildings, and residential establishments.
With a renewed attention for mid-century modern architecture, the interest around William Krisel's works also resurged. Restoration efforts were made to his homes and new ones were built using updated versions of old plans. William Krisel died in 2017 while his former business partner Dan Saxon Palmer left 10 years before.