This house in Palm Springs California is a real period piece. Built in 1957, it showcases the original work of expert interior designer Arthur Elrod, with much of his work still intact and looking as stylish as it did when he first worked his magic.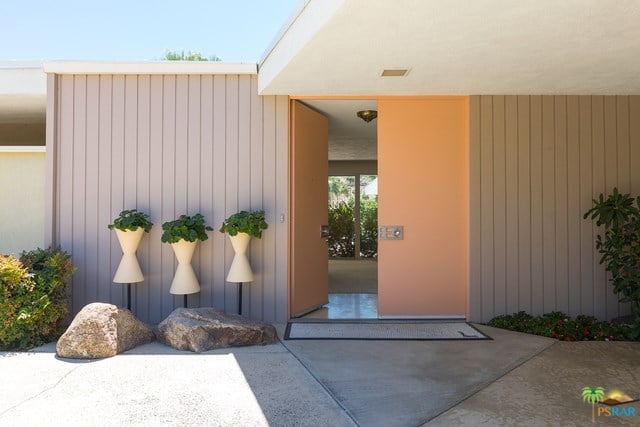 An orange, and particularly light orange, motif runs throughout this house. In the living area, the seating, comprising a sofa, three chairs, including an original Eero Saarinen Womb Chair, all features the same light peach fabric, either in the upholstery or the accompanying cushions. Likewise, the front door is also painted in peach.
ALSO READ: William Krisel in Palm Springs – Mid-Century meets Contemporary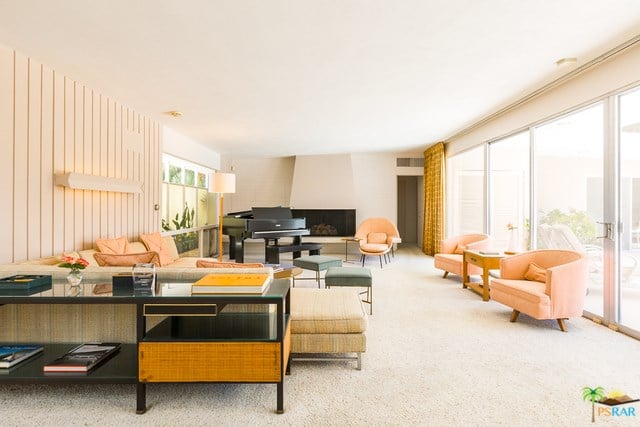 Meanwhile, there are numerous other little flourishes of orange dotted around elsewhere in the interior, for instance, in the smaller living area, which has a large abstract painting in orange complimented by a sofa featuring orange cushions and a light with orange lamp shade.
The effect this has is to lend a subtle lightness and warmth to the whole house, especially when combined with the base off-white colour that prevails on the walls, floors, ceiling and much of the furnishings (notably including a set of Tulip Chairs surrounding a Tulip Dining Table, both also designed by Saarinen).
ALSO READ: E. Stewart Williams' Understated Palm Springs Modernism
With such an incisive combination of colours, it's clear Elrod really knew how to make a house look cosy.