Darren Bradley is a talented architecture photographer passionate about Modernist and Brutalist architecture, but also a collector of mid-century modern designs. Today, Darren shows us his own mid-century house in San Diego designed by legendary architects Palmer & Krisel.
MCH: Hi Darren, tell us a bit about yourself and the story of your house.
DB: We learned about William Krisel, the architect, when we first rented a house he'd designed in Palm Springs back in the late 90s during a quick vacation. When I found out that he'd designed homes in San Diego, I quickly found the neighborhood I wanted to live in.
But it took another four years before I could find the right house for sale there. We bought it in March of 2004, added the pool right away, then moved out in November and spent another six months remodeling it. Moved back in around May/June of 2005.
We also reached out to William Krisel, who was very gracious in his help and advice to us. We wanted to make changes, but we also wanted to keep it a modernist, 1950s house and not lose too much of Krisel's design signatures.
Krisel's designs for San Diego were generally a bit less open and less modernist-looking. He explained that the San Diego homes were intended as primary residences, whereas the Palm Springs homes were vacation homes.
Bill Krisel is now a close family friend and has been to the house many times.
READ ALSO: 6 Palmer and Krisel Houses in Palm Springs
MCH: Which are the biggest benefits and challenges of living in a Mid-Century Modern house?
DB: Challenges: Housing maintenance and repair are the biggest challenges. Finding parts and finding competent repairmen remains a challenge. These houses were built in a time when there were still trained tradesmen. Nowadays, houses are built using pre-fab parts and can be assembled by unskilled labor. In this house, all the edges and corners have to be straight and perfect. Not easy to find people who know how to do that anymore.
Also, not much insulation. Thankfully, we live in a place where the temperature only varies between 60 and 80 degrees F all year. So we don't need AC and we rarely use the heater.
Advantages: It's remarkably easy to keep clean. We do everything ourselves. And the house is small at less than 1600 square feet. But everyone thinks its much bigger because it's so well designed and efficient. Having those glass walls means there's so much natural light, we never turn lights on unless it's evening.
It was a 'green' house long before anyone knew about such things. Even when we're inside, we feel like we're outside. We love that. It flows well, and it's perfect for entertaining. But it's also comfortable with lots of little intimate spaces for when you want that.
MCH: Which architectural elements do you like the most of your house?
DB: My wife would probably say the kitchen, because she spends all of her time in there and loves it.
MCH: Where did you buy the furniture?
DB: We have a mixture of vintage mid-century modern pieces that we've collected over the years (from friends, thrift shops, estate sales, design shops) and some new, licensed reissues. We're always on the lookout for new pieces.
MCH: Is there a specific Mid-century Modern designer that inspires you?
DB: I think William Krisel is one of the few, truly successful architects/designers of the mid-century modern time that successfully realised the promise of modernism – to bring good design to the people.
But there are others, too. We love Lautner, too, and also the work that Jerrold Lomax did for Craig Ellwood. As far as furniture designers go, I'd have to say George Nelson is my favorite, along with Finn Juhl.
I've never found any deals yet on vintage Juhl pieces, but we have some Nelson in our house. My daughter's bedroom has several, for example. The Danish designers seem to get a lot of play with us, in general. Arne Jacobsen, Juhl, Kjaerholm.
MCH: If you had an unlimited budget, which piece of furniture would you buy?
DB: Hard to pick just one. Perhaps a Finn Juhl chair (model NV-53) like the ones Harley Earl had in his office at GM, or a Kjaerholm PK-80 daybed.
Do you live in a mid-century or modernist-inspired contemporary house and want to be featured on MidCenturyHome? Contact us with some photos and a short description of your house at: info@midcenturyhome.com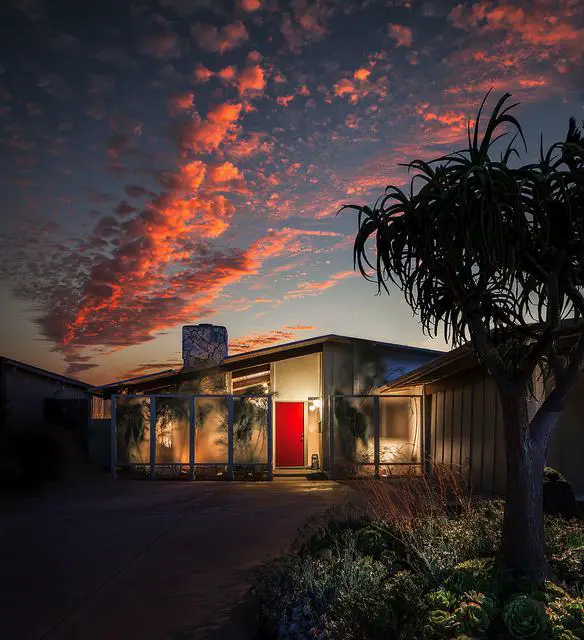 Photo by Darren Bradley