Located in Mission Hills, Kansas, this mid-century modern house has all the best bits of a contemporary style home while preserving its original qualities.
Such an impressive balance is in no small part thanks to a thoughtful 2012 remodel by its owners, Rob Barnes and Karen Bisset, in collaboration with el dorado architects.
ALSO READ: A Portland Mid-Century Home is Right Out of the Eichler Playbook
A running theme in the house is asymmetry. This is specifically conveyed in the masonry, which constituted a new addition, inspired by the original stonework and derived from the same quarry.
These asymmetrical stone walls (situated on each side of the building and as structural support elsewhere) are composed of a delightful hodgepodge of differently shaped stone bricks. With the bricks exposed across the home's interior, this lovely pattern repeats itself in curious variations.
ALSO READ: A Time Capsule in Adelaide. The Robin Boyd Walkey Residence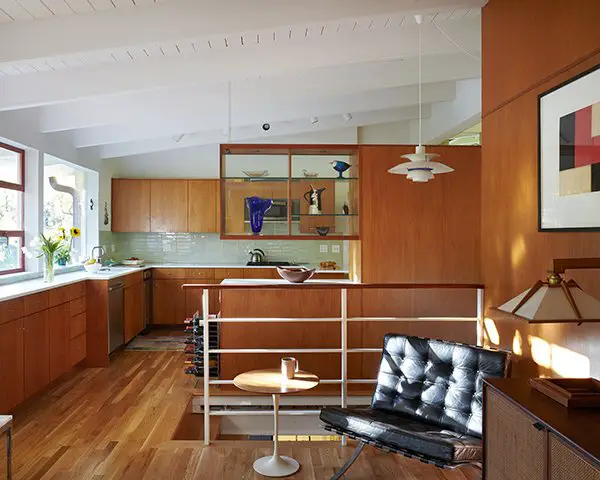 From this baseline, you can view the rest of the images through the lens of asymmetry. This is particularly evident in features such as the set of stairs cutting the living room and kitchen in half and the way that the slant of the roof cuts through the space.
Besides asymmetry, another element worthy of note is that the house is decked out in some beautiful mid-century modern furniture. The most notable instances are the Scandinavian table set or the Eames molded plywood chair in the living room, but they are also accompanied by a really lovely sofa and a neat set of chairs, upholstered in a subtle yet intricate beige, orange, blue and brown square-patterned fabric.
Furthermore, the particular strand of Danish modern mid-century furniture is present throughout the house. Namely, there is the cabinet beside the two living room chairs, a simple set of six drawers, this is matched by an even more minimal cabinet on the other side of the room, beside the table, which is itself quintessentially Danish modern.
All in all, it's a really impressive remodel.