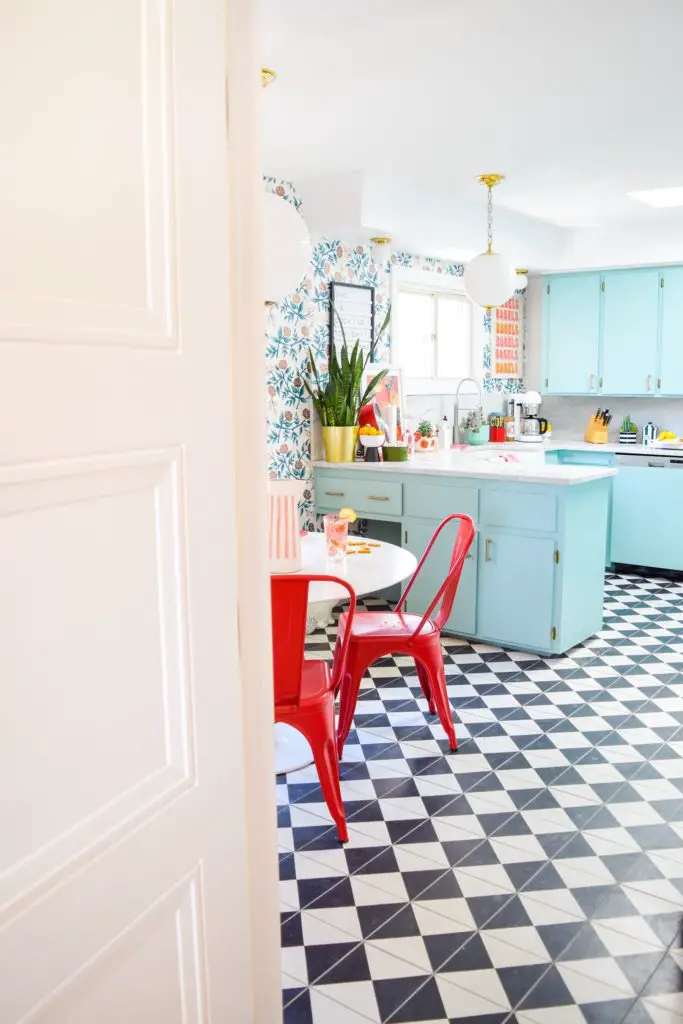 Ariel of home decor and DIY blog PMQ for TWO shares a beautiful midcentury home with her family of three plus pets. As part of the One Room Challenge, Ariel and her husband Dan aspired to modernize their kitchen. Here, Ariel guides us through the changes and choices during the renovation of their kitchen with before and after photos to paint a picture of the transformation.
"My name is Ariel and I'm the voice behind PMQ for two, a site where I create bold, bright, colourful and creative content. I live in a 1960s house with my husband, baby girl, and three pets. We live in full colour, and are on a mission to turn our mid century home, into a mid century modern home.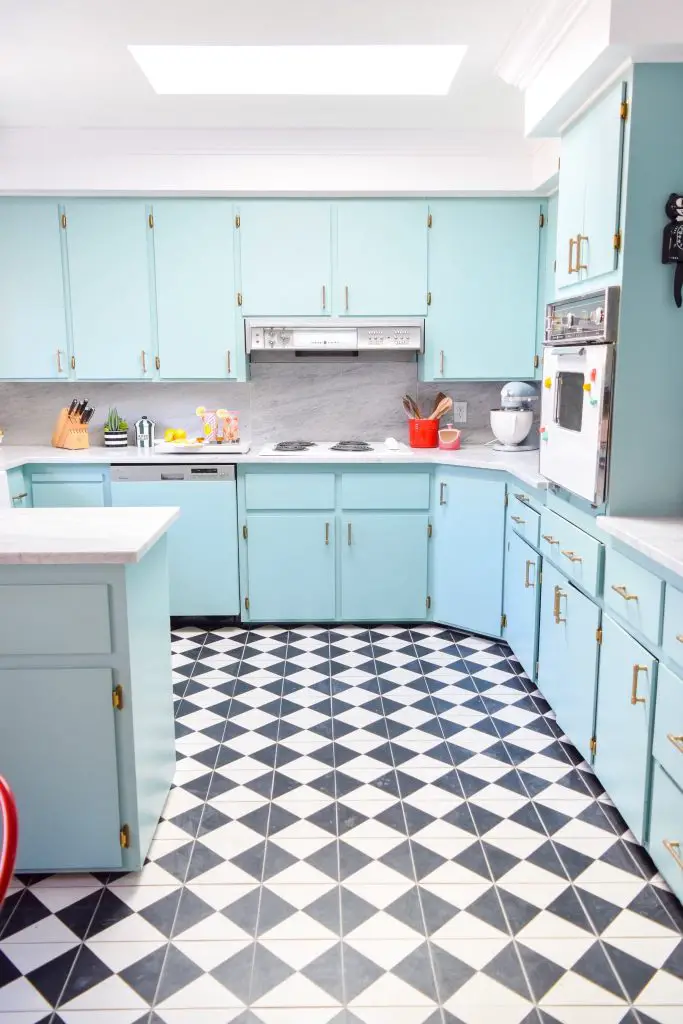 In the spring of 2019 as part of the One Room Challenge, we completed renovated our 1960s kitchen. This space was dark, the cabinets were in rough shape, and it had seen so many updates that nothing was cohesive anymore. Time for some updates! 
We spent just over a month renovating with the help of my sponsors, and when it was all said and done, we had an amazing space to call our own.
When you come in, the first thing you're greeted by is our new seating area. We've always had the table there, but with this renovation we wanted to add something that would at once cover up the baseboard radiators, provide seating, and give us extra storage.
The spherical lights above the table and countertops, really give an interesting play on scale and shape, especially with all the rigid grids and lines from the cabinetry.
Even though we didn't change a single thing about the layout in this space (because it was actually really good to begin with), we did make major changes by updating doorways and doors. The architectural detail that they add to the space, really make it feel like a glam kitchen, and one deserving of a place in this lovely home.
The door and cabinetry hardware is something I spent a lot of time deciding on. These handles from Emtek are a joy to look at, and even easier to use (nothing worse than a sticky handle). I went with brushed brass on all accounts, even though the appliance hardware was chrome.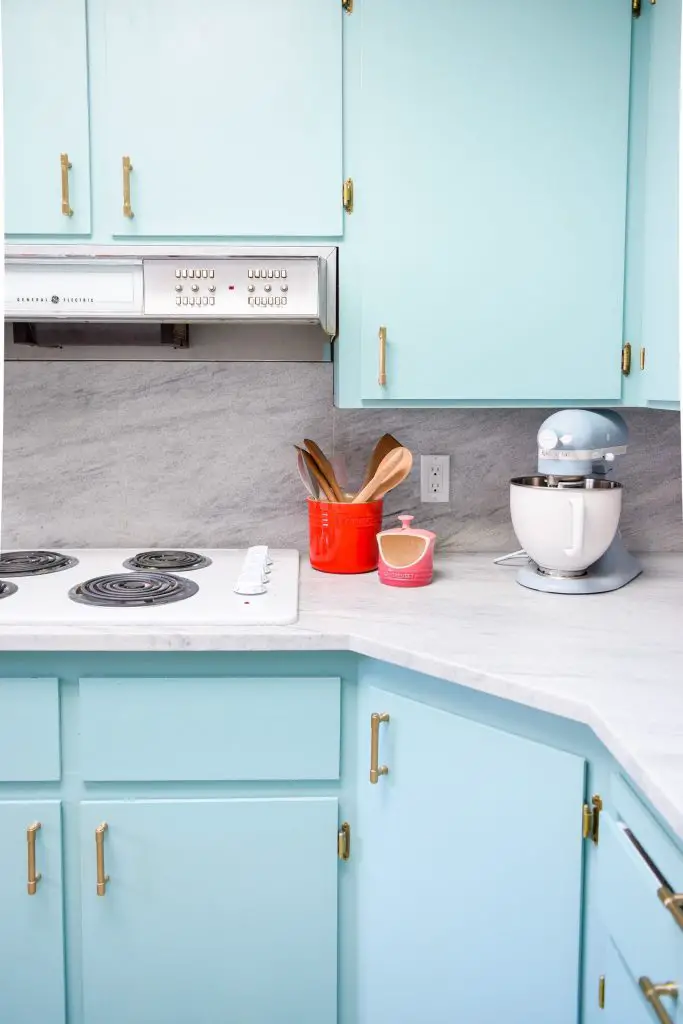 You can immediately see the difference that the skylight from Velux has made. That corner — that's now beautifully lit — used to be dark. The layout didn't make it an obvious place for a light fixture, so adding a big window onto the sky was such a luxurious option that we jumped at the option to do so. Although not retro, it brings a touch of modernity to the space.
Selecting all the big finishes was a crucial and exhilarating process (I've never had the luxury of choice in all our military rentals), but choosing the soft finishes like decor, pillows, art etc. was by far the most fun. Mainly because there wasn't so much riding on those choices and they can be swapped-out seasonally.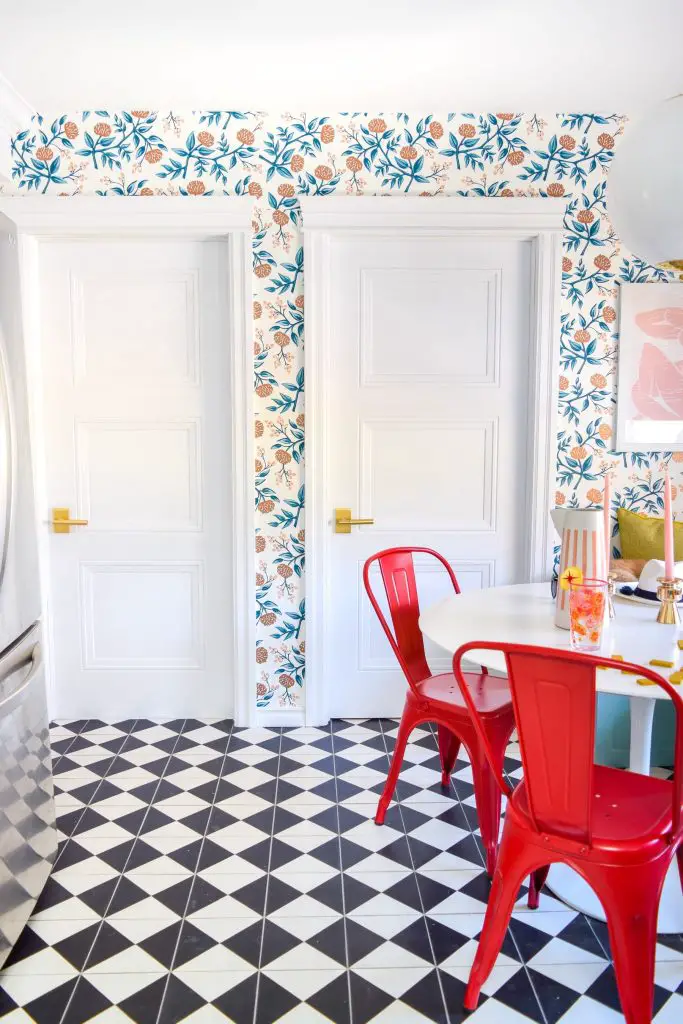 Our new countertops and backsplash are show-stoppers. The Cherokee Marble from Polycor was a great choice for a workhorse kitchen. Having it installed all around the kitchen has made the space not only safer (we used to just have gross old wallpaper – 5 layers of it), but easier to clean. I just need a wet sponge to wipe them down at the end of the day.
Given how we have our range and oven separate (a retro kitchen feature I ADORE), it means there's nothing standing between our pots and pans, the grease or mess, and the back of the range. The marble will be so much easier to clean.
We also updated our kitchen countertop appliances with more retro inspired pieces, and you can find all of them in my round-up of Kitchen appliances & decor under 100$.
Our new retro kitchen sink from Blanco – the IKON 33 in Silgranit – is quite simply, amazing. I can fit all my plants in there, at least a meal's worth of dishes.
Last but not least, the wallpaper is such a fun addition. Although the print itself is not vintage, florals are definitely a throwback to the many layers of florals we found when stripping the wallpaper."
All sources listed here.