When a couple bought this house in Iceland, they saw potential in the original design. Teaming up with Icelandic interior architect Rut Káradóttir, they set on a project of total renovation with the intention to remain faithful to the authentic character.
The future owners were in search of a cozy home for at least the next few decades, one which would maximize the amount of natural light during the dark months. The proud home owners and their architect, Rut, gave us some insights into the thought process behind a suitable modern home using primarily natural and classic materials.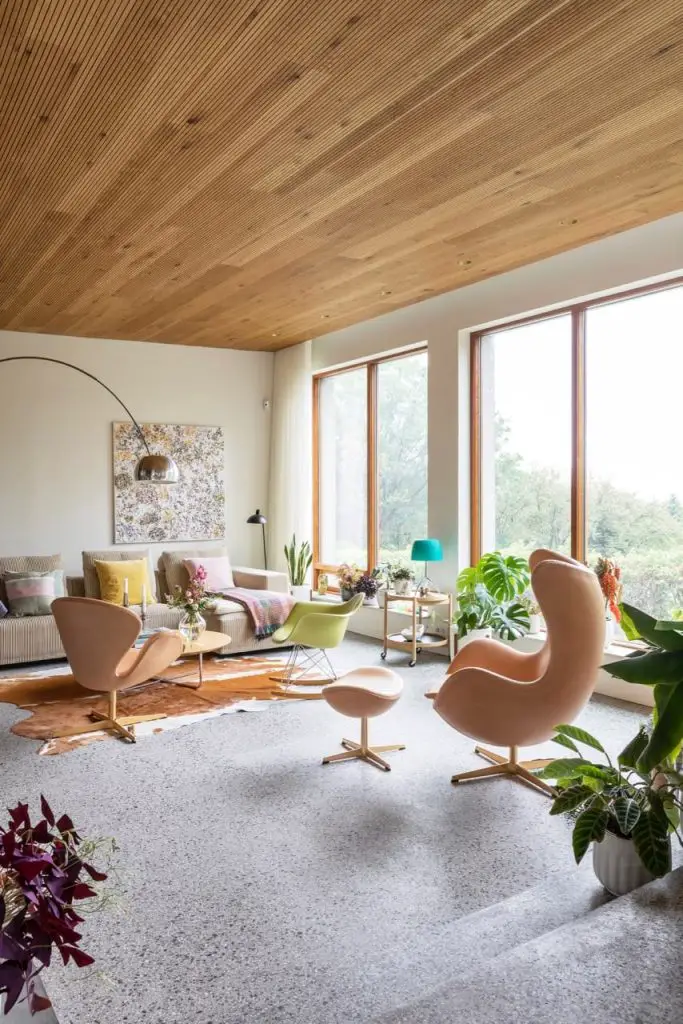 Tell us something about yourself and the history of your house.
We are a couple who are living in Kársnes, a peninsula located in Kópavogur just a few minutes from Reykjavík, Iceland.
The house was designed and built by Jan Morávek, an Austrian musician who moved to Iceland in 1948. The house was built in 1965 and since he was not a licenced architect, he had to get all the architectural drawings approved and signed by a local architecture office.
When we bought the house in 2014, it was in good condition, but definitely "a child of its time" and in need of renovation.
Kept within the same family, only some adjustments and small changes had been made over the years. We saw potential, especially the "mid-century" inspired bones and structure, and knew we could create a modern home without losing character or respect for the original design.
How did you team up with the (interior) architect?
We decided to team up with Rut Káradóttir, an Icelandic interior architect. She has in-depth and broad experience so we knew we would be in good hands. Rut studied interior design at Istituto Europeo di Design in Rome, after which she worked at architecture studio Iezzi & Iezzi for some time before starting her own design studio in Reykjavik in 1997.
Rut: It is always very interesting and exciting when you get the chance to work for clients that have strong opinions and know what they want. At the same time, it is important for them to be able to work with a professional interior designer that can take these ideas and create a design that fits in with the history and atmosphere of the house.
Scandinavian design includes a lot of wood and is very functional with clean and simple lines, similar to midcentury design. What I love about midcentury design is the stronger color palette.
Iceland is usually not in the midcentury architecture radar. How did you come to live in your house?
We wanted something different, with character and soul, and at the same time incorporate the garden and the green scenery into the house. Iceland gets very dark during Fall and Winter so we wanted to maximize the amount of natural light. We wanted a timeless house in which we could live the next 20-30 years without getting tired of the design or materials used.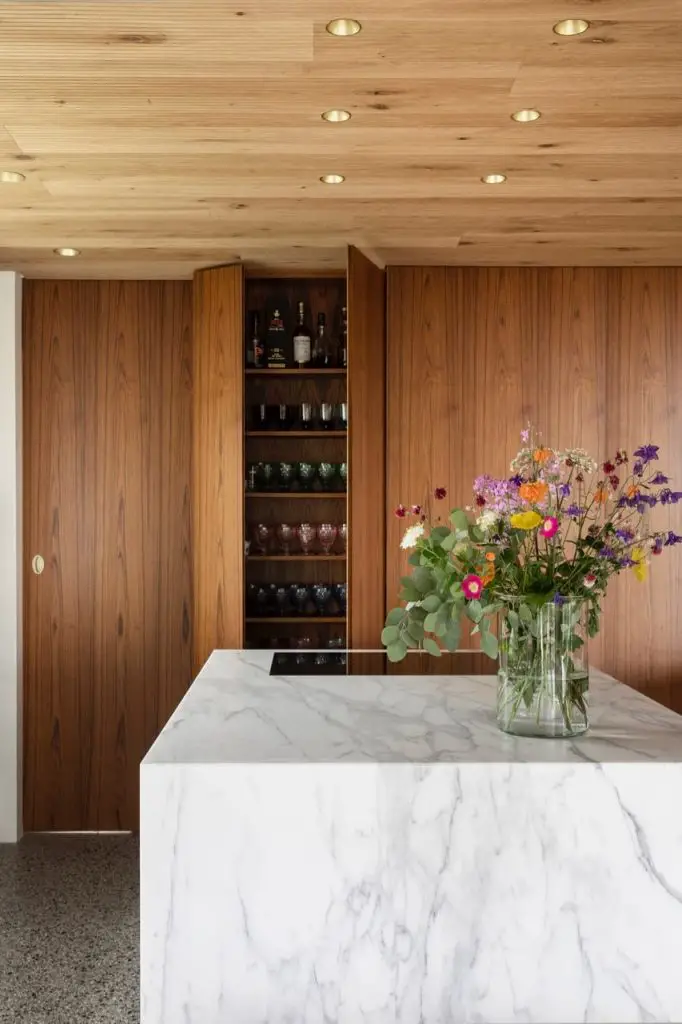 Have you had to renovate any part of the house? If so, which area(s)?
We renovated everything: windows, ceilings, installed floor heating, all the electrical wiring and so on. A total renovation, from A to Z.
Rut: Sometimes we wondered if it would be worth it. In the end we really believe it was! The character of the house was so strong and we had such a good base to work with.
When choosing materials, colors and furniture have you been influenced by its midcentury heritage? If so, how?
We wanted to avoid trends and use natural and classic materials as much as possible. We didn't want to look back at some point and say "what were we thinking?" Renovating a house from A to Z is very expensive and time consuming, so we wanted to do it only once, which is also very sustainable and environmentally friendly!
Rut: For me it was very interesting and refreshing to work with the clients of this project. Being one of them of Latin American origin they brought in some exotic elements to the design process. I hope that the design reflects in some way e.g. through the choice of colors, texture and combination of materials.
The house features some really nice details as wooden panelled walls and stone floors. Would you share some best practices on how you're planning to maintain them in good condition, if any?
Rut: In our selection of materials for the house, we always tried to use natural and "real" materials like natural stone, terrazzo flooring and quality wood such as teak. These materials age very well and even look better after some years.
What do you like the most about living in a midcentury house and why?
The timeless feeling, we know it will stand the test of time.
What's your favourite part of the house and why?
Probably the living room because the windows are very tall and wide and therefore, we get to enjoy the views of big trees and the ocean.
After a year-long renovation, do you have any tips for people interested in buying and renovating a mid-century house today? What should they pay attention to and why?
Rut: I have many years of experience working with clients renovating their homes and my first advice is that they should work with professionals from the start.
Everything starts with a good design as without a good plan and a manuscript things can not go well. People should try to find an interior designer that they trust. Clients and designer have to communicate openly and analyze the needs and goals of the project.