Conceptualized to cater to a small family of four, Natural Lane is a highly site specific house. The client originally lived abroad, and seeked a permanent home to cater to his family's return to Broken Head, New South Wales. They wanted to be immersed in nature, and as such, opted for this secluded creek-side location which was only a short drive to the nearby ocean.
Though the site, which was at the bottom of a secluded valley, was relatively large, the actual property was compact due to multiple fire and creek restrictions.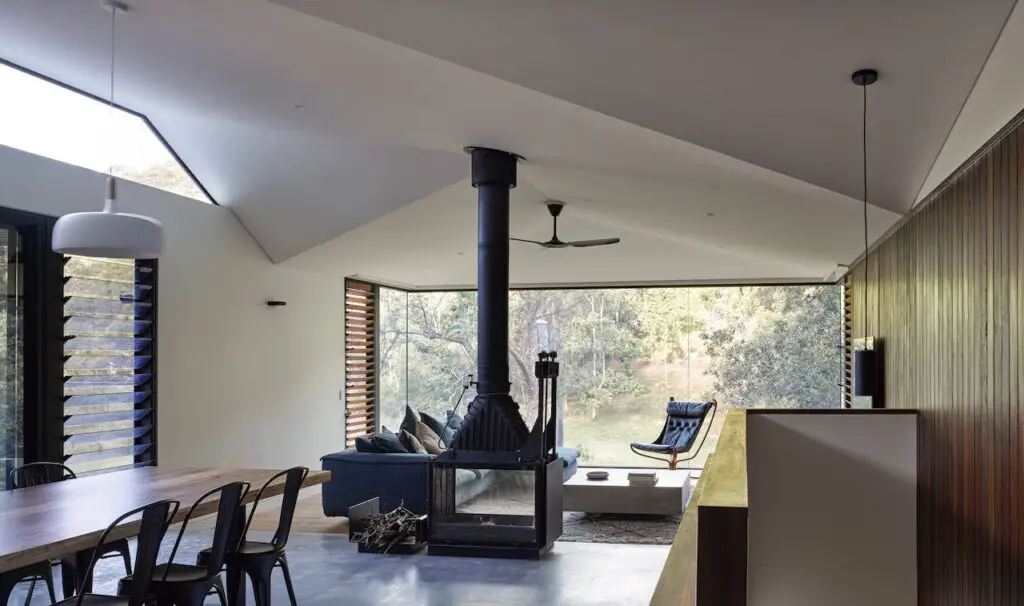 The client requested for a three bedroom contemporary home with shared amenities and an additional study house. Given its sun-challenged site, extracting as much natural light, cross-ventilation and heat gain were of equal importance.
According to its designers, Byron Bay based DFJ Architects, "The site, surrounded by large stands of eucalyptus trees amongst littoral rainforest, has severely compromised access to direct sun." Most of the design decisions from this point was to some extent informed by this constraint and the project was centered around harvesting and maximizing this limited light and heat gain.
For instance, DFJ Architects opted for an L-shaped plan, locating the central living areas oriented to the north to maximize their "northerly aspect". Bedrooms were oriented east to capture the morning sun and allow for views to the creek. The service rooms are located along the west side for two reasons – it functions an environmental buffer and it has easy access to the outdoor spaces. 
In a distinctly modern aesthetic, Natural Lane sits on pilotis and is enveloped with large panels of glass. Limited eaves aim to maximize the amount of natural sunlight that spills into the indoors. Nonetheless, the north-western edge has eaves that extend outwards to cover the outdoor patio.
Though typically, houses in the sub-tropics would require protective broad eaves, Natural Lane does not because of its distinct sun-challenged site. The location only receives a few hours of sunlight a day, rendering it susceptible to becoming a dark ice box in winter that would require large amounts of artificial heat and lighting. 
Beyond being designed for its sun-challenged location, Natural Lane also has key sustainability features. For the architects, before starting a project, they always ask themselves the same question – how do we do more with less?
In line with this goal, DFJ Architects integrated and implemented multiple passive design strategies such as "good sub-tropical design, including natural ventilation in every room, a high thermal mass concrete slab in the north-facing wing, good orientation, extensive landscaping and the prioritization of natural material inclusions." Extensive use of local hardwood is also used whenever possible.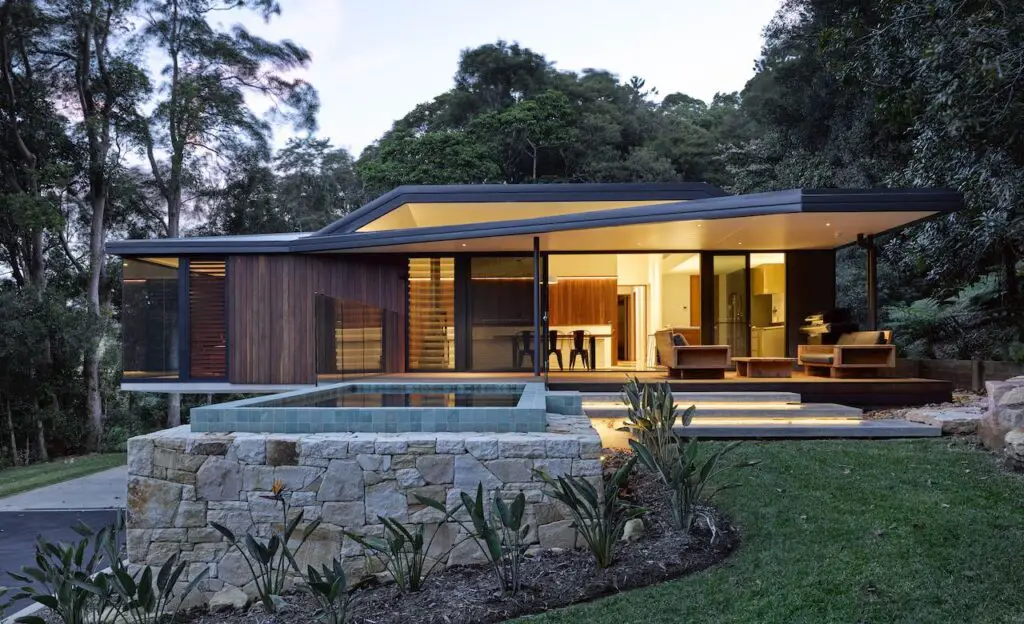 Natural Lane is likewise an homage to timber. The entire span of the bedroom and bathroom wing were built with timber to allow for "a more efficient footing system and greater economy". The use of natural materials, alongside its strategic exploration of form and function, allows Natural House to exist seamlessly and symbiotically with its lush surroundings.