The beautiful Schwimmer House is created from the Modernism architectural mind of John Lautner and is located in Beverly Hills, California.
Lautner was an influential and inspirational architect and was revered throughout his sixty years career. Lautner valued the attention to space and use of material to integrate seamlessly together.
The end product is totally in relationship to it's environment, this is Lautner's design philosophy stamped on his creations. He was aware of the emotional affects that emerged from fusing elements like stone, steel, glass and wood.
The spaces expand into each other and into it's environment. Lautner designed with a sculptural force, creating structurally original buildings with formal variety and freedom.
The Schwimmer House was commissioned to represent a modern day castle. Throughout the eave there are six stone thorets that creates the castle-like feel to the house.
As you enter the gate, there's a narrow concrete driveway that leads to the main building. It is intended to mimic a bridge.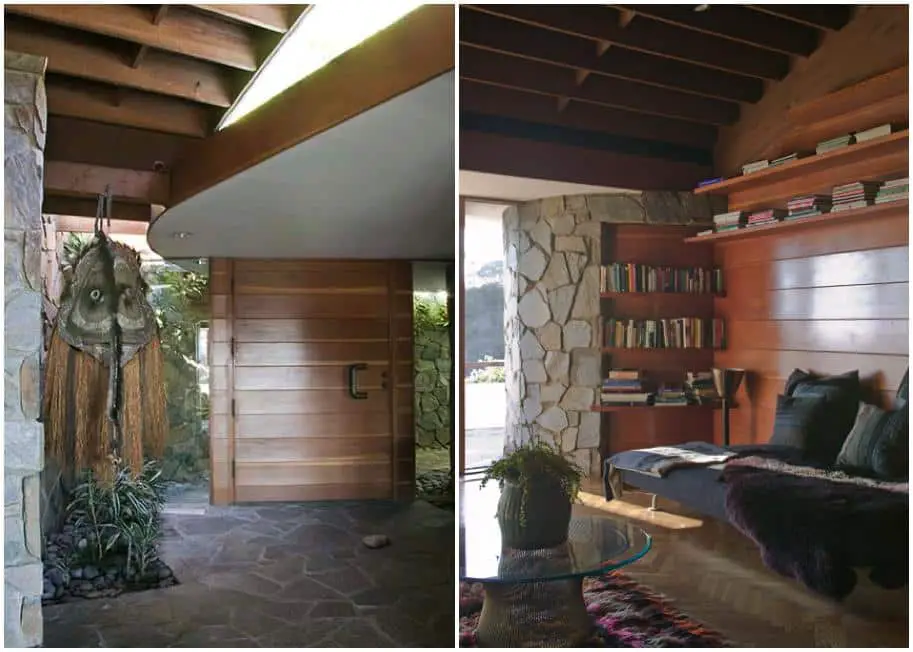 The entrance to the Schwimmer House is totally in harmony with nature, with trees and greenery throughout, natural stone walls and a vault like door. The floors inside, just like the walls are covered with natural stones and massive woodwork paneling divides the spaces within.
Curved wood beams adorns the ceiling creating a dramatic effect that leaves visitors with a sense of aw. The theme of the home is curved and cylindrical. The curving in the design elements gives an effect of never ending hallways and spaces.
There's a library just between the living room and the master bedroom, with beautiful wood paneling and high curved ceilings. The master bedroom is unique in its design having a platform in the middle of the room, imitating  a king or queen's grand, luxurious retreat. The platform is made of the same wood as the paneling for a cohesive look.
Underneath the platform, storage space is created in the form of drawers. Just outside the living room there's a stone covered terrace with a swimming pool that has the curve theme incorporated. Not one edge of the pool is straight, curving graciously with the rest of the structure.