Originally built in 1952, Maestri Studio took this midcentury Lakewood home under its wing to redesign the home in accordance with the wishes of the homeowners. In addition to touching up the interior design for a balanced blend of old and new, Maestri Studio added a second story, garage, an extensive back porch and a central front courtyard. The Lakewood project was brought to completion in 2019.
The homeowners wished to expand and remodel the 4,419 square foot home in Lakewood of Dallas, Texas, while remaining true to the home's authentic midcentury character. The main attributes of the original design included a central front courtyard featuring a mature live oak tree as its focal point. Although the majority of the home was demolished, the resulting 6,600 square foot, two-story home still wraps around the impressive tree as its centerpiece.

Inside, the homeowners wished to preserve the original midcentury modern pink limestone planter in the breakfast room. The formal living room as well as front porch remain in tune with their original form with added improvements.
Throughout the home, old and new seamlessly combine to accommodate open and comfortable living quarters. In the kitchen, the aforementioned pink limestone planter is paired with white marble, which covers the counter area beneath stylish black kitchen cabinets as well as a kitchen island featuring a sink.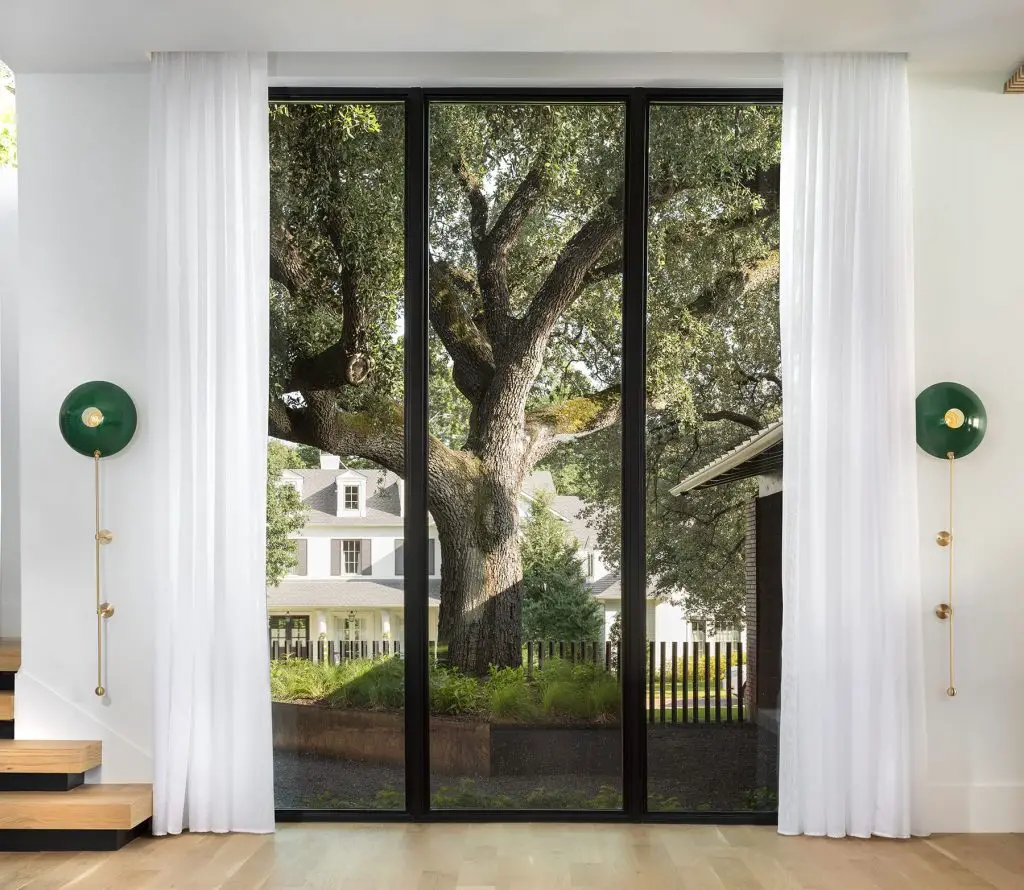 To the right, another broad piece of white marble provides space for dining or casually hanging out with friends. The kitchen's graphic design pattern detail adds a modern touch to the overall feel of the space.
It is not only in the kitchen where graphic design patterns pop up to liven up the space. The bathroom features several different patterns of various colors and much like in the rest of the home, the combination of patterns, bursts of color and the careful selection of classy furniture compose a modern vintage aesthetic.
Wood slat ceilings, steel columns, custom millwork and vintage inspired modern lighting and tile together with the bright and open floor plan form a seamless connection between inside and out, while furnishing the contemporary home design with midcentury influences.