After the Villa Mairea -that I published few weeks ago- today I wanna share with you another house that Aalto designed in Finland: Villa Kokkonen.
The Mid-Century Villa Kokkonen was designed by Aaalto at the end of the 60s for the composer Joonas Kokkonen.
Even if at that time Aalto did not design private houses anymore, he designed the villa as a personal favor for his friend Jonas Kokkonen.
The first shape Aalto designed starting the new project, was the sketch of a grand piano, proving how important the music would be in the design and life of the villa.
An unexpected element in the Villa is the canopy.
In all his previous works Aalto gave no importance to this kind of exterior ornaments leaving the entrance 'clean', following the Scandinavian principle -and his personal belief- that the most important part of the house is the inner space connected with the outside through the windows making the garden part of the house itself instead of the facade.
But what was not new in the canopy was the 'hill landscape' shape it has, a motif that Aalto proposed in many of his works during the Mid-Century -roof shapes, section of interior shapes or fireplaces- to remember the love that he had for natural and organic forms.
The Plan and Interior Decor of the Villa
The house is build around three areas.
The first with the bedrooms, kitchen and utility rooms, the second with the living and dining room and the third -and the biggest one- with the studio/atelier: acoustically separated by the rest of the house thanks to its location in the plan and materials used to construct it.
The heart of the house was undoubtedly the atelier and the music that its owner played in it.
Following the Scandinavian architecture and interior decor tradition, Aalto used for the interior surfaces of the studio wooden materials that had great acoustic isolation qualities but that also created a strong contrast with the dark exterior.
The atelier space is divided in two main parts, the darkest corner is furnished with the grand piano while the more bright part -close to the big windows and the fireplace- is the conversation and relaxation area furnished with a big leather sofa.
The fireplace, as I wrote before, has the same 'hill landscape' motif that Aalto used for the canopy.
Villa Kokkonen has another peculiarity of the Aalto's works, the hanging lamps on the dining table from the skylight…as an ideal continuation of the daily light during the evenings.
Today the Villa is a museum and also used as a space for live performances.
If you are interested -and you're lucky enough to be there- here there is the site to book a visit and assist to a live music performance in the villa!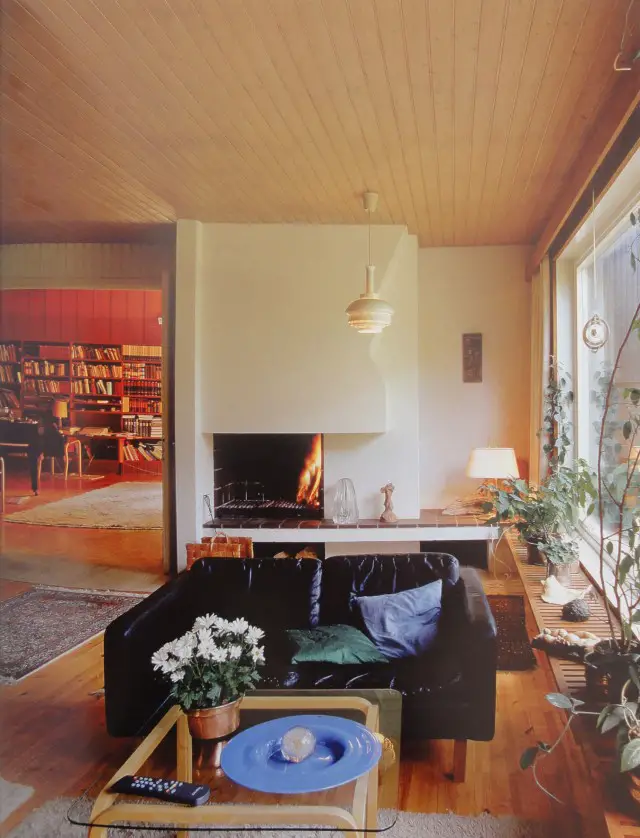 All the pics in this post come from one of the most complete books about Aalvar Aalto's architectural work I found so far: Alvar Aalto Houses