Perched high up on a hilltop overlooking a sedate Pasadena skyline stands the Ridgeline residence. An original 1967 mid-century modern home designed by Mortimer J. Matthews, and renovated in 2008 by Montalba Architects with a refreshing and alluring contemporary twist.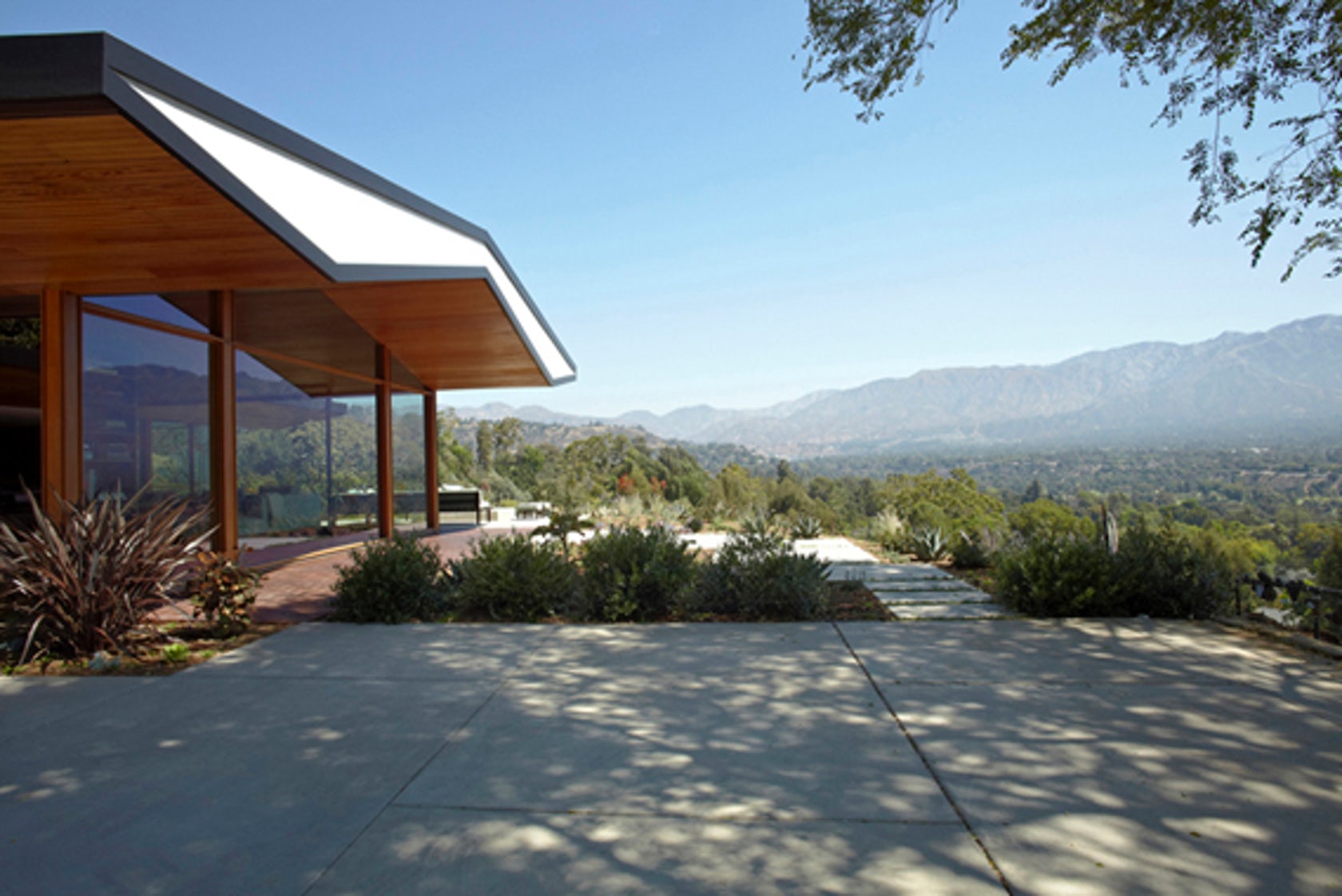 The architects endeavoured to honour the building's original features – such as a cruciform floor plan, redwood cladding and undulating roof plane – whilst simultaneously opening the house up to welcome more light by removing the partitions that divided the space. Floor-to-ceiling windows line the central living area overlooking the newly built swimming pool and decking, just one section of the garden area that surrounds the building on all sides. The architects have done an excellent job of landscaping too, uniting architecture and greenery on all sides of the building.
Back inside, the newly fitted modern kitchen consists of two adjacent islands and a bar which overlooks the rest of the living space. Any clutter is subtly concealed by elegant brown cupboards, a storage feature which continues through to the seating area and into the adjacent bathroom.
ALSO READ: A Tasteful Rustic Home on an Oregon Vineyard
What really throws this building into the modern day are the sleek finishes that breathe new life into every surface and every room. Modern kitchen appliances and a flat screen television are fitted neatly into the interior, so as not clash with the building's prominent mid-century style. The polished concrete floor and clear glass panels add to a minimalist aesthetic, whilst at the same time functioning to offer some navigation through the large open plan space.
The defining feature of the building is no doubt the redwood clad surface which frames the building, both inside and out. Montalba Architects have taken care to preserve and celebrate this original mid-century feature by integrating similar colours and textures to the interior, carefully selecting furniture and other design choices to complement the exquisite deep red hues.
Photos by Dominique Vorillon