Perched on a delicate incline, this contemporary style home appears practically alone in the lush landscape in which it sits. Indeed, this solitary hillside house, located in the Foxground Valley in New South Wales, Australia, enjoys spectacular, uninterrupted views of its environment.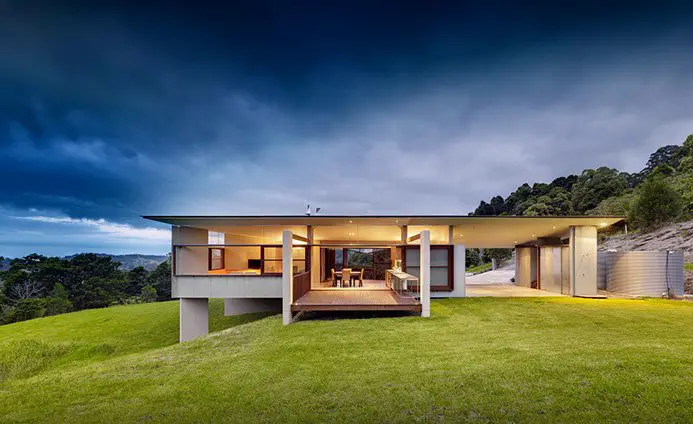 The firm responsible for the build, Fergus Scott Architects, have done a really nice job of creating a distinctly open plan, with several sides of the house able to be completely open to the outdoors (yet also capable of being closed off during the winter months).
Looking at the overall design, the main word that comes to mind is clean. Everything is neat and exactly where it should be with the perfect balance of cosiness and minimal waste of space.
In this vein, the landscaping for this contemporary home design is appropriately sparse, especially when compared to its spectacular surroundings. At the back side of the house, lower down the hill, the vegetation has been left completely alone, with the pilotis simply resting on grass.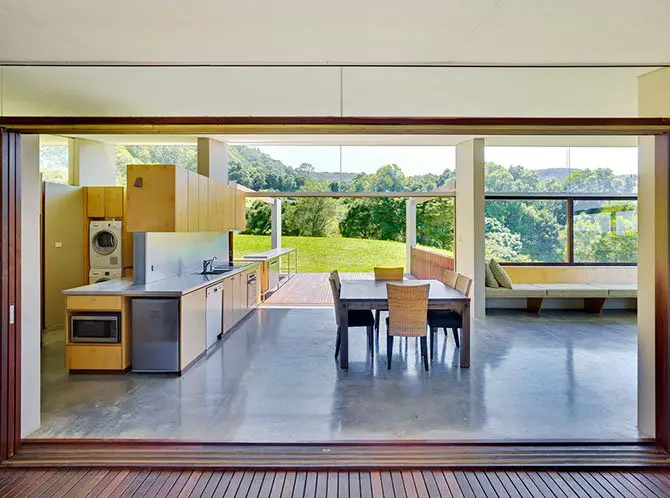 Meanwhile, on the side of the house that leads from the front to its back, railway sleepers rest on woodchips, and are flanked by a few basic plants. Simple but very effective, not only does this serve to emphasise the surrounding landscape, it also helps to underline the quality of the structure itself.