Laura is the daughter of two talented designers, whose working lives spanned much of the midcentury period: Jerome and Evelyn Ackerman.

Their designs are clean, elegant and show a love for handcrafted details. Today, Laura tells us more about her parents' work and their close relationship, as well as the story behind the recent publication of Hand-in-Hand (see below), documenting the Ackerman's life and designs.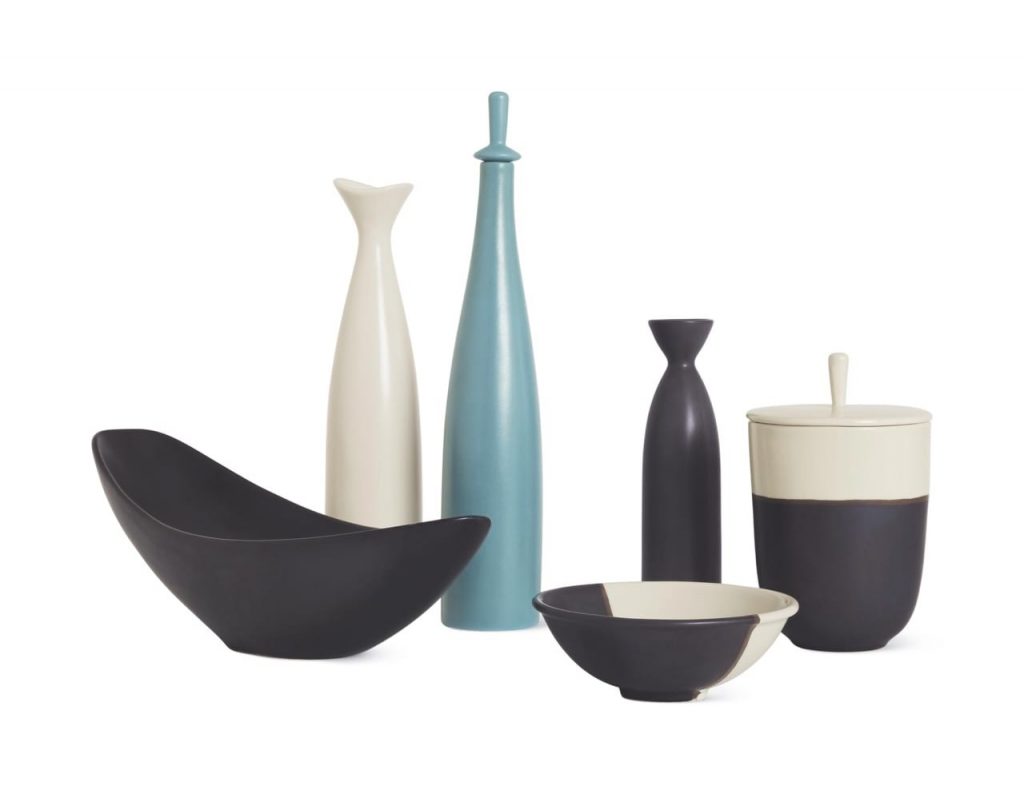 My parents, Jerome "Jerry" Ackerman (1920–2019) and Evelyn Lipton (1924–2012) were born in Detroit, Michigan, literally blocks apart, but their age difference meant they didn't meet in school. Neither grew up in artistic homes and because being an artist during the Depression wasn't a viable profession, neither pursued formal training until college. 
It's amazing that they found art and each other. My dad entered Wayne University (now Wayne State) but World War II interrupted his studies and he left to serve as a control tower operator. 
My mom completed her BA at Wayne and after his return, they graduated together in 1951, my mom with her MFA and my dad with his BS. The following year he received his MFA in ceramics from Alfred University, New York. 
It is a beautiful and unique thing to have a love story ingrained to the collaboration, the mutual love for each other as well as the arts must be a constant source of inspiration. Can you tell us about that a little bit?
When my dad returned from the war, a friend told him about a young woman at a nearby design studio. Evelyn had many suitors, but Jerry won her over with charm, wit, intelligence and a Milky Way he had tucked in his coat pocket. 
Unfailingly kind, warm, and generous, my parents forged personal and business relationships that lasted decades. You could say their entire life together was a collaboration despite different personalities—my dad was gregarious and social while my momwas introverted and shy. They laughed that few people could work together for so long and survive, let alone thrive.  
How did their work influence the family while being busy to create a business from scratch?
My parents' personal and professional lives intertwined during their 64-year marriage. "We were in love and we loved what we were doing," my mom recalled. 
They melded complementary talents and temperaments, forging a prolific partnership that produced a wide range of work including ceramics, mosaics, tapestries, woodcarvings, and hardware, an unusual cross-disciplinary approach for designer-craftsmen. 

In 1963 West Coast Sourcebook observed, "In the case of ERA's designer-owners, who work so closely together, it is proper to speak of a single career."
Starting a business from scratch, growing it successfully, and creating a lasting body of work is an amazing achievement. My parents handled everything from operations to marketing. A strong work ethic and remarkable tenacity supported their talent. 
When they started Jenev (a combination of Jerry and Evelyn), my dad spent a year developing the shapes, molds, and glazes. By 1956, Jenev morphed into ERA Industries and they added mosaics and tapestries, but realized they couldn't produce enough themselves and enlisted skilled craftspeople to execute their designs. 
As the business expanded, my dad turned to managing the showroom, sales, and suppliers while my mom became the primary designer. Despite their evolving roles, my parents collaborated on every design and business decision. 
Talking about you, what was it like growing up in an artistic home? How did growing up modern affect you?
In the 1960s my friends' homes didn't look like mine. They were assemblages of aqua shag carpet, harvest gold kitchens, and brown vinyl recliners. 
My house, on the other hand, was an eclectic mix of folk and tribal art alongside Wegner, Eames, Nelson, Architectural Pottery, and my parents' designs. Certainly none of my friends had studios, kilns, and drafting tables! 
As a youngster, I worked in the ERA showroom and visited neighbors Jules Seltzer, Herman Miller, and Knoll. My parents seemed to know everyone in the field, an entrée that provided me with an education no classroom could match. It never occurred to me that this was not a typical childhood. 
There was always a connection to design in my life. My dad painted with me, my mom taught me cloisonnés.
When my preschool needed a fundraiser, my mom turned finger puppets she'd sewn for me into kits complete with materials and instructions. Featured in House and Garden, they even won awards.
Today, my home is a mid-century Eichler. When we purchased it, I didn't know my parents were friends of Joe who had once promised a Jenev ceramic in every house he sold. My Eichler houses ceramics along with an eclectic collection, much like what I grew up with.
And what influence has your parents' legacy had on you, today?
I didn't fully appreciate my parents' talents as artists and entrepreneurs until I was an adult. 
Although I grew up with the business, I wish I had learned more about their creative process. Now I have the honor to be the steward of their design legacy, founding Ackerman Modern to protect and promote it. 
Their work and story are still relevant and it's rewarding to have that validated in a book, Hand-in-Hand, museum exhibitions, articles, events, and film, In Tandem. 
I'm proud to see my parents alongside other design icons in books like Handcrafted Modern and in exhibitions like the Los Angeles County Museum of Art's "Found in Translation."
Ensuring their legacy means finding authentic ways to share the timeless appeal of their story and designs with a new audience. Staying true to the originals, I collaborated with Design Within Reach on a reissued collection of my dad's 1953 Jenev ceramics. 
We used original molds to create new masters and formulated glazes to match signature matte finishes. Unfortunately, I never asked my dad to teach me how to throw a pot, but last year at age 98 he taught me how to cast, his skills still remarkable. 
Recently I released limited edition silk screened pillows and silver pendants and I'd like to establish a scholarship, work on archives, and expand exhibitions and events.
Though they were proud of what they accomplished together, my parents never sought recognition as iconic figures. The only designers to have their work in every prestigious California Design exhibition from 1954–1976, my parents were genuinely surprised when their work became collectable. 
Even more surprising was learning they had influenced others including Jonathan Adler who was inspired by their "commitment to craft" and ability to build a business based on their passion. 
As part of the inspirational creative scene of the 1950s, who were some major sources of inspiration? 
In 1949 my parents attended Alexander Girard's exhibition "For Modern Living" in Detroit. Seeing designers like Eames, Risom, and Bertoia "opened our eyes to an exciting new way of thinking" my dad recalled.
At Herman Miller they bought a Nelson bench, Aalto stools, and Eames table and chairs—pieces still in their home. They were exposed to the Bauhaus and art from all eras at Wayne. My mother was drawn to Cézanne and Matisse, my father to Shoji Hamada and Sung dynasty ceramics.
When my parents moved to California in 1952, they found an environment conducive to creative experimentation and stretched beyond their fine arts backgrounds blending art, design, and craft. 
Architects like Neutra, Koenig, Ellwood showcased in Arts + Architecture and developers like Eichler created a demand for new approaches to home furnishings and décor. My parents appreciated Scandinavian, Mexican, and classical influences — even Peter Max — but maintained their own identity and style. 
Ultimately, my parents' designs reflected California's optimistic, organic, colorful, textural influences of an indoor/outdoor lifestyle. 
In those days there were no computers or other digital technologies, which are now integral to design culture – everything was hand made. What are your thoughts on the shift to technology?
Artists have benefited from evolving technologies for centuries, paint didn't always come in tubes! 
However, today the proliferation of technology increases access, speed, communication, and engagement. The resulting democratization allows more people to express themselves, diversifies artists and audience, and makes design more participatory.
My parents' communication with craftsmen and clients around the globe was by mail and phone, with long-term relationships that reflected their values and ethics. Their business would have benefited from a website and social media to promote their work rather than printing and mailing catalogs. 
Digital technologies allow designers to work more quickly, flexibly, and efficiently. For my parents, design was labor intensive, taking months from concept to finished product. Their creative process was hands-on across ceramics, mosaics, textiles, wood, and metal. If the David was a 3D printer output rather than hand-chiseled marble, would it be as beloved? The handmade process is special and perhaps that accounts for the current interest in "makers."

---
RECOMMENDED TO READ
---