This is a really fun house. Located in Balwyn Rd in Melbourne, Australia, the home is an original mid-century home designed in 1963 Godfrey, Spowers, Hughes, Mewton & Lobb, yet its current look is the outcome of a thoughtful renovation by Nest Architects.
The fun starts right away, with an entrance approach entirely dominated by a brightly coloured pavilion. Intended as a self-contained space for guests, it was one of the main additions Nest made in their renovation.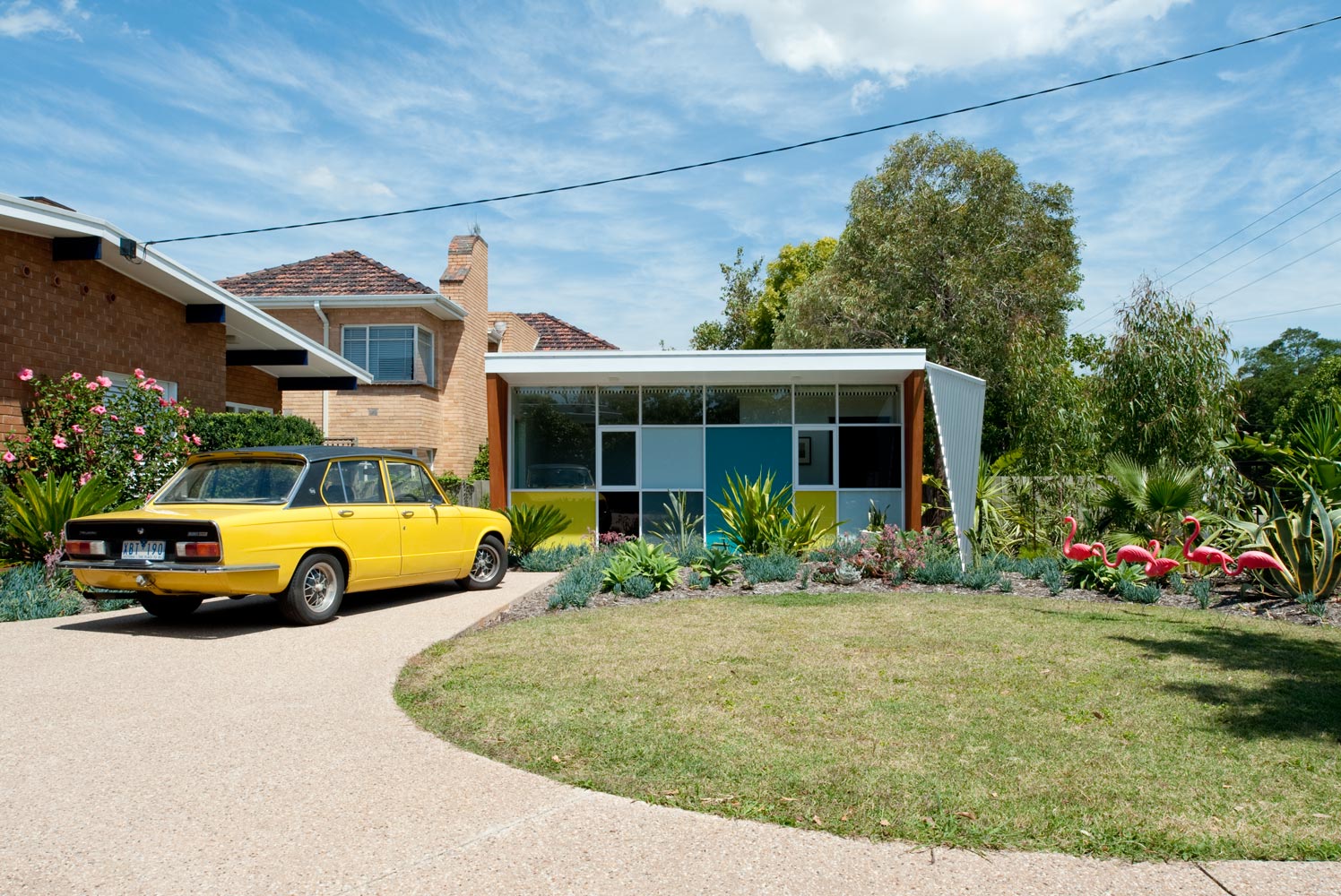 In their description, they treated "as a separate design project, more like a piece of art than a building", yet it clearly sets the tone for the rest of the design. After proceeding past the right yellow vintage convertible, the home is entered from a really cute entrance, carefully landscaped so as to add a little texture to what is a minimal yet sleek covered porch.
We especially like the path leading to the door, which features circle stepping stones whose shape is nicely echoed in the plant pots, ornamental glass floats and a wicker chair.
READ ALSO: Rare Marcel Breuer Designed House, Gets The Best Renovation Ever
The chunky blocks of colour found in the pavilion are a theme which is carried forth into the interior design. This is perhaps best demonstrated in the open plan kitchen and dining area. Twin cupboards feature turquoise and bright red doors.
The dining chairs are red, green, and blue, and are nicely complimented by a fresh bouquet of orange, yellow and white flowers, sitting in a vase positioned at the centre of the table. Meanwhile, overlooking the table is a lamp shade composed of different blocks of glass, covering all the colours of the rainbow.
READ MORE: A Mid-Century House Near Melbourne, Gets the Case Study House Program Treatment
To bring out all this colour, there's an underlying presence of clean white surfaces throughout. It is present in the kitchen worktops, the dining table, the walls and ceiling, and much of the aforementioned lamp shade. In fact, the coloured sections are in a minority overall, although you perhaps wouldn't know it at first glance.
Similarly, in the play room, the presence of cedar-clad built-in joinery is a pretty calm understatement amid the dominant blocks of colour, and it is applied in a sparing and really tasteful way.
READ MORE: A Delightful Richard Rogers House Renovation
In their description of the contemporary home design, Nest place particular emphasis on their decision to blend old and new. As they say, "mimicking the mid-century style did not seem appropriate and inserting a contemporary box onto the back of the house also seemed at odds with what our client wanted and being somewhat respectful of the original house."
Instead, they explain how they wanted to "…play on the original design, but also create a fluid arrangement between the past and the present". The emphasis on playfulness is clear to see from the pictures. It makes for a really successful design.