Eero Saarinen's Miller House is located in Columbus, Indiana. The residence was entrusted by the industrialist and architecture benefactor Irwin Miller and his wife Xenia Simons Miller. Miller supported modern architecture by commissioning construction of several houses and buildings in the vicinity of Columbus, Indiana.
The design and construction of the Miller House had a duration of four years and was finalized in 1957.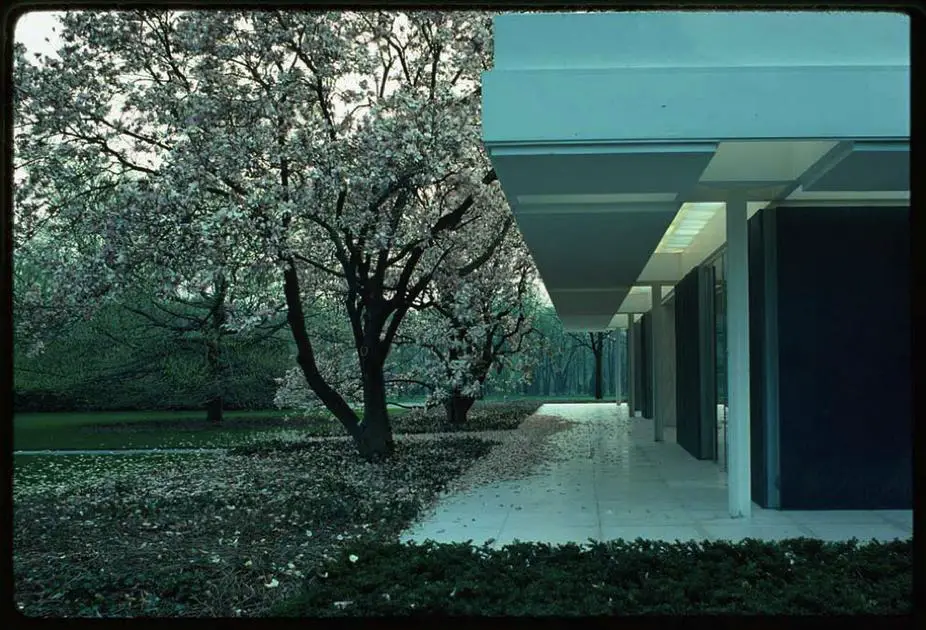 Saarinen's Miller House is characteristic of the modernist architectural tradition established by Ludwig Mies van der Rohe with an open layout, flat roof, and stone and glass walls. The house plan is the same as Andrea Palladio's 16th-century Villa Rotunda because of its distribution of rooms around a central space.
The interior of the house is divided in four non-public areas branching off from a central space, which features a fireplace and surrounding conversation pit. The four divisions include the parents' quarters, children's rooms, guests rooms and utilitarian areas such as the kitchen and laundry. The plan dodges ordinary fundamental organization, instead disarranging the hierarchy of the rooms with a more elegant and functional placement.
The key elements of the house are the grid pattern of skylights that are supported by sixteen steel columns, reminiscent of a cruciform, showing a beautiful play of dark and shadow. The fireplace is a dominant cylindrical centerpiece with the sunken conversation pit and 50 foot long storage wall, giving it a modern design to the central space.
Eero Saarinen brought in the help of landscape architect Dan Kiley to create a prolongation of the home giving the gardens a retro feeling, dividing them into four sections, broadening from the parallel part of the house, each with its own identity.
The Miller House is an exemplary illustration of residential landscape design that puts a modernist twist to the more traditional European gardens, which is based upon geometry and symmetry.
For the realization of the Miller House, Eero Saarinen also counted on collaboration with interior designer Alexander Girard and Saarinen's principal design associate Kevin Roche.
In the year 2000 the city of Columbus declared the house a National Historic Landmark. Until 2008, the house was in possession of the Miller family when Xenia Miller, the last inhabitant of the home, died.
Photos via Retrorenovation
.