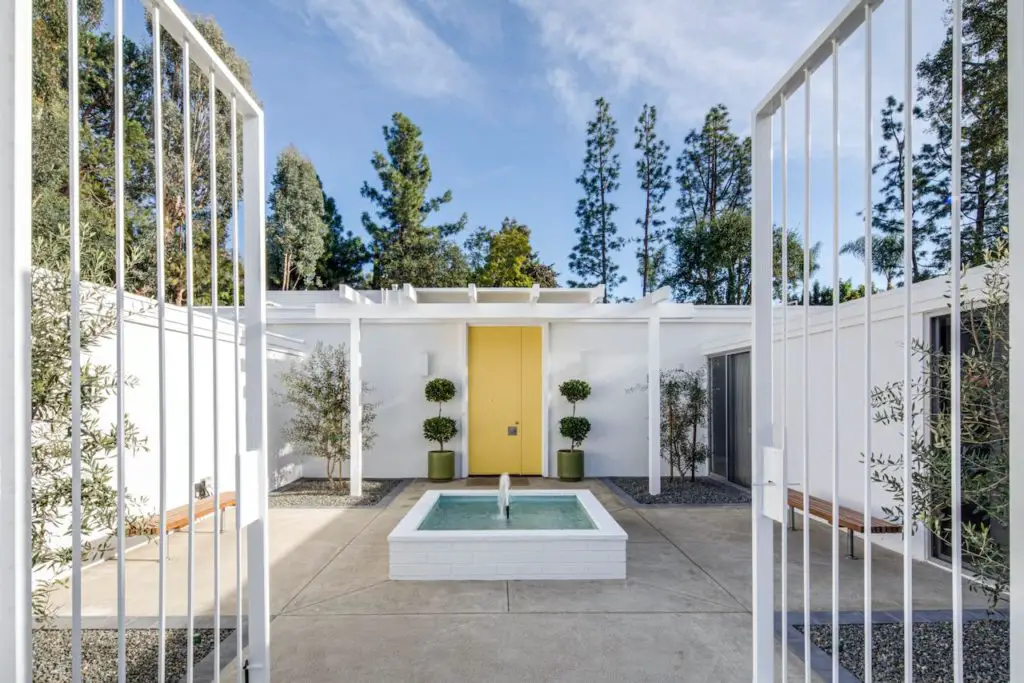 This iconic home in the Orange County foothills of Tustin, CA, once belonged to its notable designer, California Modernism architect Philmer J. Ellerbroeck. Ellerbroeck  designed the residence for his family in 1961, but only lived there for the next eight years, until his death in 1969.
Overwhelmed by a number of previous occupants, the residence was in dire need of freshening up. Current homeowners Casey Lesher and Thomas Fountain called upon The Modern Vault to modernize and bring back the original beauty of this architecturally significant home.
The Modern Vault is a design showroom based in Newport Beach, Orange County. Their focus lies in "authentic and mood altering vintage, mid-century furniture and accessories." With a delicate approach and an eye for detail, The Modern Vault proved the perfect fit for remodeling this one-of-a-kind midcentury home.
The home is striking already from street view, even though most of it remains hidden behind extensive white brick walls. The carport as well as the privacy walls at the home's entrance feature architectural details in the all white brickwork at the front of the home. Green succulents add splashes of nature as well as colour to the facade.
Once through the white iron entry gates, slabs of concrete wrap around an ornamental fountain. Past that, a yellow door sits at the entrance of the midcentury modern home. 
Inside, The Modern Vault added terrazzo flooring to contrast the carefully crafted original wood room dividers, "We love the contrast of the darker fixtures and dining table and chairs against the white floors and walls".
Original cabinetry by Paul McCobb still remained inside the dining area. The color has suffered over the years and was in dire need of restoration. The vintage Knoll chairs, sofa, coffee table and lamps were in the same situation. 
Thanks to the wonderful synergy between The Modern Vault and the new homeowners, a solution that would respect the original design without distracting the eye was found; all of the pieces were renewed with a color palette that also boosts the indoor to outdoor connection.
As with most midcentury modern homes, the flow of natural light was an important element for the overall charisma of the house. Clean white walls and ceilings are complemented by modern furniture inspired by nature, such as the vintage original Eero Saarinen Marble top tulip tables.