Text by Jon Lowe Architect
A typical 1960's Adelaide, Australia, residence is radically transformed for a young family without changing the footprint.
In the original house the existing kitchen was boxed-in and the dining room faced a cramped gazebo on the western side of the house with no connection to the rear yard. The solution was to remove the wall between the kitchen and dining room, create a large new north-facing opening to a new rear deck, and add a window seat in the living room to make it feel bigger without adding floor area, but massively improving the cross ventilation.
Jon Lowe Architect also moved the carport to the front driveway and added a second living space under the main roof, for extra flexibility.
The new carport and verandah design riffs on the retro California style of the era of the original house, with futuristic curved steel columns and lightweight flowing roofs. The internal and external materials and finishes compliment the original sandstone and cream brickwork and bring the clients love of native plants to life.
What was the brief?
"The original brief involved some demolition or alterations to the existing residence, possibly over two stages (an initial minor upgrade, and a major renovation/alteration later on). Project scope included an additional room (infill of the existing carport), modifying the kitchen/dining/living space to provide better connection to the rear yard, opening up to the northern aspect for passive heating/ cooling, and conversion/ relocation of the shed/ studio space."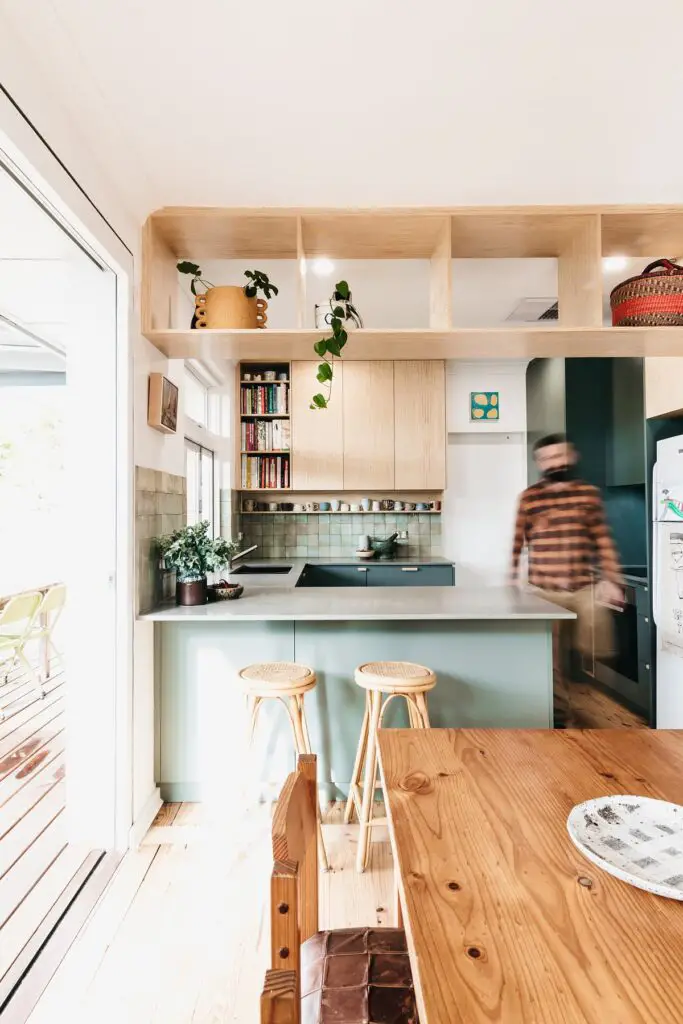 Who are the clients and what's interesting about them?
"We're a family of four with kids who are 10 and 8, and we like spending equal amount of time inside and out," Alex says. "We wanted to create more space in the house by re-configuring the internal layout. Knowing that we want to stay here for a long time, we decided to alter it to accommodate our growing kids."
Client Feedback
''Overall, the project ran as smoothly as we had anticipated. We couldn't be happier with the final design outcome given the budget that we had to work with. Your consideration and incorporation of new concepts into the existing design has blended seamlessly. ''
Photos by Belinda Monck