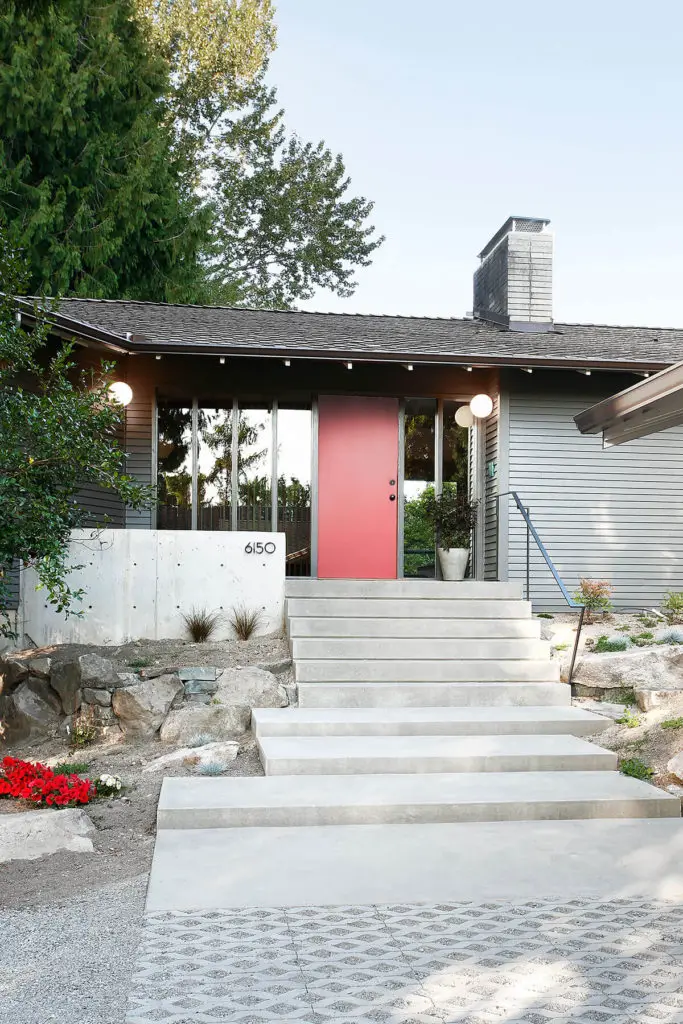 Located in the lush Kirkland's Bridle Trails neighborhood, this half-century old home called for a complete modern update. Designed in 1967 in the Seattle suburbs, the Bridle Trails Remodel gets a modern treatment from Seattle-based design studio SHED Architecture & Design.
The clients, who bought the house in its dilapidated state, wanted a more contemporary sanctuary suitable for their family.
However, the original midcentury home has suffered from the test of time – an outdated kitchen, dilapidated bathrooms, and an unusable basement rendered this otherwise beautiful home into an obsolete one. Even more dire of an update was the floor plan – a convoluted and congested layout unsuitable for contemporary living.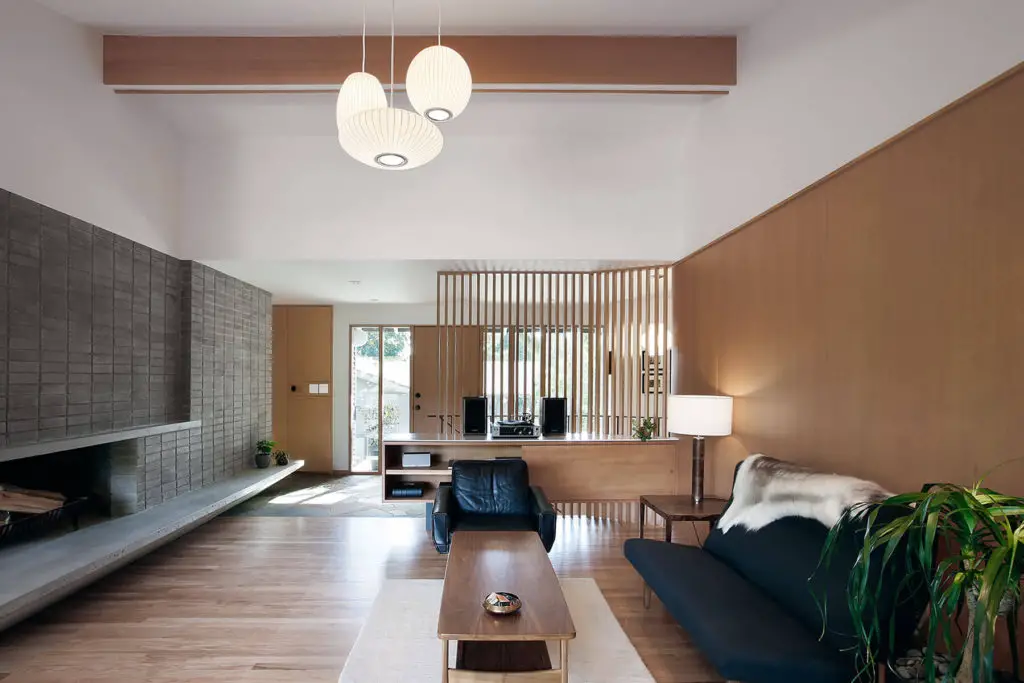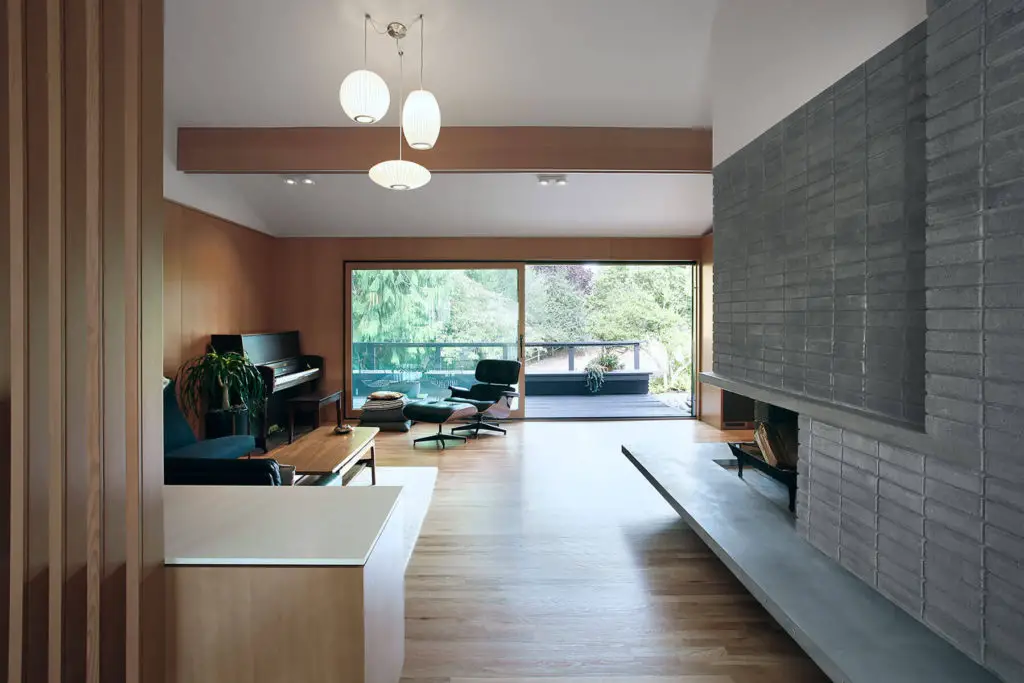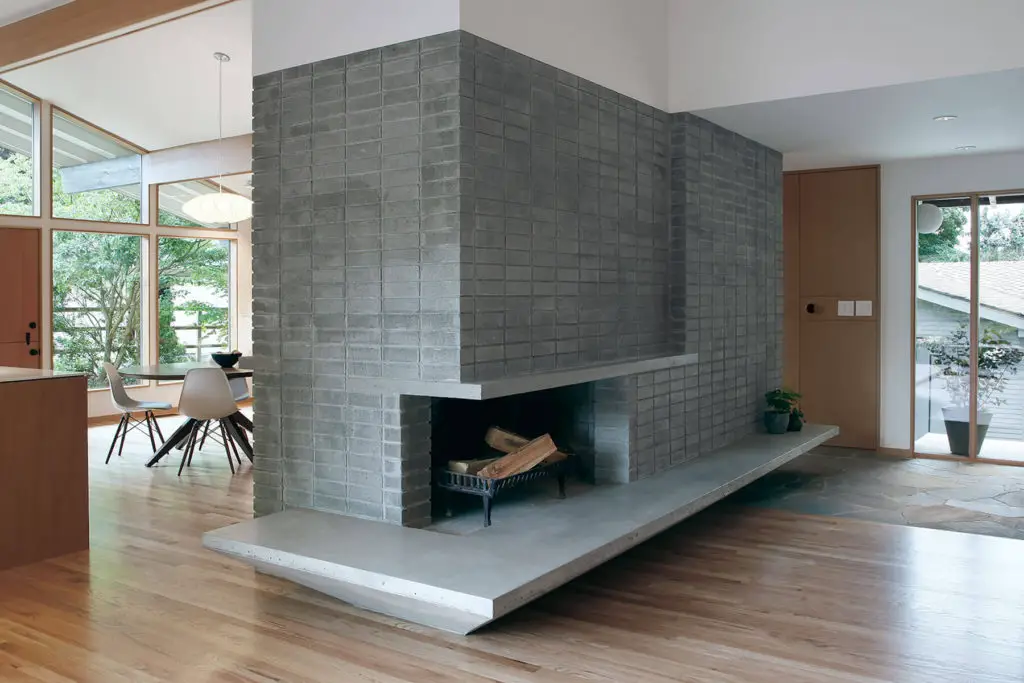 Despite the cluttered floor plan and poorly placed partition walls, SHED architects saw the potential of the 2970 square foot house to be an airy and open sanctuary. They saw the site's opportunity to transform the outdated home into a modern residence.
Leveraging the existing framework of the Bridle Trails house, the renovation architects updated specific spaces through selective and targeted improvements and renovations.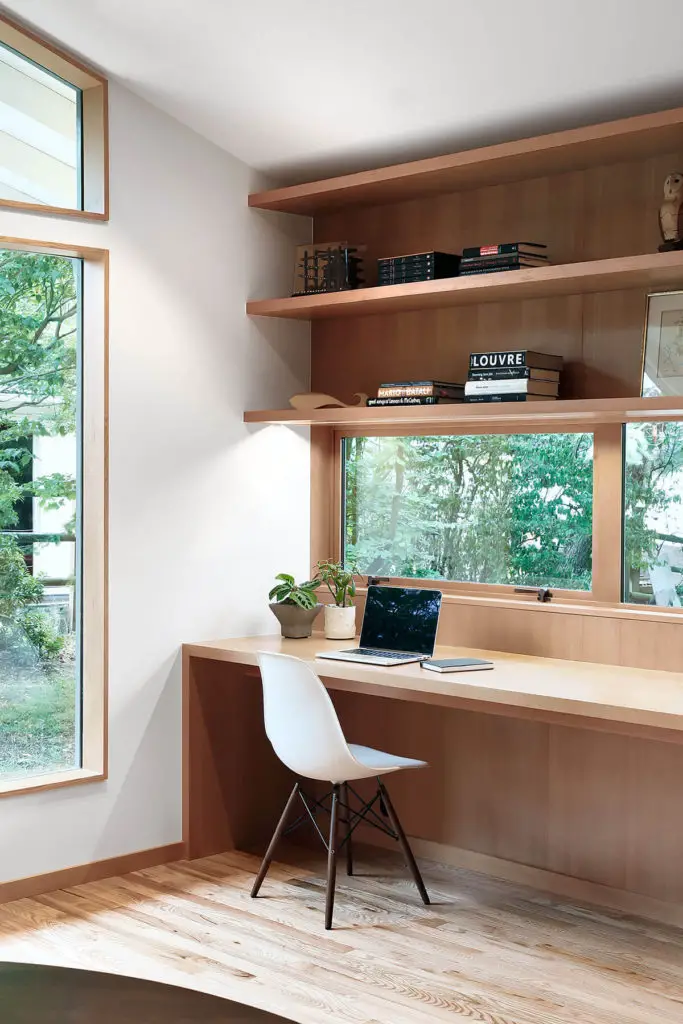 They opted to remove walls to shift the corridor to simplify the circulation system and create a more open plan. This transformed the once dark hallways into a well-lit space. Furthermore, it eased the access into the garage.
The replanning of the house also allowed for additions of new programs such as a bathroom in the corner of the house. This offers the client's children their own bathroom – a requirement for a growing modern family.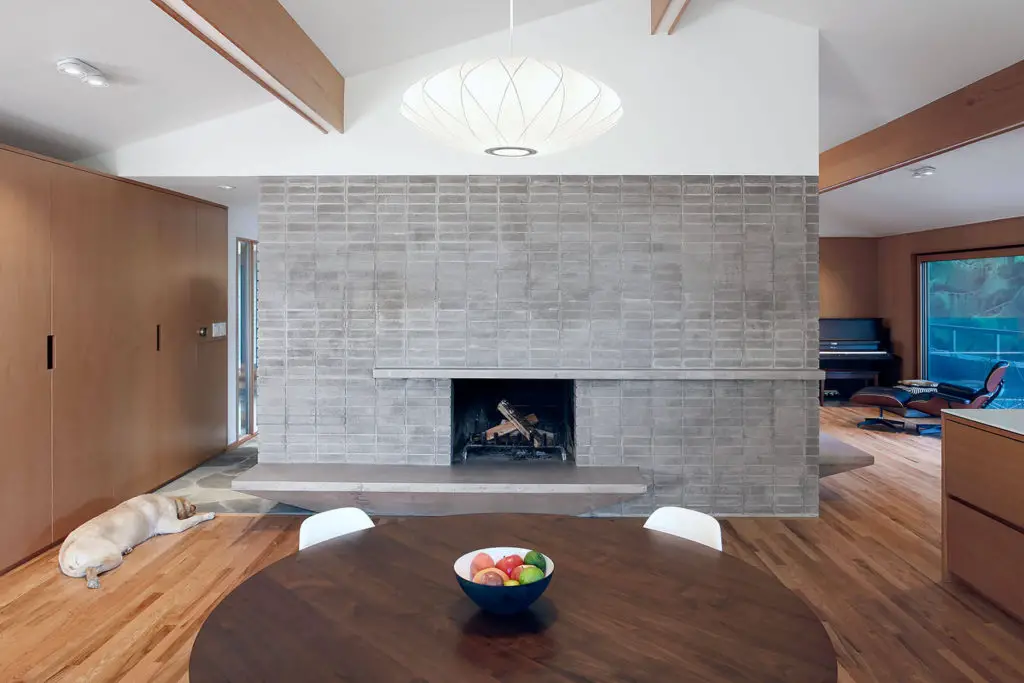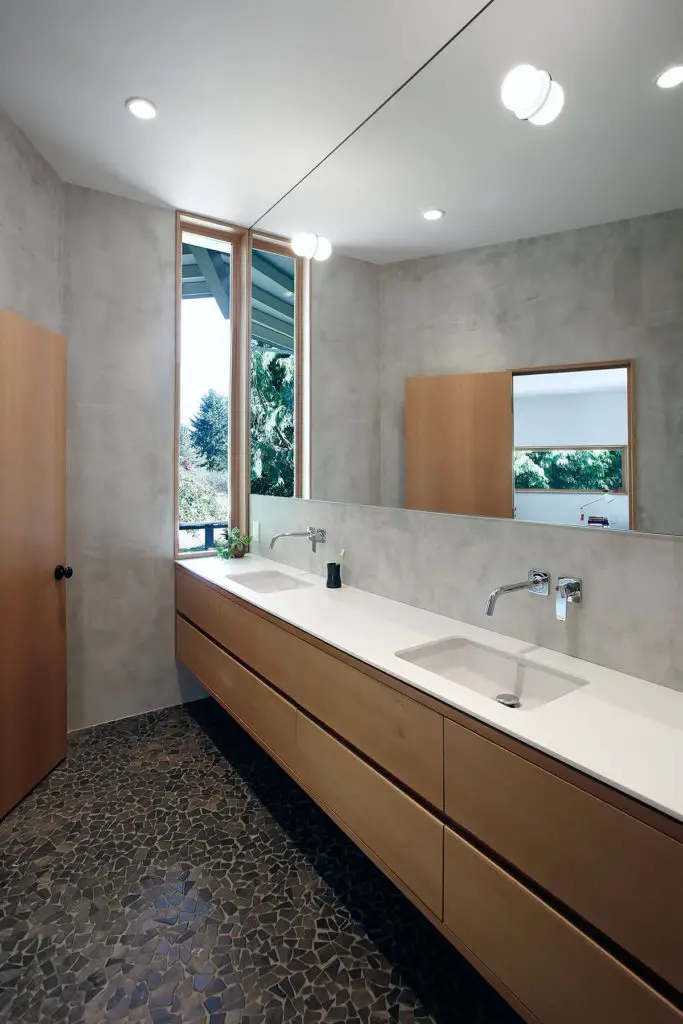 Another central transformation was the removal of the main floor walls. This design decision opened up the main living room area, as the walls surrounding the fireplace were eliminated to open up the house's main social space. This also created space for a bigger kitchen, a formal dining room and a living room that connected the property to the dense greenery of its site.
SHED Architecture & Design also raised the ceiling, vaulting it to enhance and emphasize the house's new open plan. A humble soffit eases the transition between the two level ceilings and ends at a spacious and luxurious master's bedroom with its own private deck.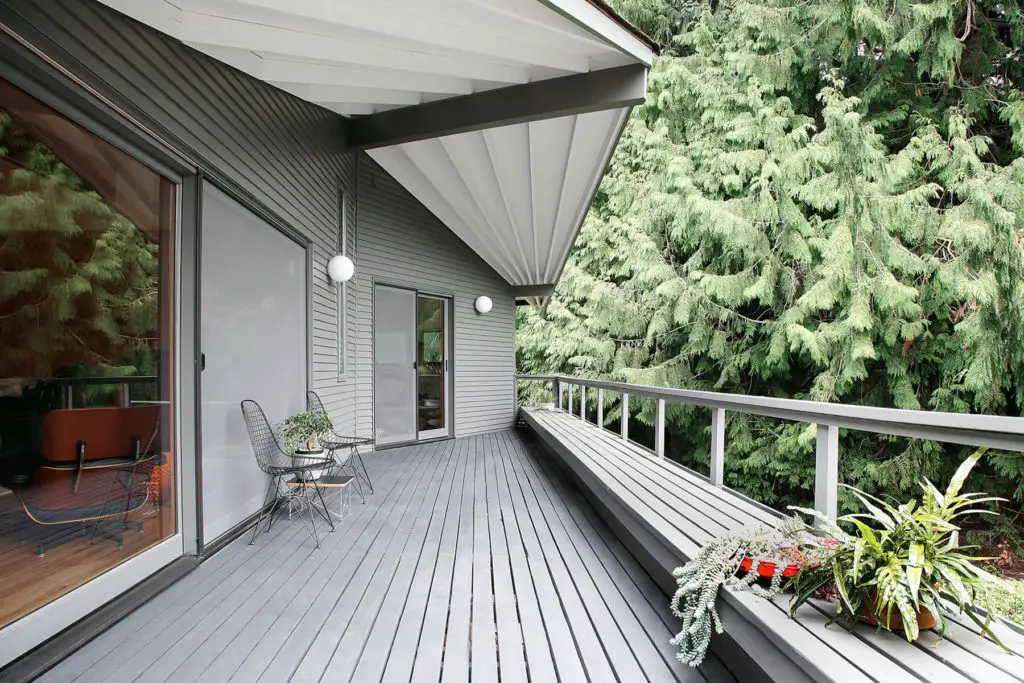 The palette uses natural earth tones with "mid-century motifs like flagstone flooring, wood panels, and slat screens with more contemporary materials like concrete brick, Milestone, and Douglas Fir." By sourcing local Douglas Fir, the house pays homage to its Pacific Northwestern heritage.
The neutral palette is likewise complemented with white Herman Miller lamps – a midcentury modern classic addition to a delicate remodel of a Seattle home.