This home displays a class midcentury modern palette, through its layers of rich timber floorboards, to oak cabinetry and darker hues. We had the chance to speak with the designer of this project at Austin Design to find out more about this project and its zen-like result.
First of all, could you tell us a little bit about your background?
"I'm an Interior Designer and have been the co-director of Austin Design Associates for almost 3 years now. My business partner Lauren O'Brien and I started off as interior designers at Austin Design back in 2015, and four and a half years later Fiona Austin (previous director) was ready to retire, so Lauren and I bought and took over the Austin Design Associates."
What got you interested in midcentury modern inspired interior design?
"I've always had a passion for everything mid-century, from architecture, interiors, furniture, and lighting. However, I would say my passion grew whilst working under Fiona Austin, Fiona has a true passion and devotion for mid-century design, she's an advocate for saving historic midcentury homes from being destroyed in her local neighbourhood of Beaumaris, Australia. While under Fiona's wing, I gained so much knowledge about midcentury aesthetics, materials, designers, and architects."
What do you think was so special about the midcentury period in American design?
"I think everything about what this period stands for in breaking the mould of how people lived. Creating functional and beautiful homes built for entertaining, houses that are unconventional by putting natural light, pools and outdoors as top priority and building around that. It's where the "bringing the outdoors in" trend started. I also love how this era proved that simple forms and well considered lines can produce groundbreaking designs. It's simply amazing that all the designs of the 50's/60's are still relevant today, and works in so many various spaces."
How did you approach the interior design process for this home?
"We sat closely with the clients to work out what is top priority for them, they came to us with a brief of desiring a space they could entertain in and functional work for them. So we assisted with a study close by their main kitchen and living area, although we created zones for the kitchen, dining and living, it all flows and connects together within it's open plan."
What is your favorite part of the home now?
"The Kitchen joinery is the standout for me, we loved using natural materials. The American Oak Veneer brought a warmth and texture to the home, truly made the cabinetry pop and an amazing back drop for furniture."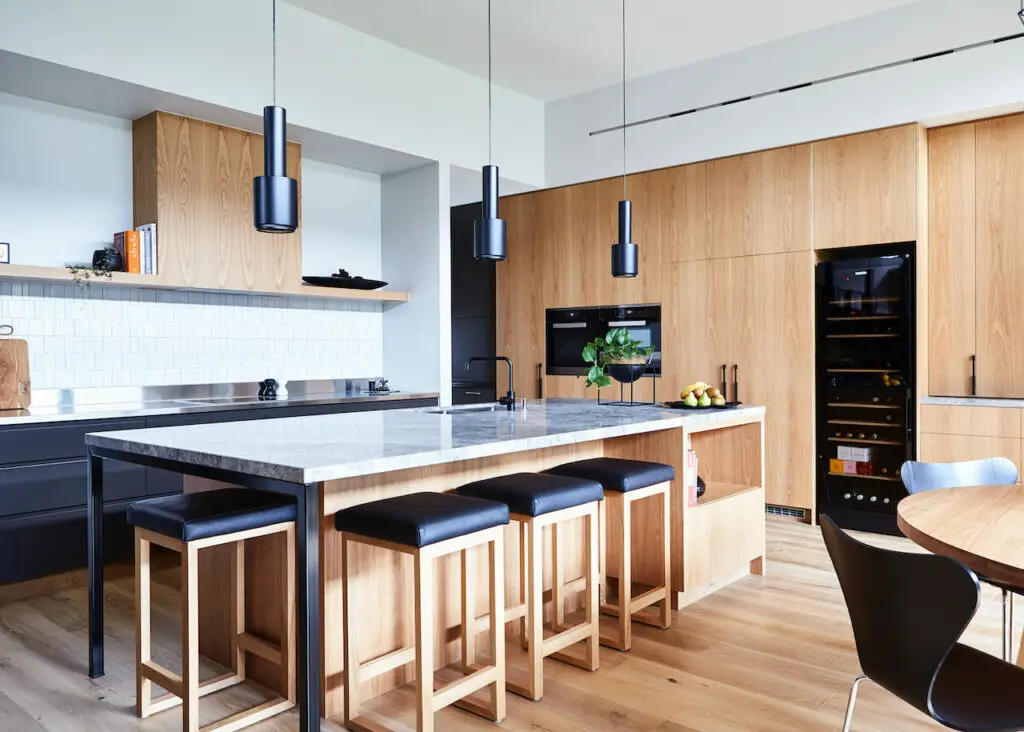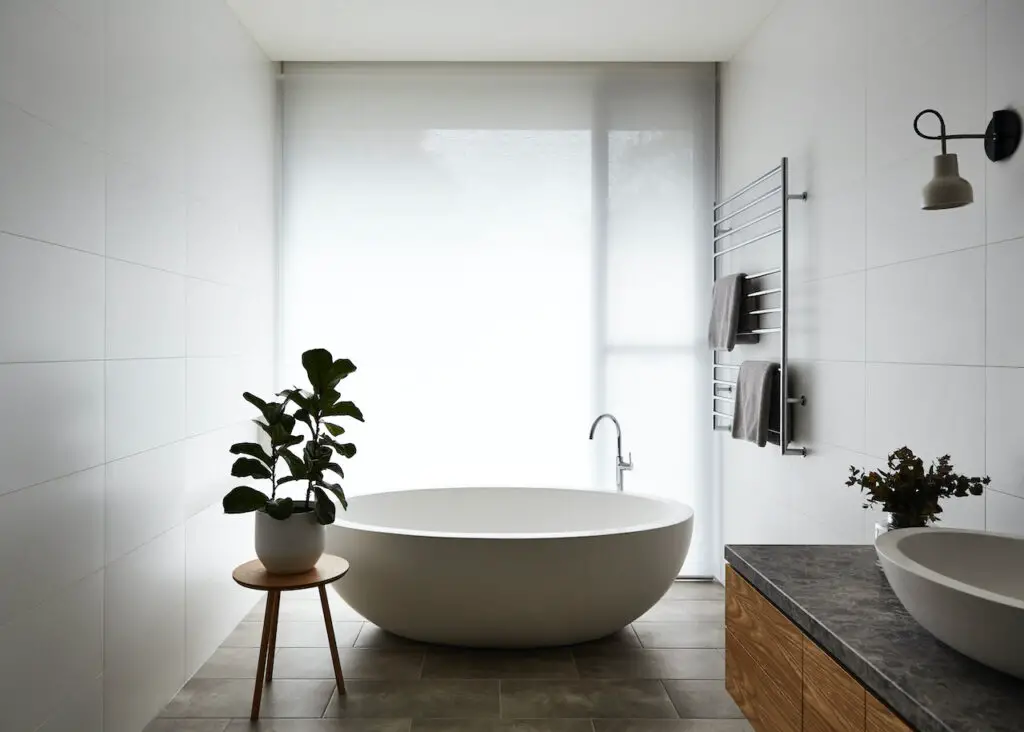 Do you have any tips for people interested in adding midcentury design elements to their home? What should they pay attention to and why?
"Don't be afraid of using timber, I always get asked if there is 'too much timber' and the answer will always be no from me. We used American Oak veneer cabinetry throughout, engineered oak floorboards and oak furniture, it all while balancing out with a warm charcoal compliments. So just as long as you create some relief and balance, don't be afraid to go bold with timber."
What advice do you have for mixing and matching vintage items with new?
"Be selective. I believe you should pick your favourite and most sentimental vintage piece and use that as a hero and don't overshadow it. Be sure to then select new items that compliment the lines, texture and forms of the vintage piece. So don't try for an ultra-modern piece with a vintage item. "
What is the best approach for homeowners when starting out? One room or the whole house?
"This all depends on budget and personal circumstances; we often find when clients start with one room it tends to snowball and they end up doing the whole house eventually. So our advice is start with a master plan, go in to the design process as if you're going to complete the whole house and then you can chip away as suits your budget. Although, in recent experience we find there are cost advantages if they consider economies of scale, which can work out in the clients benefit to wait and complete the full renovation at the one go. However, as mentioned every situation and client has different circumstances, so a single room can make a big difference (it might just make the other areas feel quite dated quickly)."
Finally, how should someone choose an interior designer to work with?
"It's all about being on the same page and being able to communicate, find someone that shares the same values, interests, and aesthetics as you. The projects that work well are the ones where we share the same passions and general way of life. Our clients generally have a strong idea of what they like (and what they don't), so if the dynamic is right and true, we can bring their ideas to life that exceeds their expectations."
Photos by Jack Shelton