Born in Rhodes in 1904, Raphael Soriano moved to the United States in 1924, where he became one of the most influential architects of the mid-century era.
After graduating from the University of Southern California's School of Architecture in 1934, Soriano quickly gained popularity, also, for using prefabricated steel and aluminium elements in his projects: Julius Shulman's House and Studio is a fine example of Soriano's revolutionary approach to architecture.
Acclaimed architectural photographer Julius Shulman asked Soriano to design a home and studio in the Hollywood Hills in 1947. Building began in 1949, taking nine months to complete.
Shulman appreciation for modernist architecture is well known and documented so, it doesn't surprise that, when it came to his house, he hired one of the most iconic architects of the mid-century period and modernist ambassador: Raphael Soriano.
Shulman requested transitional areas – bridges between the outside and the inside – such as screened-in patios, which were added shortly after the house itself was completed. It's believed that Soriano objected to these areas at first, believing that they would obscure the building's clean lines.
The design comprises a group of steel-framed single-storey spaces, with a 2,200 square-foot house, and a separate 1,000 square-foot photography studio.
Outdside, the entrance to the house is sheathed in corrugated steel, while the more private areas are enclosed by sliding glass doors, providing plenty of light to the living space.
Built-in furnishings, such as living room cabinets and daybeds, were incorporated into the construction, while the interior was panelled with plywood. The grounds, which later became overgrown and known as Shulman's house jungle, were designed by Garrett Eckbo.
Soriano designed a total of 50 buildings, but only 12 are still standing, due to demolition, earthquakes and wildfire all taking their toll on the rest.
In 1987, the City of Los Angeles recognised the architectural significance of the Shulman House, and elevated it to Historic Cultural Monument, helping preserve its integrity. The house was recently renovated by architecture studio LOHA.
Living room before the renovation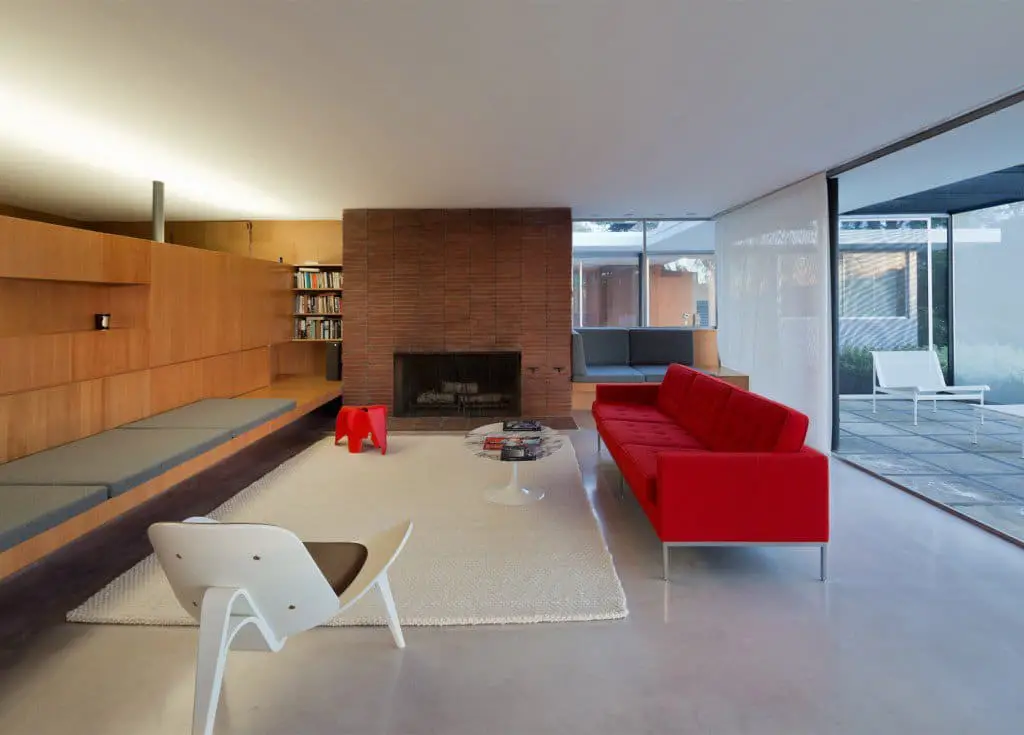 Photos via LOHA and Iwan Baan