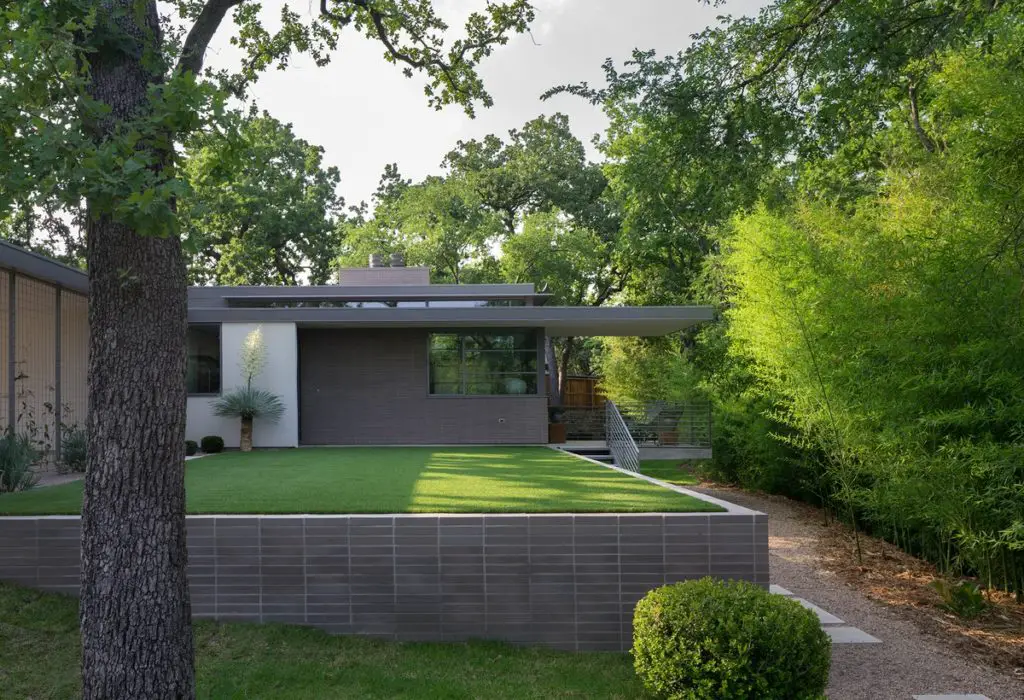 From its sleek modern lines and novel materials, it is hard to imagine that Inwood Place was once abandoned and forgotten. Purchased by Mid-Century home enthusiasts, the 1800 square foot home was beginning to blend into the native vegetation of the adjacent creek. Texan firm Tim Cuppett Architects revived this Mid-Century house to the modern sustainable home that it is now.
The architects, who deconstructed the simple original house to its bones, saw its potential to be elevated and transformed into a whole new level. The existing house's scale was overshadowed by the apartment complex that sits at the rear of the property line. Low ceilings and deep overhangs exacerbated the dark and dilapidated interior, diminishing a sense of vibrancy that defines modern architecture.
The "edge of a wild", a thin line of vegetation demarcating native and manufactured landscape, functions as a privacy screen to protect the clients' from the business of the apartment complex. The edge of the porch flows fluidly from the entrance, cantilevering over the lush wilderness. A small vestibule, or as the renovation architects call it, the "jewel box", hides the domineering view of the adjacent apartment building and nestles Inwood Place into the serenity of nature. Through this architectural intervention, the creek is capitalized to reconnect the cul-de-sac where the home sits into its mid-century origins.
The renovation architects transformed the existing house by organizing the house into a front and a back, creating a series of rooms overflowing with porosity. The effect is a fluid flow of circulation which made for an intimate home. The small gestures not only connected the house to nature, but strategically created spaces of interaction and privacy. The gutted interior was replaced with naturally illuminated spaces by extending the 8 foot ceiling to create a longer central volume. The continuous clerestory windows not only illuminates the interiors but frames the view to the property's mature post oak canopy.
The transformation of Inwood Place is testament to the power of architecture to elevate experiences and push the boundaries of design. The marvelous mix of materiality, modern light wood floors with white walls, introduced strategic areas of visually light spaces within the house. Awarded with the 2018 AIA Austin Award of Merit and the 2017 AIA Austin Homes Tour, the makeover of Inwood Place is the epitome of the enduring potential of design to produce beauty. Formerly forgotten, Tim Cuppett Architects have given new life to this Texan marvel.