Text by k YODER design
Exemplifying spatial clarity and the hallmarks of pure geometry and materiality that would come to define his larger commissions, architect Louis I. Kahn's Margaret Esherick House (1959-1961) represents one of only nine private houses built from his designs in Philadelphia, Pennsylvania.
An AIA Philadelphia Landmark Building (1992), the Esherick House features the only intact kitchen by famed sculptor and woodworker Wharton Esherick, Margaret's uncle. Characterized by clarity of form – Kahn's early iteration of servant and served spaces – and materials – natural concrete and Apitong wood – the Margaret Esherick House is a 2,500-square-foot jewel box with walls of windows, built-in shelves, and reading nooks.
The house transcends its place in time and architectural history. A program of conservation efforts, designed by Philadelphia, Pennsylvania-based architecture studio, k YODER design, sought to continue the transcendence – adding amenities to ensure the home's livability, preserve its architectural integrity, and retain its sense of form and function. New interventions maintain the rigor of
served and servant spaces, complement – rather than replicate – aesthetic details, and refine elements not intrinsic to Kahn's original vision.
To ensure continued stewardship of the Margaret Esherick House as a home, the new owners and their collaborative design and construction team, including k YODER design, Louise Cohen Interiors, Keast & Hood structural engineers, and Hansell Contractors preserved its architectural integrity and retained its form and function. New interventions maintain the rigor of servant and served spaces, complement – rather than replicate – aesthetic details, and refine elements not intrinsic to Kahn's vision.
The scope of the project included transforming the former utility room into a supplemental, state-of-the-art kitchen, conserving the kitchen for entertaining use, and introducing a concealed LED projection system for art and video display in the living room to preserve the purity of the iconic wall surface.
The scope further included refreshing the master bathroom fixtures and finishes, incorporating a second floor laundry with modern amenities in a former storage room, and devise a non-intrusive method for insulating the window shutters.
Under guidance from the Wharton Esherick Museum's Paul Eisenhauer, the original kitchen was conserved, preserved, and refined to ensure its use and condition.
Later-addition cabinets were removed, enabling the refrigerator to return to its original place with an Esherick panel combined with new expert woodwork to clad and conceal it. The range was replaced with a new model of similar scale; copper doors and handles complement the original copper sink.
Non-original backsplash tiles were replaced with a stainless steel panel chosen for its pure materiality, frequent appearance in Kahn's work, and simplicity inherent to the original backsplash. Expert conservator Andrew Fearon restored the walls, ceiling, and cabinet paint colors along with refinishing a counter and cleaning the wood floors.
The new galley kitchen celebrates its functionality and serving purpose while reducing wear on the Wharton Esherick kitchen. In keeping with Kahn's division of servant and served spaces, the new kitchen fits within the confines of the former utility room. As a supplement to the main kitchen, the new space provides much-needed functionality without impacting the spatial rigor of Kahn's architecture or the elegance of Wharton Esherick's intact craftsmanship.
Kahn's original wood window shutters provide excellent ventilation but little insulation. After determining that storm window glass was not an option, the homeowners and interior designer Louise Cohen together conceived a creative solution: the expansive south windows were insulated with new fabric-wrapped rigid insulation panels onto which are printed photorealistic images of the wood shutters.
Panels are specific to each window, with individual variations in wood grain and crossbars. The solution meets the need for increased insulation without impacting the historic shutters; panels are friction-mounted into each window by hand without the need for fasteners. Intended for seasonal use, the
panels can be removed and stored during warmer months.
This significant and thoughtful conservation effort respects the transcendence of Louis Kahn's 1961 jewel box residence while using 21st century technology and amenities to create a highly livable home in Chestnut Hill.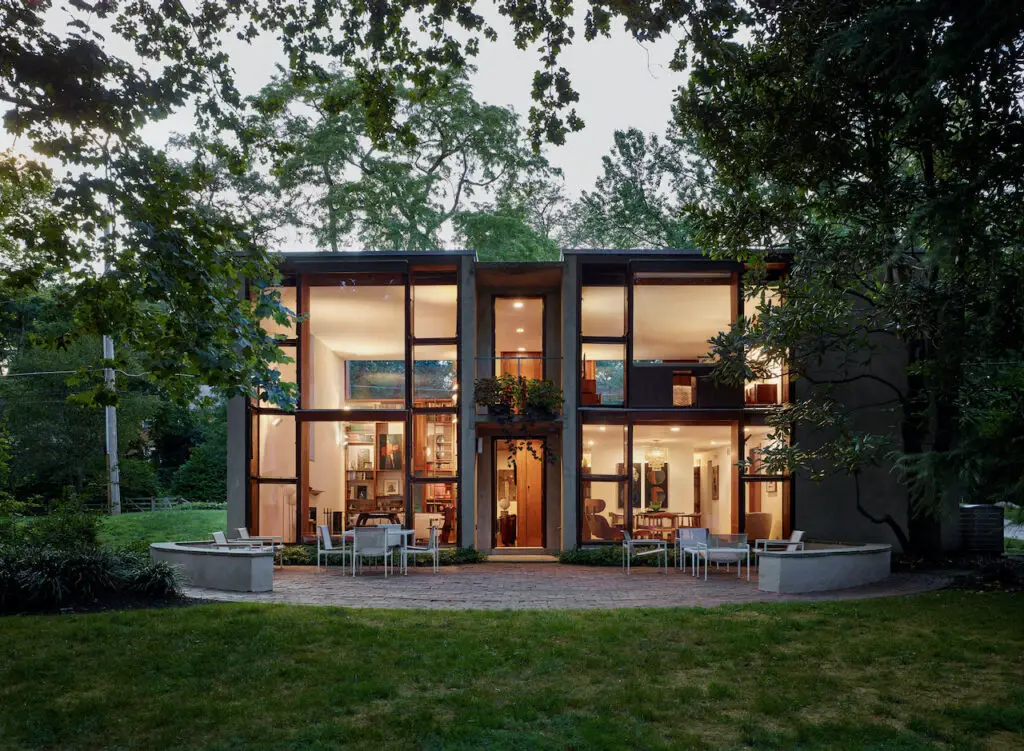 Photos by Jefrrey Totaro