Japanese design studio Hearth Architects designed a modern and minimalist home in the Shiga prefecture on the island of Honshu in Japan.
The region is famous for its natural beauty, surrounded by an expansive freshwater lake and mountains making for a unique and special site. Using the clients' keyword – "every family under one roof", as a starting point, the architects envisioned the home as a family sanctuary.
The client, a young growing family, gave architect Yoshitaka Kuga the brief in designing their 130 square meter property.
While for Western standards this square footage might seem small, it is a luxury in Japan where the architecturally renowned region provides a beautiful backdrop for the Kojyogaoka House.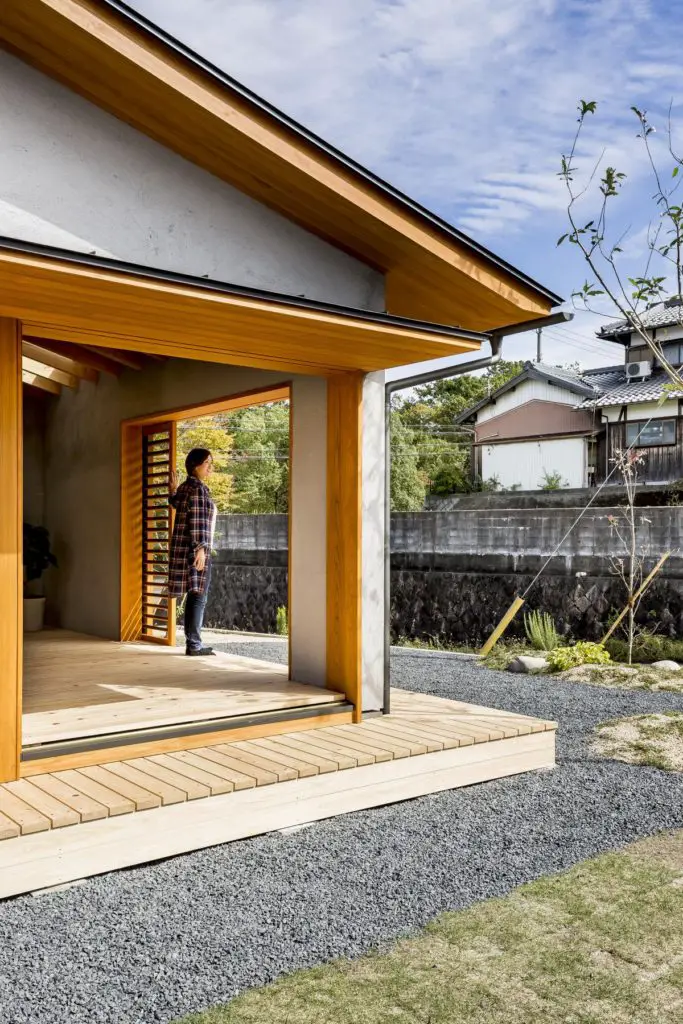 The spacious site gave the architect the freedom to maximize the site's location as it allowed for a wide frontage and an extensive street facing facade.
Arranging an expansive roof across the north and south directions, Kuga is able to exploit the spacious interior by minimizing the amount of walls within in order to remain true to the concept "every family under one roof". 
The first floor is prepared for the clients' future children while the split roof conceals the house's two storeys. By camouflaging the bi-level house into a seemingly bungalow, Kuga symbolically presents a singular, unified home.
Furthermore, this design strategy ensures that the Kojyogaoka House blends in with the single level houses in the neighborhood. This sense of belonging, or sticking to a status quo is characteristic of Japanese residential architecture which favors the minimal over the eccentric.
In this line, the house maintains a neutral palette, mixing earth tones with gray hues. The wooden slats and the warm shades of wood are typical of traditional Japanese architecture and are consistent with not only the house's but the cultures penchant for simplicity.
These wooden slats also create a dynamic visual effect, casting striped shadows on the pale wooden floor. The windows are punctuated by various grids and tie the house together while inviting natural light and ventilation. 
The wooden cabinetry and furniture likewise create a cohesive material palette across the Kojyogaoka House.
The facade introduces a gray concrete finish to create a pleasant visual tension with the subdued pale wooden fittings. The overwhelmingly wood materiality of the house blends beautifully with the lush trees surrounding the vicinity.
More so, it mimics the vibrant nature of the Shiga Prefecture where the house is located. This project confirms Hearth Architects great attention to detail and materiality, masterfully combining functionality and feeling in a small yet spacious sanctuary.