This Bauhaus-style villa by Jan and Waldemar Lippert, shared with us by the German Real Estate Agency Heimburger Immobilien, is an original 1963 construct and a treat for midcentury modern lovers across the globe.

Built in tune with box-like post-war modernism, the property sits on a reserved hillside in Weinheim, overlooking the Rhine river.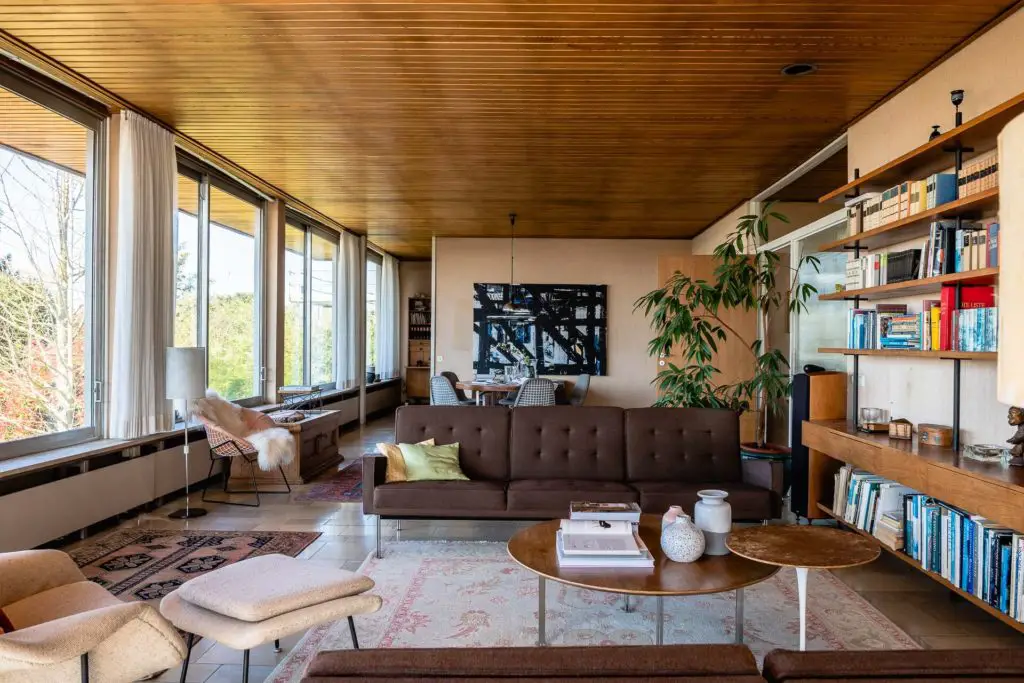 Although Jan and Waldemar Lippert realized the midcentury modern design a half century ago, the interior of the building remains generally preserved in its authentic original form. The kitchen has seen some touching up, but the living room and dining area have barely been touched.
The house is built on two levels. The lower level makes space for the private areas, filling the entire level with four bedrooms. Each of the bedrooms carry large windows, bringing in light as well as overlooking the lush gardens, patio spaces and the outdoor pool further down the hillside.
The upper level of the house accommodates a kitchen, living room and dining room. The entrance is from upstairs, through the hall and a cloakroom. Past that, natural light fills the rooms designed for living and entertainment purposes. Thanks to the walls of windows, the expansive 60 square meter room not only soaks in plenty of natural light, but also panoramic views of the Rhein.
The interior is largely characterized by timber slatted ceilings and wooden cabinetry. The floor on both levels is mainly made of a mix of light shades of tiles and wood.
Terraces play a key role in this midcentury modern home design. Not only do they grant access to the outdoor garden areas, they also accommodate outdoor entertainment spaces. Floor to ceiling glass doors open from the upper level to out a main terrace, which comes equipped with an outdoor fireplace.
Another smaller terrace leads to the lower level and the poolside. All in all the bountiful use of glass, sliding doors and terraces fabricate a comfortable indoor/outdoor lifestyle.