If we were to choose one home to capture the essence of a Las Palmas home, this would be it. Situated in the prestigious neighborhood of Vista Las Palmas, this Swiss Miss A-frame style home is a sight to behold. Designed by Charles Dubois in 1958, this midcentury modern masterpiece stands out in its neighbourhood, which is widely known for housing multiple celebrities during the 1950s Golden Age of Hollywood.
The most striking feature of this one-level home is the climactic A-frame roof, which extends all the way to the ground. This feature defines the frame of the open living space inside, seemingly propped up by a powerful stone wall containing a fireplace. 
The perks of the A-frame shape are manifold; the living room enjoys high-reaching tongue-and-groove ceilings and the simple, it creates shelter for the front and back porch, and because of the way it is angled, the home capitalizes on the movement of the sun, not to mention that the clean structure of the A-shape is a satisfying sight.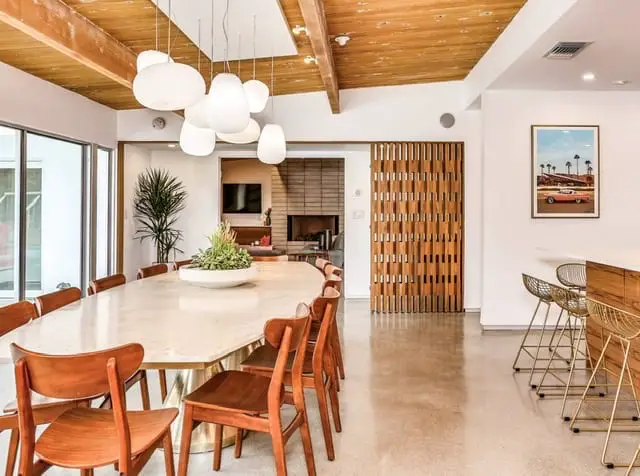 In addition to forging a bright and open space, full-height expanses of glass are found on both sides of the stone wall, providing stunning views of the surrounding landscape as well as overlooking the pool in the backyard.
The elegant interior decor of the living space has been carefully selected to harmonize with the surroundings. Light greys and tones of natural wood seamlessly blend with the mountainous landscape and the concrete patio wrapping around the pool.
The home stretches over 3,833 square feet in total, featuring six bedrooms and four and a half baths. A new wing was added to the home during renovations, which instilled a skylit master bedroom.
The combination of the generous skylights, crisp white walls and large sliding glass doors epitomize the bright and breezy space while creating a seamless connection between the inside and out. 
Like the rest of this iconic house, the poolside is no ordinary feature and steps it up a notch when it comes to backyards. In addition to the master bedroom, there are several other access points from inside, including another bedroom, the open plan dining area as well as bathroom. 
Much like a vacation retreat, the backyard features a bar, a place for eating with friends and family, a line of sunbeds, areas for lounging and a poolside spa, which come in combination with breathtaking views of the Las Palmas landscape.