To call this midcentury modern design by Canadian architect Roger D'Astous expressive would be an understatement. Located in Boucherville, a city in the Montérégie region of Quebec, the stunning property stems from the ground like a midcentury work of art.
From the facade, the home seems to grow in size with each layer added from its base, which is mainly made from natural stone walls and a collection of rectangular glass with black frames, assembled neatly to create a fun pattern on the home's exterior. An orange door sparks up the entryway, which is also repeated on the garage door at the end of the driveway leading up from the street.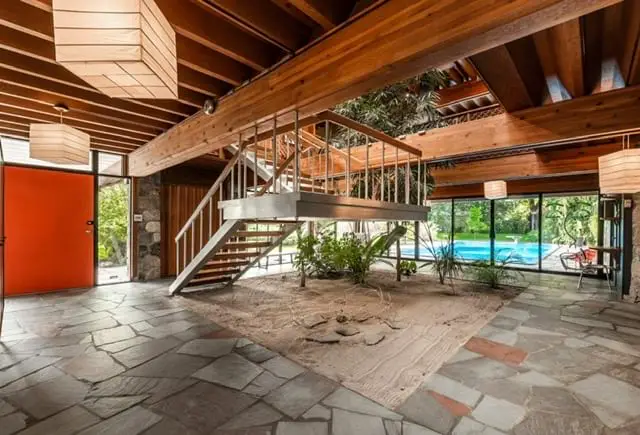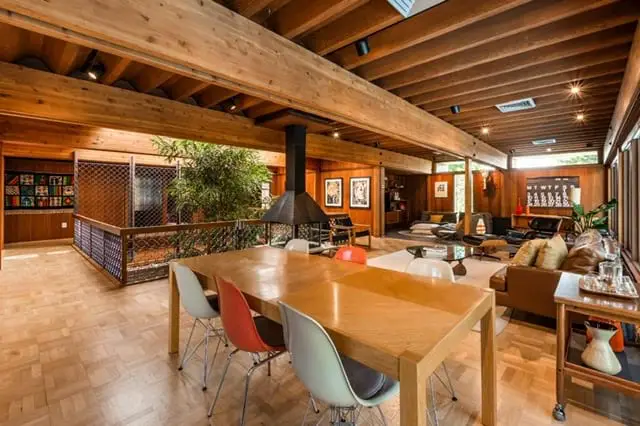 The entrance hall is incredible with its part cave, part jungle vibe. The entire floor is made of flagstone tiling, which synchronize with surrounding bits of wall made of natural stone. The ceiling is made of wooden beams with the center left completely open and a wooden staircase leads the way up through the open part. 
On the ground floor, below the staircase, the outside is brought in: a patch of sand with plants growing out of it is not only a delightful detail, but also blurs the lines between inside and out. Floor to ceiling glass, some of which slide open, wrapping around the space only strengthen that impression, providing views of the surrounding greenery, driveway and outdoor pool.
Upstairs, the almost all-wooden caters a chalet-like form and a circular inset lightens up the all-wooden concept. A cluster of skylights invite plenty of natural light to pour in throughout the day plus similarly to downstairs, a wall of floor to ceiling glass look over the backyard and the pool. The indoor garden bears trees which extend all the way upstairs. 
The iconic two story home accommodates four bedrooms, an open lounge, kitchen, as well as dining room. The gorgeous property has undergone some renovations, including updates in the kitchen and bathroom. However, the flooring and details in the bedrooms remain the original along with much of the rest of this modernist Quebec home.