Westport Pool House is, as its name implies, the additional Pool House to an existing property in Westport, CT. The New York based design firm SPAN Architecture created a pool, a pool house as well as extra features to fill the wishes of their clients. The multiple modern structures rest elegantly in the existing topography of the site surrounded by forest and lush green landscape architecture.
The owner's brief for the architects included, "a new pool and pool house with koi pond, hot tub, exterior stone fireplace, as well as a landscape and garden master plan to be sited on a property with an existing house."
The result is a semi-enclosed pool house made of stonewall "that situates itself as an alternate al-fresco living area to that of the main residence, drawing on material cues from the context."
Facing the construction, the stonewalled pool house and pool stand out from their lush background with glimpses of sky through the tree branches. The stone wall "references the materiality of the existing stone house and landscape walls already found on the property." A series of 40'-0" long cedar pergola beams complement the natural stone constructions.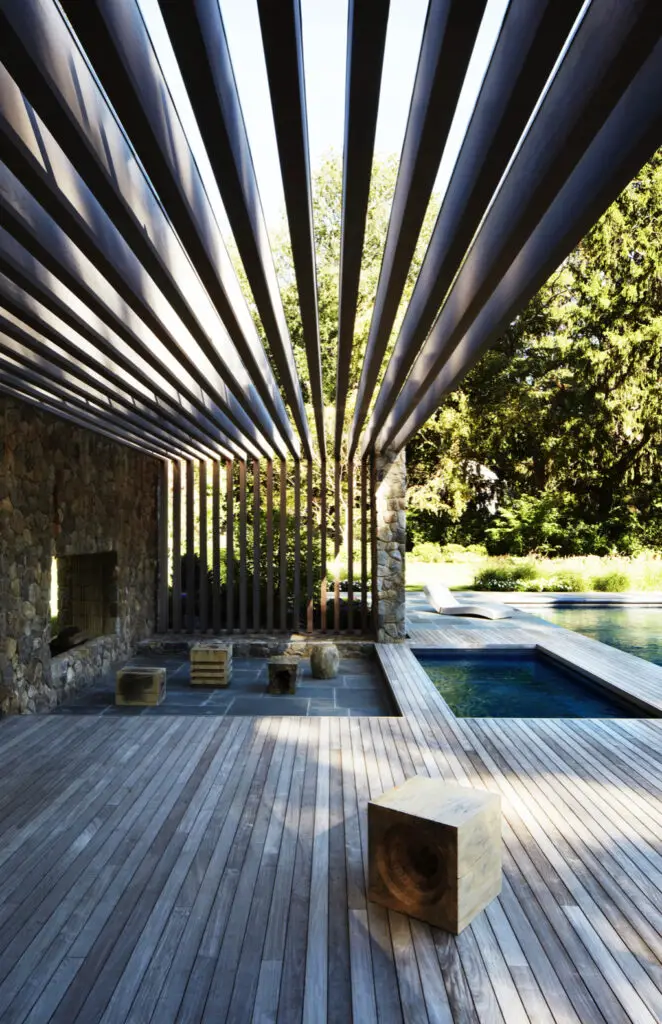 The koi pond and stone fireplace sitting area are sat next to one another with an adjacent square wooden patio area leading to the pool. "The wooden beams frame an interior/exterior series of spaces including a changing room, sitting room, shower, dining area, and living room, of which only the changing room and shower are fully weatherized."
The sitting room has plenty of closet and drawer space for storage, built into beautiful wooden cabinets in harmony with the rest of the spaces as well as the surrounding outdoor area. This space "is a contentious space capable of being enclosed or fully opened to the exterior through a series of sliding wood and glass walls.
The pool, hot tub and koi pond (all of which have differing thermal, ph and salinity requirements) are not treated as separate entities, but are arrayed to appear as a single body of water and frame the path to the pool house, appearing to bring one over and across the water."
An extra wooden patio intended for sunbathing is situated at the other end of the poolside. The trees provide shelter but also allow sunlight to pour into the garden and pool area during the daytime. At night, the fireplace and carefully sunk in warm lighting cater a magical, romantic feel.