A winding street in Tarrytown, Austin, Texas is home to a couple's modest and modern home. Tarrytown – described to be "a genteel residential neighborhood displaying a range of architectural styles along oak tree-canopied streets" features a prominent historic golf course and expansive nature preserves.
The clients were a couple working in the technology industry, and they wanted their house to exude their shared love for nature and the outdoors, as well as the arts. 
As such, they asked Austin architect Nick Deaver – who believes that "Architecture is personal, the art of making one's place for life, happiness and well being" for a modern home that could function "as a platform to launch their imagination and creative pursuits". 
The form of the house is simple and elegant. A 2400 square foot rests in the midst of tall lush trees. The roof is likewise a response to the Texan climate, consisting of overhangs and low-pitched roofs and porches. Two solid stucco ends are carved out to create private spaces while the public areas appear to be floating above the landscape in a glassy middle.
Thin mullion-less glass blur indoor and outdoor by allowing those inside to remain immersed in the landscape and tuned to nature's effect. This connection to nature was an important aspect for the couple, who wanted to enjoy the lush outdoors. A "rooftop light monitors and folded ceilings reveal the high tree canopy and illuminate the interior."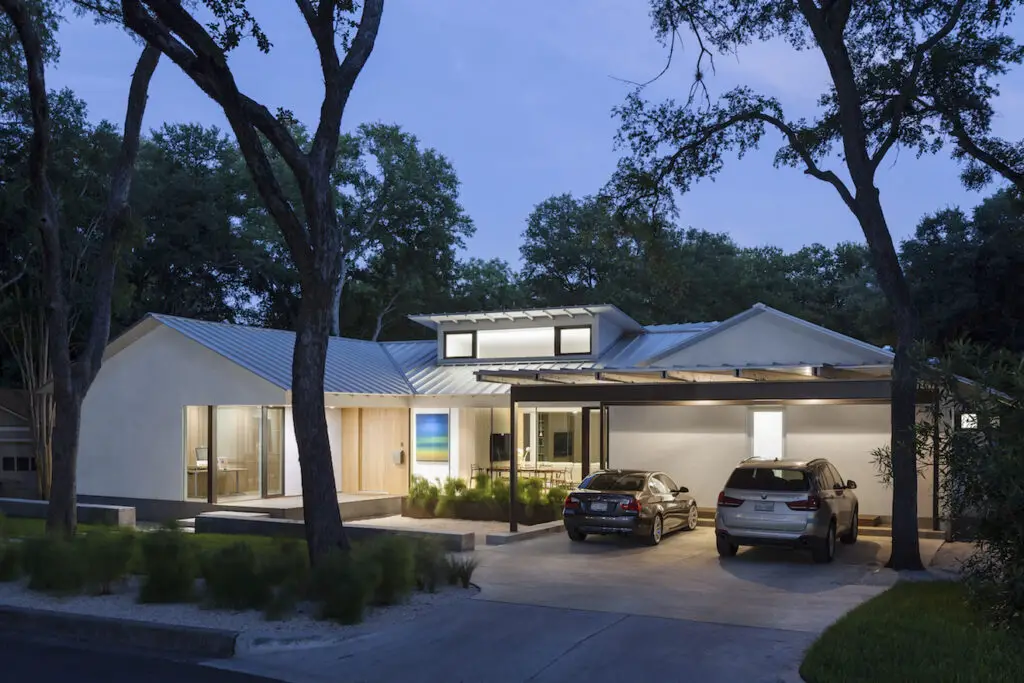 Play on light was a central element in this modern home – "the larger dormer brings in diffused light while the smaller dormer faces the sun creating changing shafts of light". The material palette is kept at a minimum and consists of smooth white stucco, unfinished stucco, smooth white gypsum, flat vertical grain cypress and standing seam metal roof.
The effect is a clean and minimal home that is effortlessly elegant and timeless. This is further complemented by the simple forms that exude tranquility and peace. Winning the 2015 AIA Austin Homes Tour, the Platform House proves that modern does not have to be boring,  and that minimalism can be elevated with the right design strategy.