One block away from downtown Palm Springs, California sits the Del Marcos Hotel – a hotel designed in 1947 by William F. Cody. Cody is considered a "famed desert architect," for this hotel, along with some of his other works.
The Del Marco Hotel is located in the well-known historic hotel and shopping district of Palm Springs with a beautiful backdrop of the breathtaking San Jacinto Mountains. Features of Cody's design make the Del Marcos Hotel all the more special.
Over the last few years, restoration has begun on the building and Cody's spirit has remained visible during these efforts. The hotel was originally designed for owners Samuel and Adele Marcus and prove to be a critical step in establishing Cody's career since it was the architect's first commission in the desert and featured an interesting mix of native stone and redwood.
SEE MORE: 6 Palmer and Krisel Houses in Palm Springs
But more so because it won Cody the American Institute of Architects Design Award. The "desert oasis" that is the Del Marcos Hotel has begun to show its age, leading General Manager Laura Ramstead to say about the restoration efforts: "This has been less of a remodel than a restoration of the honest designs of the mid-century era, reflecting more of an organic retreat versus a commercial kitsch interpretation."
Ramstead has ample experience in hospitality and estate management, and a keen eye for detail. These traits have blended well with owners Lars and Kelly Vickland's designer, Laura Slipak and her tastes in fabrics and furniture. A chic homage to the legacy of mid-century décor and lifestyle is created as a result of the collaboration by balancing design integrity and comfortable utilization.
Details like the preserved stone façade and retro marque are a design enthusiast's dream. In the enhanced furnishings you find clean lines, simple fixtures, and stylized planters which have mid-century modern written all over them. Each room of the Del Marcos Hotel has a fresh minimalist feel offering guests an ideal environment to relax and enjoy the infusion of midcentury pieces without being overwhelmed by clutter.
SEE MORE: This Desert House Grows Out Of The Ground: The Edris House
Ramstead is quoted as saying, "We wanted the rooms to give guests nostalgic, but familiar impressions to evoke positive memories of their stay at the hotel." The hotel's location within the famed "Tennis" neighbourhood further gives the resort character and charm. Plans for the renovation include an upgrade to the bathrooms that will now have Terrazzo installations for bathroom and shower floors. The efforts of owners Lars and Kelly Vickland's, designer Laura Slipak, and Ramstead continue to transform Cody's resort hotel into a gorgeous Palm Springs boutique hotel.
Ramstead says, "We wanted to create a destination here at the Del Marcos, where our guests can get away from it all but still experience the allure of Palm Springs and all it has to offer." They appear to have fulfilled their aim expertly.
Photos by Darren Bradley and Flickr user Atomicpear.
READ MORE
[one_third]
Palm Springs Modern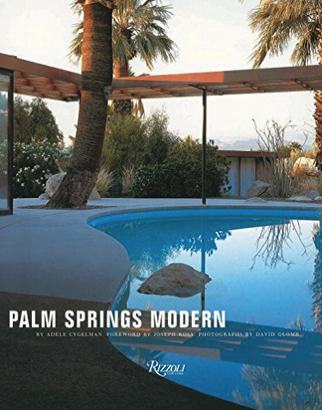 [/one_third][one_third]
Julius Sulman: Palm Springs
[/one_third][one_third_last]
[/one_third_last]