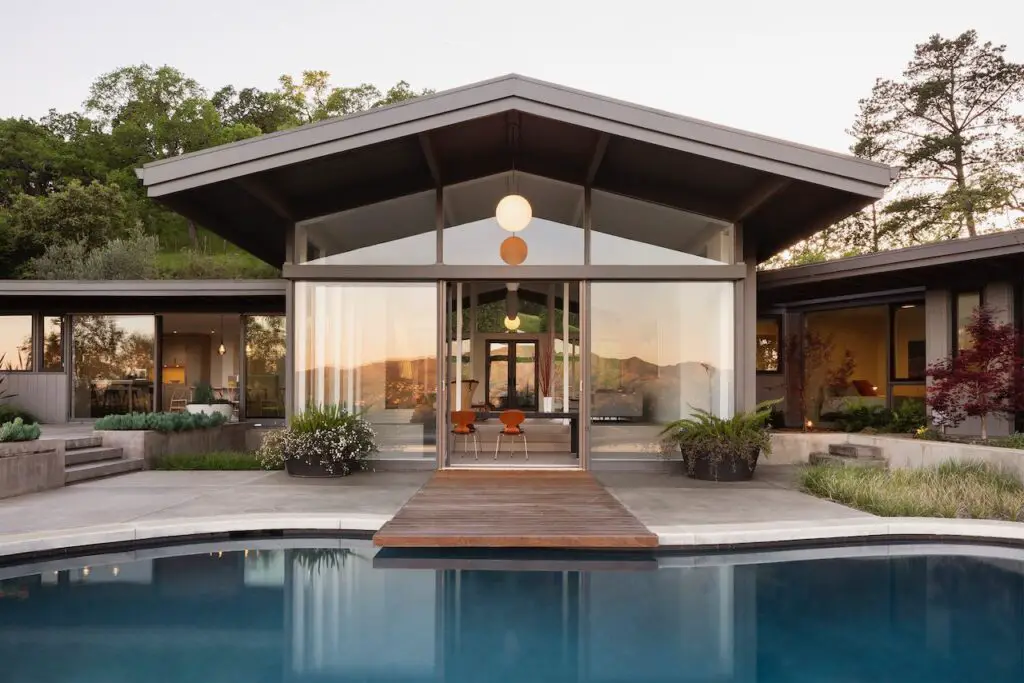 Text from Framestudio Watching the seasons change in the hills was one of the simple joys that came with owning their home in Alamo for the past 25 years. Our clients raised two boys in their 1952 Ranch house, which sat on the corner of two tree lined streets near the Iron Horse Trail.
Like their neighbors, they remodeled and added onto their home to accommodate their growing young family. Over the last decade, the neighborhood has seen more dramatic changes.  
With the original homeowners moving on, the homes are often sold to developers who tore down the sleepy ranches, replacing them with multi-story trophy homes that tower over the original neighborhood. Over time, the views of hills that brought the family so much joy had disappeared.
With both the boys now off to college, the couple began to think about making a change. Initially considering a change of scenery, they began their search in Berkeley and Kensington, until they found a listing for an unexpected home just a few miles up the road.
Built only 7 years after their original home, the home had been designed by noted Bay Area architect, Henry Hill, who is known for his dramatic midcentury homes.
Overlooking the San Ramon Valley from the west, the home showcases Hill's dramatic flair, with guests entering into the home's grand glass-filled living room on a direct axis with the view of Mt. Diablo.
Two wings emanating off the living room create a boomerang plan, affording each room a connection to the nature that surrounds the home. 
The couple tasked Framestudio, designers of their previous home, with updating this purchase to fit their new lifestyle as empty nesters. The Framestudio team charted a plan of attack, starting with updating the mechanicals, along with smoothing some of the wrinkles caused by awkward additions.
Understated, timeless finishes were selected, being respectful of the vision of the original architecture while bringing functionality up to modern standards. 
Faced with only a few original interior details, a result of previous remodels, the team sought inspiration from lesser-known international midcentury modern designers, rather than the typical Palm Springs modern aesthetic that is so common.
In the bathrooms and kitchen, references were made to the work of Swiss designer Pierre Jeanneret, and Cuban designer Clara Porset. During the three year project, Framestudio guided the team through the major remodel, reminding everyone of their collective goal: nothing must distract from that view.