Initially made as a one-off prototype design, the Eames Lounge Chair and Ottoman quickly became fashionable and well-liked by a wider public after the design was improved and eventually put into production. It was seen as a 20th-century rebirth of the old English Club Chair.
[tabs type="horizontal"]
[tabs_head]
[tab_title] Related Books [/tab_title]
[/tabs_head]
[tab]
[one_third]
[/one_third]
[one_third]
[/one_third]
[one_third_last]
[/one_third_last]
[/tab]
[/tabs]
Eames had been very thorough and tested exhaustively over many years with his preceding designs that included, amongst others, the LCW Chair. These methods that had produced outstanding results in moulding plywood would become essential in the development of his new design with some new features, the Lounge Chair.
READ ALSO: Case Study House 8. Charles and Ray Eames 
The sample design was first made at the Eames Office. After the initial enthusiasm for this design, the Eames Lounge Chair was put into production in 1956 with some modifications to make it even more appealing and comfortable. Consumers could choose from fabrics such as real or artificial leather for the cushions and there was a plywood base made from rosewood.
The leather cushions are affixed inside the plywood shells by a series of clips and rings. There was also an ottoman that came with the Lounge Chair. The resulting structure presented a modern style that Eames, himself, described as a 'well-used first baseman's mitt'.
READ ALSO: 5 Mid-Century Houses With Interiors to Die For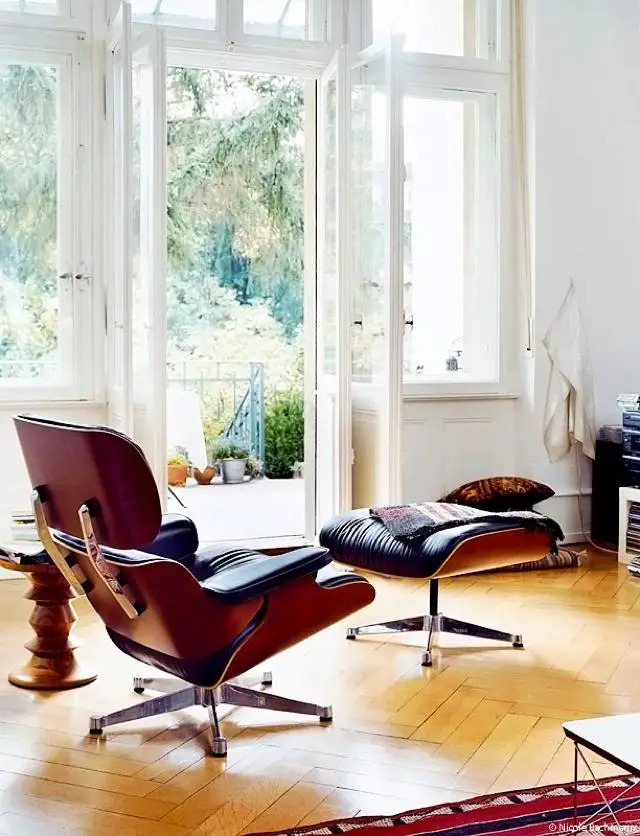 There was a 3rd shell added to the design of the Eames Lounge Chair. A pair of aluminium supports and rubber shock mounts were used to support the headrest connected to the backrest. The leather cushions had a natural filling of duck feathers in the first versions and later these cushions were packed with other more modern materials such as Dacron and foam.
Photos via here
Charles and Ray Eames really wanted to provide furniture for a widespread public, but the Lounge Chair stayed out of reach for most consumers due to it being quite dear to manufacture. The reason for this was because of the thorough processes that went into making such a high quality product.The workmanship was high class and there were a number of different steps in the assembly process.
The beauty, comfort and timeless design, make Eames' Lounge Chair still popular as a collector-item for modern-day collectors and still in production.