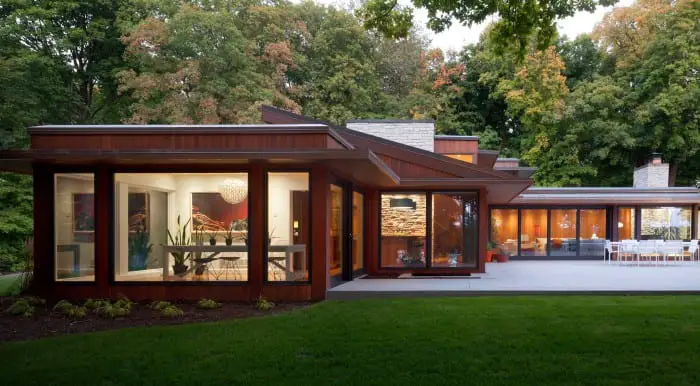 Originally built in 1948 by Thorshov & Cerny, this two story midcentury modern home experienced a sterling renovation thanks to the exquisite design by Peterssen/Keller Architecture.
Located just around the corner of Wayazata, Minnesota, the gorgeous home rests over two acres in the thick of a wooded backdrop, lush with greenery.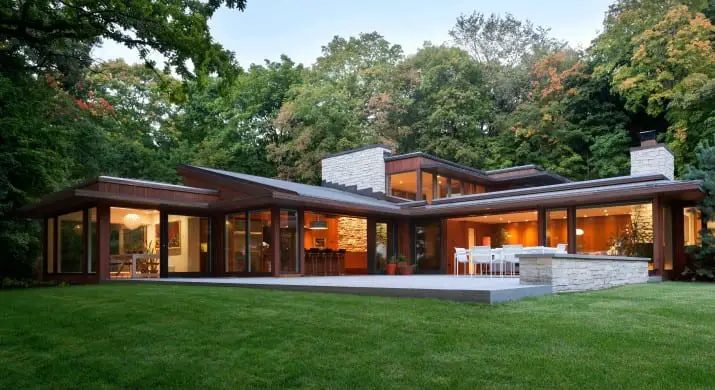 The home boasts an open plan modern kitchen, equipped with plenty of wooden cabinets for storage and a large island topped with an engineered quartz counter, which extends a little over its base, making room for guests or family members to sit on the high, modern bar chairs that are lined along the garden-side of the counter.
READ ALSO: 5 Books To Help You Live Your Best Scandinavian Life

Medium hardwood floors and floor to ceiling windows that slide give boost to a seamless connection from inside the kitchen to the natural surroundings outside.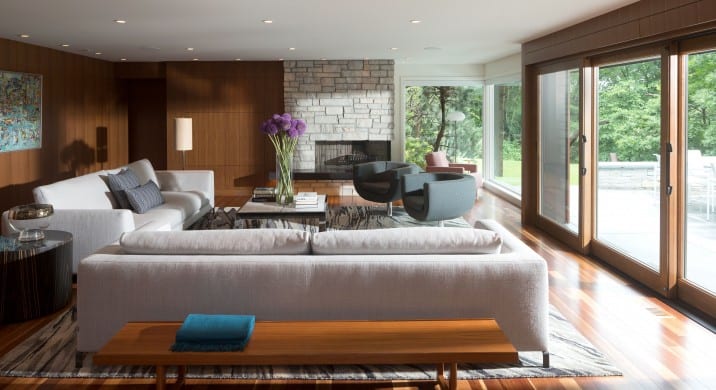 The greatest alteration this midcentury modern home underwent, as requested by the new homeowners, was the addition of a dining space that allows the sun as well as outdoor views to fill the room through its floor to ceiling windows. Lift and slide doors open up to the garden, connecting interior to the surrounding landscape.

The large stone patio extending adjacent to the house in the backyard is a striking feature of the home and provides considerable space for hosting dinners outdoors, sunbathing or for children to play on. The remainder of the backyard is occupied by a large patch of grass, surrounded by trees which shield the property.

Back inside, a stone wall subdivides the hallway and kitchen, towering up and connecting the indoor with the outdoor. Details of the same stone are found at the end of the stone patio outside as well as the chimney in the lounge space next to the patio.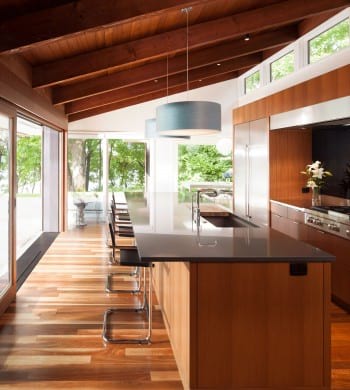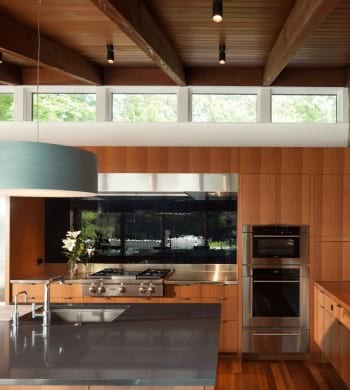 Upon first glance at the property, the homeowners knack for art is visible. From the modern statue outside the front of the home to paintings and statues inside, the carefully selected modern art meshes well with this stunning midcentury modern home.
The rest of the interior decoration is kept to a minimal aesthetic; each room has what it needs to serve the purpose without excessive embellishments. With that in mind, the furniture and other elements such as the bathrooms blue tiling have been selected with care, paying close attention to detail.
Given Minnesota's continental climate of hot summers and cold winters, it is no wonder the architects designed the home to be so light-filled.

.