The Blue Lake Retreat is all about views. Commissioned by a client familiar to the area since childhood, this contemporary style vacation home was designed by Austin-based Lake|Flato Architects to serve as a family retreat for generations to come. Rising above the treetops in Marble Falls, Texas, the vertical structure enjoys views of the lake as well as the hillside within which it resides.
The Blue Lake Retreat makes the most out of connecting the indoors with the outdoors. A metal framework surrounds the home's stair tower as well as main frame, inspired by the structure of a historic fire tower. Thanks to the pairing with glass, the stair tower is entirely transparent.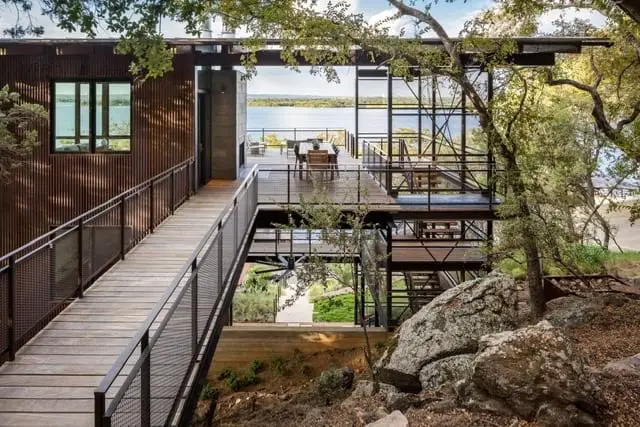 Decks and pathways surrounding the home on all sides connect spaces with one another as well as provide additional lounging and dining areas.
Looking from certain angles of the hillside, the transparency of the stair tower leads the gaze into the open plan living areas, which include a lounging area, space for dining as well as a comfortable open plan kitchen featuring a vast kitchen island.
Inside, the common areas revel in simplistic scandivanian style. Simple and stylish furniture which carry a light and natural color palette are accompanied by white walls, light oak floors, and walls of windows, ensuring a light and open flow throughout the spaces.
Lake|Flato selected durable materials that fit in with the surrounding landscape. The steel frames bear similar tones to those from the hillside, while red cedar clads bear semblance to the color of the surrounding trees.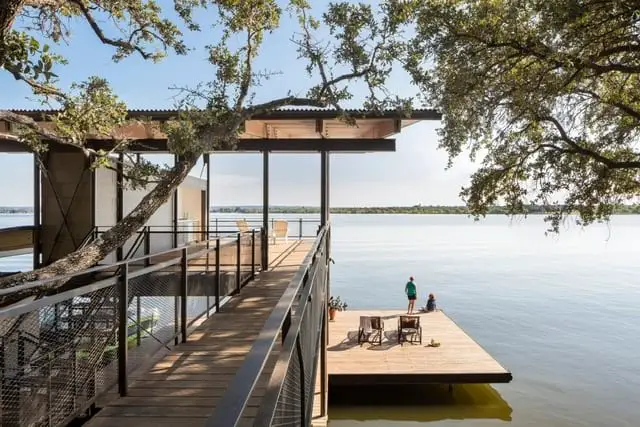 Wooden patios are found on all three levels of the Blue Lake Retreat, all the way to an extra construction hovering over the waterfront. Built on two levels, the upper part makes room for enjoying the lakeview over drinks with family or friends, while the lower level features an expansive pier and a boat dock.
Back inside, the retreat's four bedrooms are found on the first two floors. Each bedroom features a pair of glass doors that open up to its own balcony for taking in the views, while wooden siding for the rest of the facade provide privacy from the hillside.