The Olnick Spanu House resides in an environment of conspicuous calm. Completed in 2008 by the architect Alberto Cambo Baeza, its principal view offers a panoramic scene of the Hudson River snaking its way through the New York countryside. Yet when viewed from the lake that it overlooks, the house is barely perceptible amongst the trees. It is a brief anomaly on a hill covered in forest, a delicate beauty spot.
This focus on unobtrusive calm makes for a strong contemporary example of the fundamental principles of the modernist house. The designer clearly aimed to emphasise and enhance the landscape that appears in front of it, with the building's strong concrete walls accentuating their relationship to the landscape and the earthy grey tones of the white marble floor corresponding with the trees surrounding the house.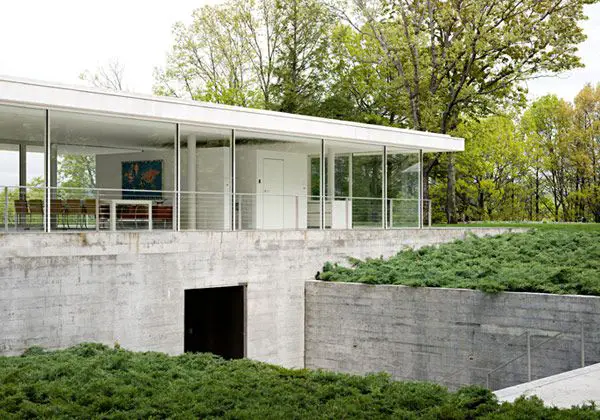 This box of glass, concrete and steel measures 122 feet long by 54 feet wide by 12 feet high. To protect its occupants from the sun and the rain, the architects have raised a light cover measuring 100 feet long by 40 feet wide to 9 feet high supported by 10 cylindrical steel pillars that are arranged according to a grid of 20 × 20 feet. The central space is the living and dining room. And next to the central space, closer to the pool is the kitchen and on the other side the fireplace area. Meanwhile, bedrooms and bathrooms are nestled in the floor below.
Other coverage has focused on the building's whiteness. For instance, an ArchDaily article describes it as a "white box" in whose centre sits the aforementioned white table. And yet it seems much more apt to emphasise the gradations in colour, spanning from white to grey.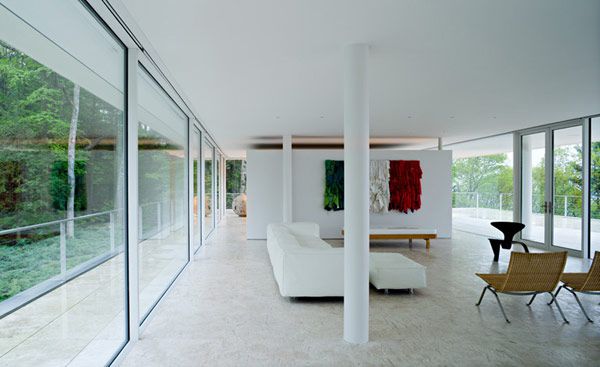 Also notably absent from other coverage of the house is the fact that the understated grace of the Olnick Spanu House arises from one of its main functions: to house a collection of artworks from the Italian contemporary art movement Arte Povera.
SEE MORE: The H.P. Davis Rockwell Glass House
Arte Povera emerged at a time when Italy was experiencing considerable social upheaval. Amid the country's convulsions, the movement sought a return to simple objects and simple messages. It also expressed a considerable concern for nature, and more specifically the ways in which the natural and the artificial interconnect and how nature could be evoked in industry and manufacturing.
Taking these characteristics together, the house emerges as a remarkably thoughtful meditation on modernist and more avowedly Arte Povera visual cues, displaying both movements' disavowal of traditional forms and their shared desire to communicate with nature.
SEE MORE: Frank Lloyd Wright's Masterpiece, Fallingwater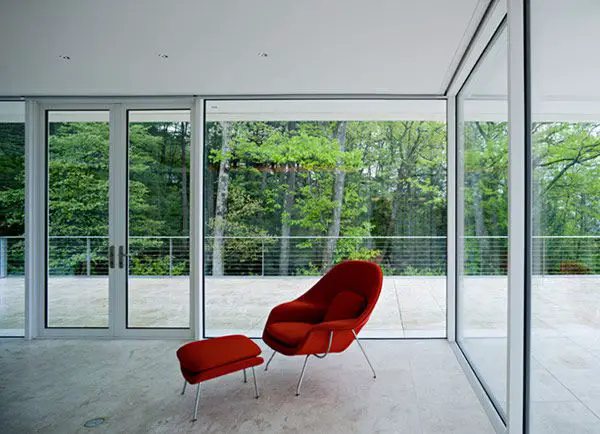 With the artworks occupying the house more often than the owners themselves, it is unsurprising that the modernist design seeks to elevate the art as well. A style of simplicity and honesty, Arte Povera is best presented in a modest and understated environment. This beautiful house has really captured the spirit of its principal occupants.
Photos via Campo Baeza