If  you follow me on Facebook, you probably know that few days ago I had a long weekend in London where, of course, I could not avoid to visit some thrifting place and mid-century design shop.
I was quite disappointed because only one of the shops that I wanted to visit was open, bad timing, but I spotted awesome places that I never saw before.
Of course, I'm gonna share them with you. 😉
Apparently I have a good mid-century karma because exactly in front of my place there was a small second-hand market with a couple of interesting things.
The ones that catch my attention overall, were these two upholstered chairs with stainless steel frame and leather armrests…I swear that I was really tempted to buy them! 50 pounds both…it was a real bargain!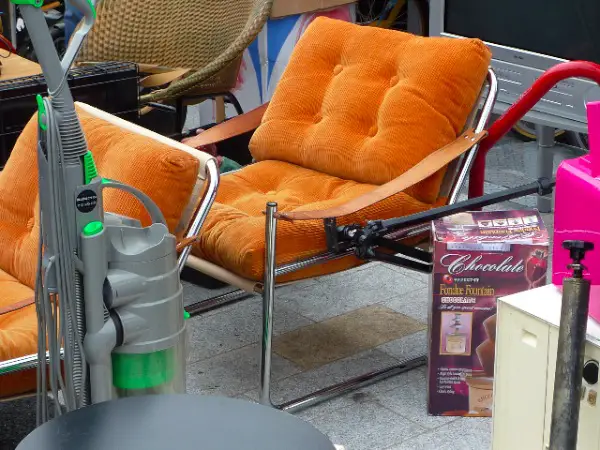 The same day I visited a very interesting museum that I definitely suggest you to check if you end up in London: the Geffry Museum.
It's about the British interior decor's evolution from the XVII century to the early 1990s, really cool!
Of course I took pics only of the mid-century part 😉
During those days, the re-edition of the famous 1951 Festival of Britain was taking place. The first edition of the Festival was organized by the British Government to improve the population's mood after the War's end.
Because the first edition was in 1951, there was a mid-century mood all around it. Inspiring…
The last day, despite the endless rain, I went to a really cool area in the East part of the city, not far from Liverpool Street: Brick Lane.
It used to be a Pakistan's workers area with social houses and a lot of industries all around. Today the industries become venues for vintage clothes markets, furniture etc. A real second-hand paradise.
I just bought this original Ad from the 1949, but there was much more to buy considering that prices were not high.
I  love London, I really do… 🙂
What do you think about London? Have you ever been there? Do you have any favorite spot? Let me know in the comments…I'm planning to go more often, so any advice is more than welcome.
Wait! One More Thing.
As always I want to remember you that to know even more about Mid-Century modern design, you can join the free weekly mailing list.
You will only  receive original content about mid-century that I don't publish on MCH.
Don't wait and join the mid-century enthusiasts community, now!
Of course you can find MCH also on Facebook and Twitter.
Thanks for reading and ciao!