This Mountain View Eichler house possesses a distinctly contemporary feel.
The most obvious sign of this is on the home's exterior. The wood panels surrounding the outside of the property have been given a distinctly natural stain. This is in clear contrast to the mid-century preoccupation with a highly-polished finish. The more "authentic" look is carried forth to the home's interior, where the ceiling is again completed with wood panels finished in a natural greyish brown.
The colour palette is also quite contemporary. There is an abundance of white shiny surfaces, in the kitchen, the shelves in the office and on the walls throughout the house. This is occasionally offset by touches of yellow and red, with the outdoor furniture, the front door, the curious balls of yarn (surely decorative) and even the none-too-innocently-placed peppers on the kitchen worktop.
All these touches seem right out of a classy contemporary design catalogue. So it may come as somewhat of a surprise to learn that it is in fact an Eichler Home, remodelled by San Francisco-based firm Klopf Architecture.
If you look carefully the cues of its origins become quite apparent. Amid these contemporary touches it's difficult to escape the fundamental basis of an Eichler layout. This is perhaps most obvious in the open plan living area, the central focus of which is the delightfully minimal brick fireplace. The design is a beautifully simple arrangement of two rectangles, one of which extends to outside to the roof.
Its mid-century base is also evident in the blurring between indoors and outdoors and the incredible amount of natural light flooding into the property. This is a really competent contemporary reworking of the original Eichler, showing that purity is not the only way to go.
Do you live in a mid-century or modernist-inspired contemporary house and want to be featured on Mid-Century Home? Contact us with some photos and a short description of your house at: info@midcenturyhome.com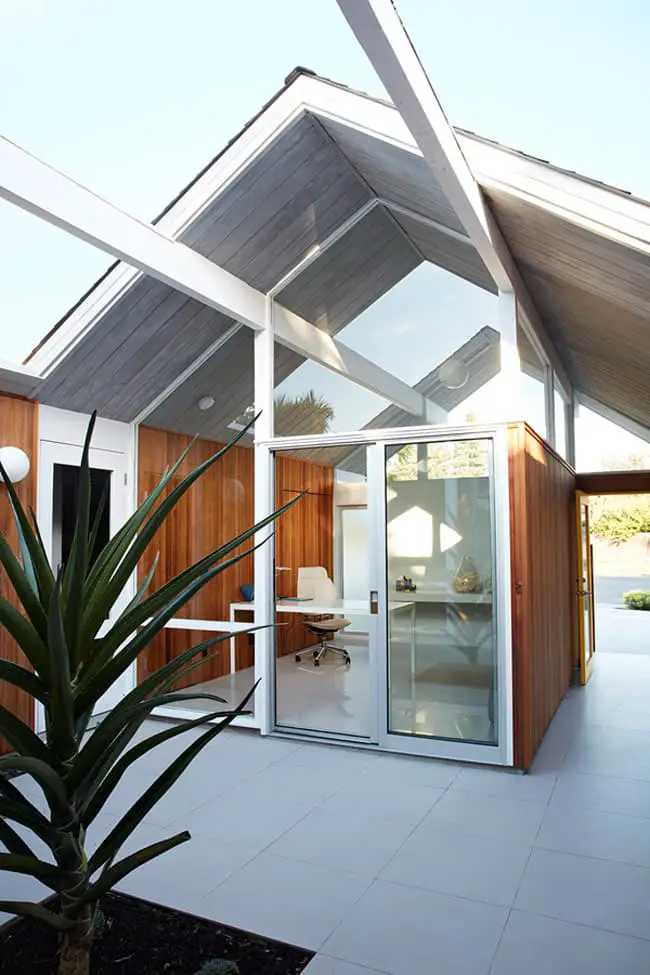 Photos via Klopf Architecture