This original 1963 home is a dreamy modern beachside retreat. Built by Brian Mazlin in 1963 and situated in Pearl Beach, New South Wales, Australia, it has lately undergone a restoration by design studio TFAD that has brought it even closer to the mid-century aesthetic than its original design intended.
As part of the restoration, new interiors were added to the home. Specifically, TFAD carried out a number of shrewd spatial rearrangements which have managed to open the house up while still remaining sympathetic to Mazlin's original vision.
This is best exemplified in the removal of dividing walls in the main living spaces and the replacement of small windows with larger, salvaged originals from the rear of the home. The result is an open plan utterly bathed in light.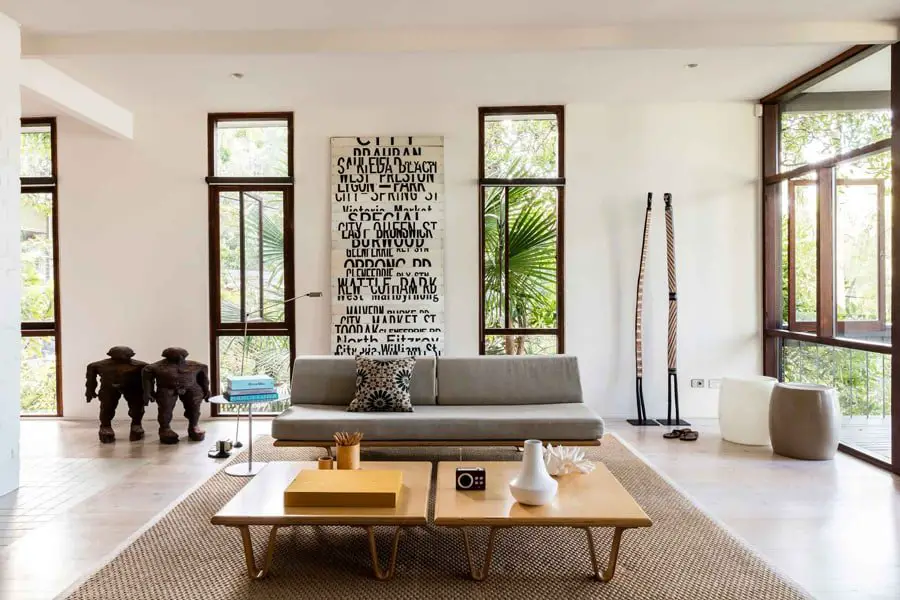 Speaking of the rear of the house, while the front now offers a wide panoramic view, the rear opens out onto steep tree-lined hillside. This arrangement creates the distinct feeling of the home being expertly engineered to perch on difficult terrain.
Such engineering recalls some of Richard Neutra's best-loved homes, for instance the Lovell House, or the Sten-Frenke House (recently-covered on this site).
Turning to the interior, the central, open-plan living area is brought together by a brick fireplace, given a clean whitewash that makes for a delightfully rustic centrepiece. The rustic tones proliferate from this central anchor, with wood furniture stained to enhance their natural beauty and pale browns offset by the odd touch of black.
Particularly pleasing in its simplicity is the wall of vertically-arranged wooden panels, whose tone subtly alternates so as to highlight the qualities of the individual pieces of wood. It's a masterclass in the value of working with good ingredients. Who needs decoration when the quality of the materials offers its own natural decoration?
SEE ALSO: 5 Mid-century Modern Houses With Great Wood Paneling
Photos via The Modern House
Do you live in a mid-century or modernist-inspired contemporary house and want to be featured on Mid-Century Home? Contact us: info@midcenturyhome.com