This is a beautifully executed modern house renovation of a 1950s Mayland ranch home, completed by David Jameson Architects in 2013.
And it is quite a sight to behold. Situated on the crest of a slope, the architects had to grapple with the challenges of a building located on a steep downward gradient in their modern design, which thus compromised options for outdoor leisure space. This was resolved by hollowing out a large portion of the second storey to create an outdoor living space, enabling you to catch a glimpse of the trees emerging from the slope on the other side. In the words of the architects, the building became 'a portal to the landscape.'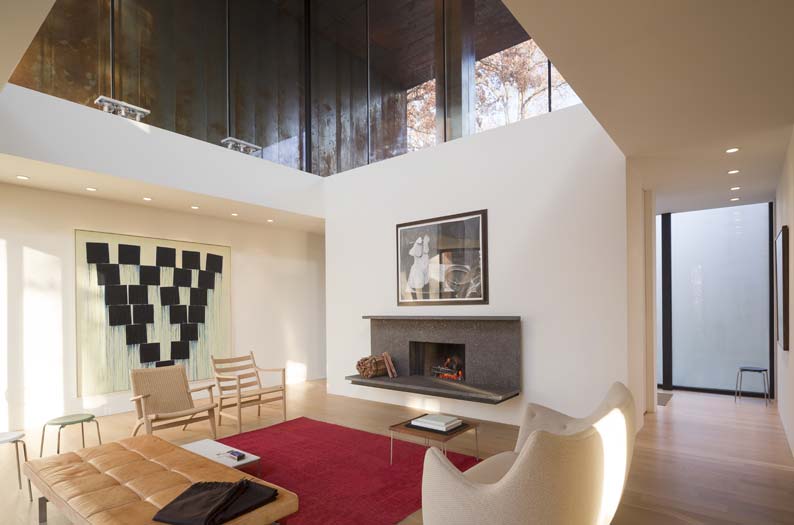 The building immediately caught our eye for its remarkable angular forms, defined at best by the monumental weathered steel frame encasing the whole structure. One of our favourite details is the cube resting on the first storey and housing part of its interior. It protrudes from the steel frame by a mere few inches, playfully interrupting the building's otherwise severe shape.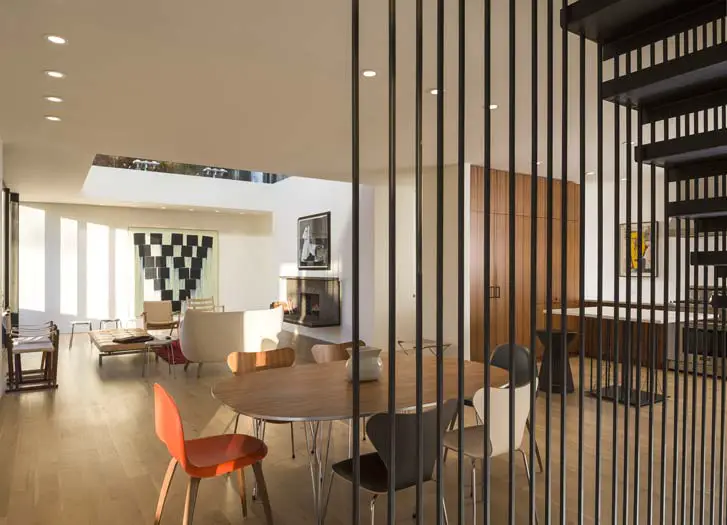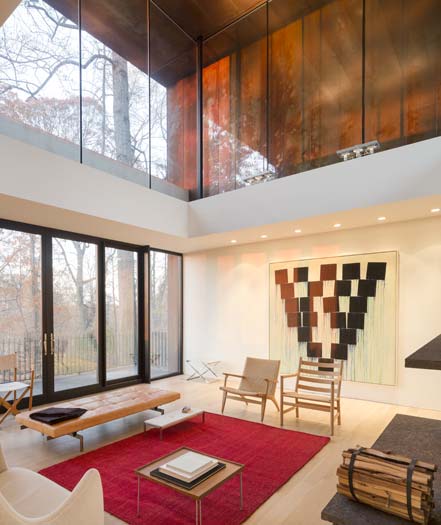 The architects were briefed to incorporate maintenance-free materials, and you can see they have applied this rule throughout the building. Their response was to primarily adopt weathered steel, shou sugi ban (burned wood siding), stucco and glass, which pair and contrast very well with the interior's chic style.
It is obvious as you enter the house that the owners have an eye for art and design. Striking modern art pieces line the walls and a range of high-end design chairs arranged throughout are immediately noticeable.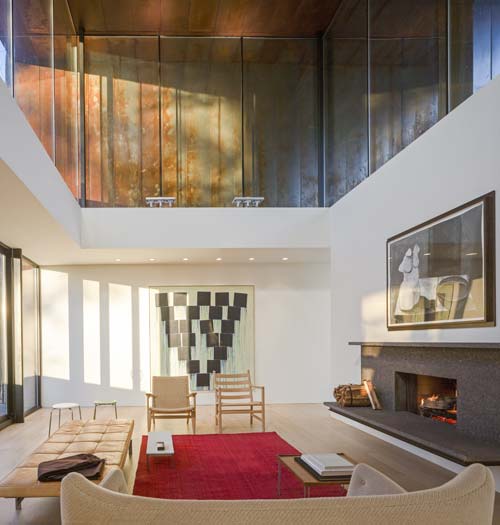 The open plan living room situated at the building's core, with more intimate spaces for sleeping, living, cooking and dining sectioned off in the adjacent rooms.
The staircase is especially worth drawing attention to. Each step protrudes from the wall and is attached to a series of slender floor-to-ceiling metal tubes, giving a distinct sensation of weightlessness, an experience which would have you practically floating up the stairs.
Overall, we love this building for its intelligent use of space and its tailored relationship to the surrounding landscape.