This midcentury inspired bungalow is the epitome of minimalism meets modernist. Located in Flinders Beach, a picturesque seaside town in the Mornington Peninsula of Victoria, this pavilion is an ideal starting point to explore the region's best offerings.
Exuding the cool vibe of Australia, the Flinders Beach Pavilion is made up of clean lines and linear masses. The little ornamentation that is present in the house are all carefully thought out additions that enriches its aesthetics.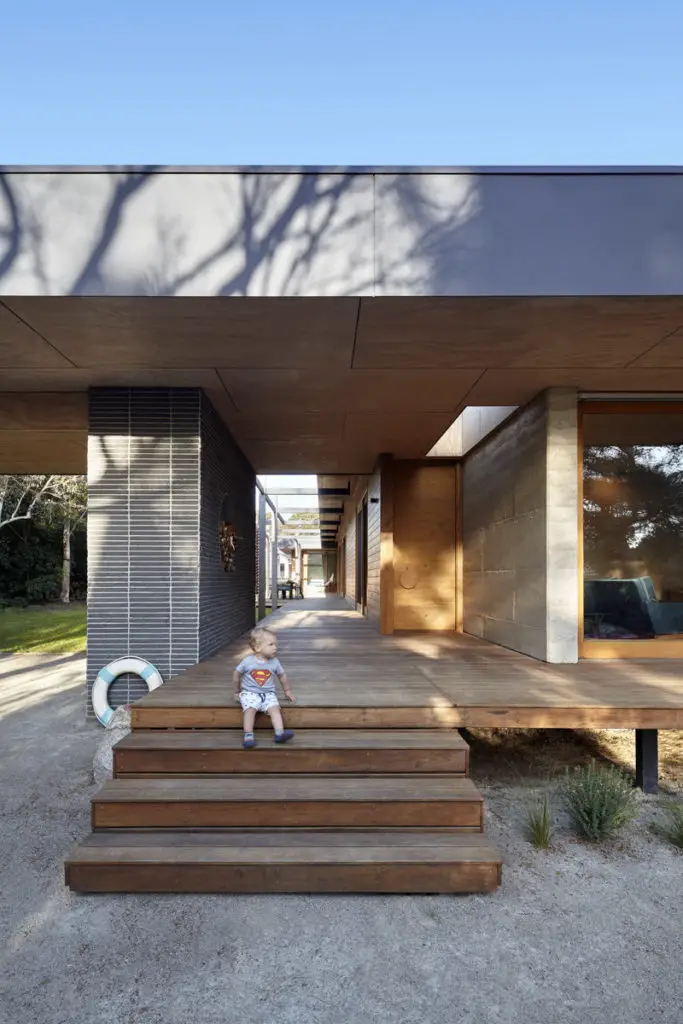 Thomas & Williams Architects, who are best known for their easy going personality and high level of design, created a team consisting of Stuart Williams, Andrew Bristow and Olivia Williams to conceptualize this beach bungalow. They were commissioned by retired colonel John Williams, who hoped to have a beach shack where his large family can spend time together.
With 3 children and their partners plus his nine grandchildren, Williams needed a spacious place to accommodate them during the holidays. Thomas & Williams Architects came to the rescue and began to draft ideas on how to transform the existing fibro shack to fulfill the needs of the Williams family. 
The existing shack was on rusty stilts and needed a complete overhaul. This concept was continued in the renovated house by extending thin columns to the elevation.
Wood is the main material and is present from the facade to the interior walls.
According to the architects, he wanted a "resilient, solid house with an open and happy vibe". As such, Thomas & Williams opted to avoid hollow materials such as plasterboard. Instead, they utilized solid timber, rammed earth, concrete and large format tiles to ensure that the Flinders Beach Shack is suited for the grandchildren's playtime. 
Completed in 2018, Flinders Beach Shack boasts a fluid circulation and an open space plan. The floor to ceiling sliding doors allow for visual and spatial connections between the inside and the outside.
The interiors feature earth tones – with wood and stone as the main materials.
The monochromatic kitchen serves to complement the brown hues of the wood. The living room features a fireplace and an expansive view of the outdoors, perfect for spending quality family time together while watching the kids from the inside of the home.
Across the house, there are a series of reading nooks that encourage relaxation.
Light wells in the bathrooms bring in an abundance of natural light and create a light and visually open space.
The effect of these thoughtful design decisions is a house that is not only low maintenance, but also eco-friendly and low cost. Thomas & Williams succeeds in delivering a house that can accommodate the family for years to come.