Modestly dubbed The Shed, this 3,634 square foot contemporary home design is glorious in all its features.
Gorgeous floor to ceiling black steel windows line up all along one side of the living room, some of which slide open to the L-shaped patio, which runs adjacent to the building's inner side. The patio is furnished with sunbed chairs for lounging and a spot for barbecuing is found on the shorter end of the outdoor area, which frames a long pool.
From the corner, a staircase leads up to another outdoor deck space. Here too, floor to ceiling windows create transparency as well as facilitate movement between inside and outside.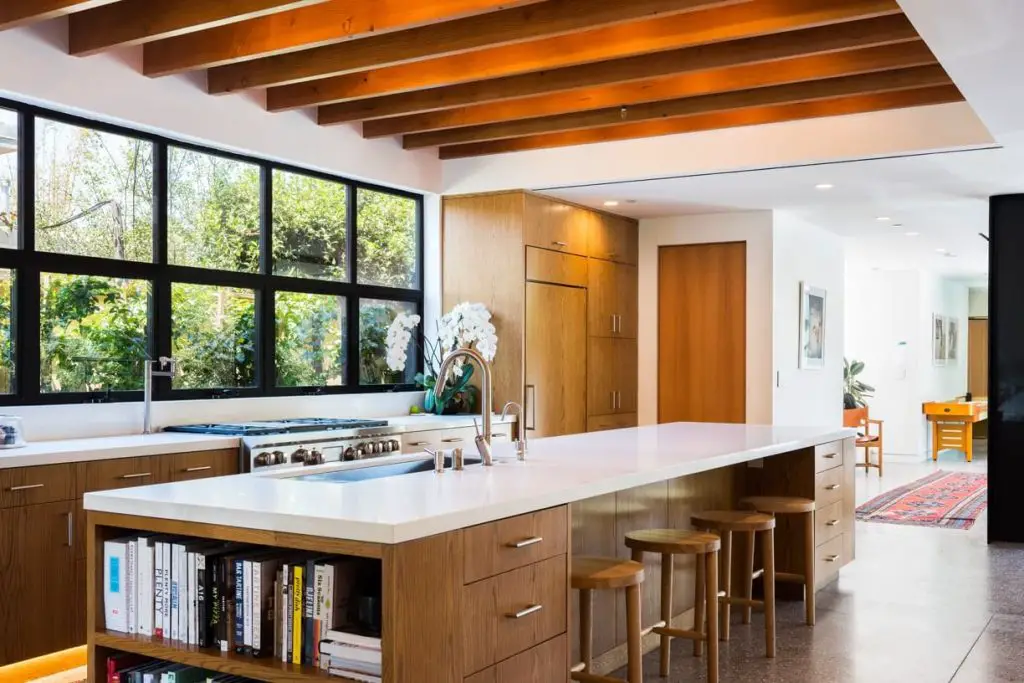 The Sheds exterior is a compelling sight, shifting between creamy white concrete and pitch black wood paneling with a hint of natural wood, which is rather discrete underneath the hanging roof.
The stark contrast between black and white gives the home an additional modern touch. The staircase leading to the upper patio as well as black steel frames on all windows accent the long stretch of light color that takes over the central part of the house.
Downstairs, the open plan living, dining and kitchen areas are in tune with the color palette of the home's exterior to varying degrees.
Inside, the color palette is in tune with that of the home's exterior. The walls and ceiling are crisp white, except for sunken wooden beams above the kitchen island and the living area. This functional element is also a decorative ingredient, lighting up the kitchen and living areas by spotlights hidden between the beams.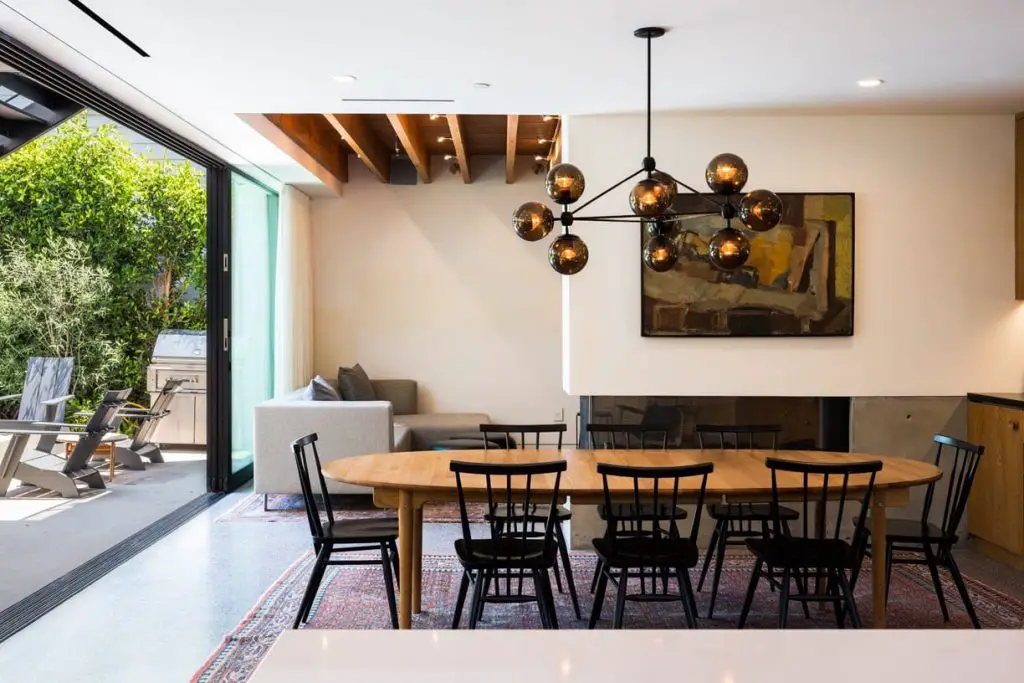 Wooden tones are more predominant inside than outside; in addition the beams, the kitchen table, cabinets, and the base underneath a white island top are all made of wood. Here too, the same black steel frames accent wooden and white hues. Black wooden chairs around the kitchen table boost the contrast.
Typical to midcentury modern style, geometric shapes reign throughout The Shade, inside and out. At the top of the staircase inside, a wall of wooden shelves is matched with a collection of tinted glass, both square and rectangular in shape, a few of which bear brighter colors from blue to orange and green.
Originally built in 1939, The Shed underwent extensive renovations, which came to completion in 2017. The three bedroom, two bath home was expanded and openness as well as the lightened up with skylights and floor to ceiling windows. In addition to the main building, an auxiliary building and detached two car garage are part of the package.