Jones House & Studio #1 blends beautifully into its environment. Built in 1939 by the great mid-century modern architect A. Quincy Jones and his then wife Ruth Schneider as their personal home, its location on the western slope of LA's Laurel Canyon really makes for a quite serene and subtle build, with some spectacular views of its surroundings.
The building achieves its camouflage primarily through its wooden external walls, which are stained in green, to match the greens of the slightly arid vegetation covering the hillside, meanwhile, the orange plaster walls also link nicely to the landscape's earthy tones.
Besides its ability to blend in, perhaps the most striking aspect of the house is its slight slant, which goes from the garage on the lower level to the first floor, all the way up to the vast upper floor, featuring those similarly vast floor-to-ceiling windows.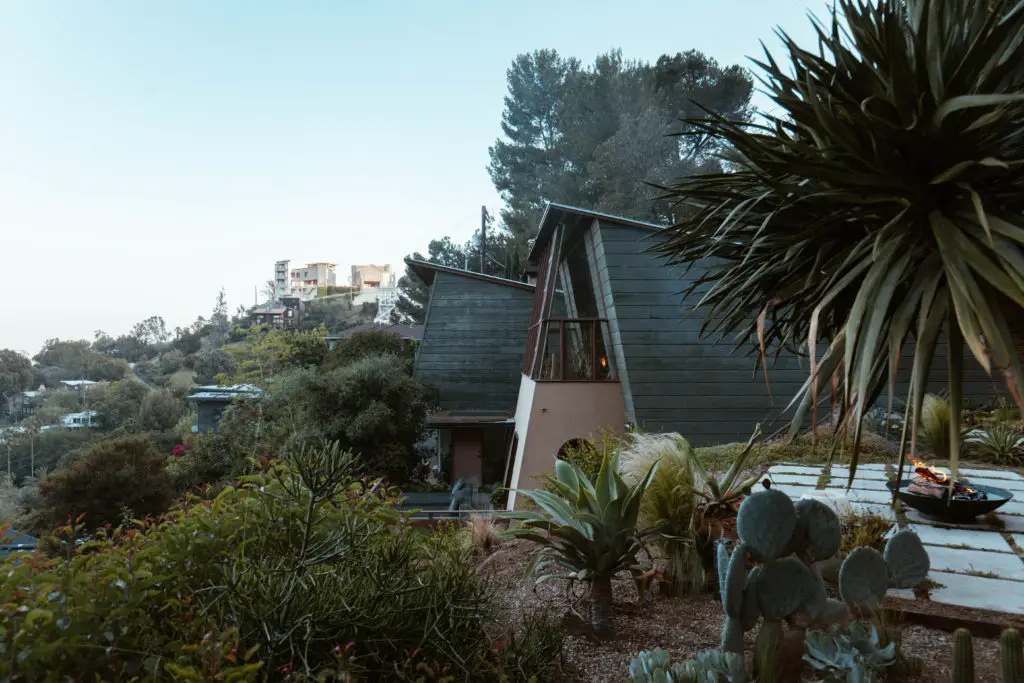 Such a slant, feels like another super subtle signal that the house is sensitive to its surroundings, resting on the hillside, reliant on it.

A closer look into the building's back story reveals another pleasing characteristic of the building, its inherent flexibility. Beginning life as a duplex, Jones decided to convert the building into a complete single-family house, with half of it used as his own design studio and office. Today, it has returned to being a duplex again.

This flexibility manifests itself most impressively in the living space, with a conspicuous absence of internal supporting walls, and no partitions, the space allows for all manner of functions.

A. Quincy Jones has been feature several times before on this website, most recently with the Lagoon House, designed in the middle years of his collaboration with Robert Eichler. In contrast to the mass-built Eichler's, it's nice to catch a glimpse of some of the architect's personal touches.