The use of contrasting materials as rope, painted and chrome-plated steel, sheepskin and a linen-covered cushion to design the Halyard Chair have not precedents in the mid century modern design.
Hans Wegner goal while designing this chair was not to prove the textural interplay of the materials used but his ability to create practical and innovative furniture in any other material than wood. The Halyard Chair project followed a Danish furniture design trend based on the careful modification of existing and timeless forms.
Wegner was already experimenting with the concept of chairs made from plywood shells and supported on metal frames. But no one knows why he later decided to move from a plywood seat project to a metal frame strung with rope.
A story tells that he conceived the Halyard Chair while on a beach: he is supposed to have shaped the grid-like chair in a sand dune probably using some old rope that were laying close to him. And, interestingly, a 'halyard' is a nautical term to describe a line which hoists or covers a sail.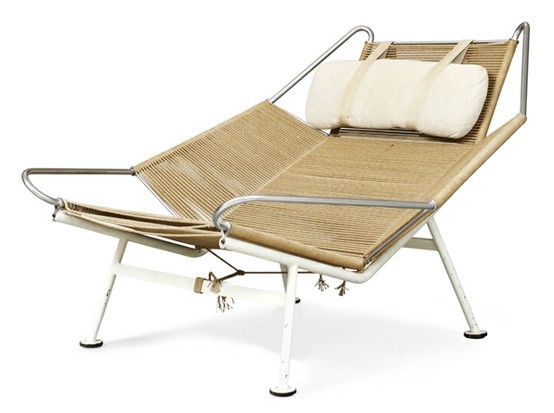 Despite the fact that the Halyard Chair has been often used to advertise Wegner's works, it has not been produced in large scale since the beginning. Actually, initially, it was produced in limited numbers as probably -at the time of production- it may have looked a bit eccentric and was not available for several years on the market. Only recently has been put back into production by PP Mobler.
Do you see yourself having a relaxing sunday afternoon on the Wegner Halyard Chair? Let me know in the comments!
Also don't forget to check the other iconic mid century modern furniture I already wrote about in the Mid Century Icons page!