After feeling compelled to preserve and restore the midcentury aesthetic in the area, the owners gave their home a thorough midcentury modern makeover. This one of a kind midcentury gem in the heart of Jacksonville is currently on the market! More details at the end of the article.
The home's original floor plan, courtyard layout and metal work revealed an impressive 1950s aesthetic. However, upon completion, the demands of a growing family called the need for further renovations, which were completed in three distinct phases.
The first renovation was conceptualized and executed by homeowner and architect, Debby Schiller. For the second renovation, Debby teamed up with her father, Bernie Rosen of Rosen and Associates in Montreal, to freshen up the midcentury home design. For the third and final renovation, Debby, Rosen and Associates as well as Studio 9 of Jacksonville pulled together to bring the last imperative phase to completion in 2014.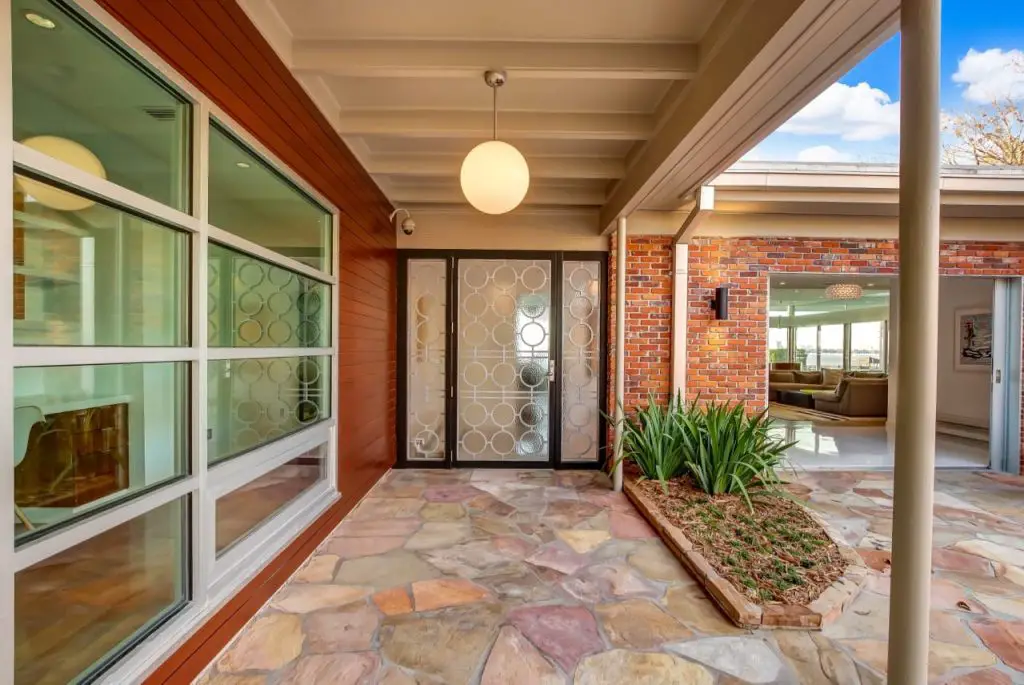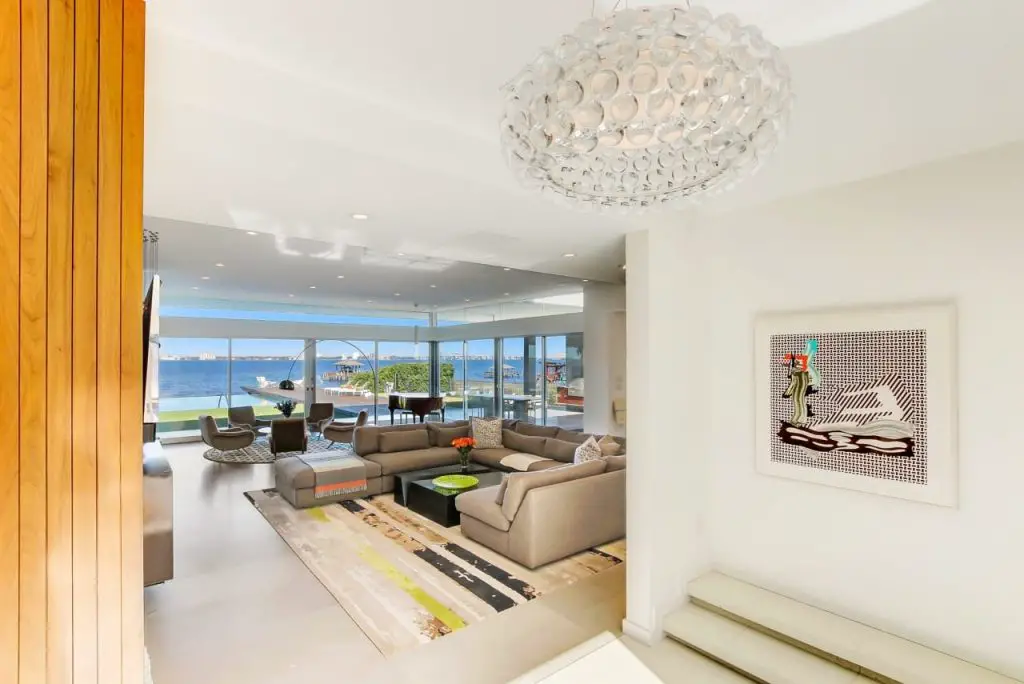 The number one driving force behind the project was to enable the inhabitants to fully experience the surrounding river views. Floor to ceiling walls and sliding glass doors throughout the homes various living spaces, make sure bounteous amounts of natural light flood in while catering stunning views of the surrounding landscape: fostering a sense of indoor and outdoor connection.
1955 brick is an integral part of the original building and overall, the midcentury modern home's color palette consists of light tones fused with natural elements of wood and stone.
Light marble flooring in the open plan kitchen and living spaces is gently complemented by wooden cabinets and bar stools. Wooden paneling gives the living room more midcentury aesthetic while showing the simple beauty good quality materials carry out.
Splashes of color within artworks spread about the interior brighten up and further enhance the homes personality.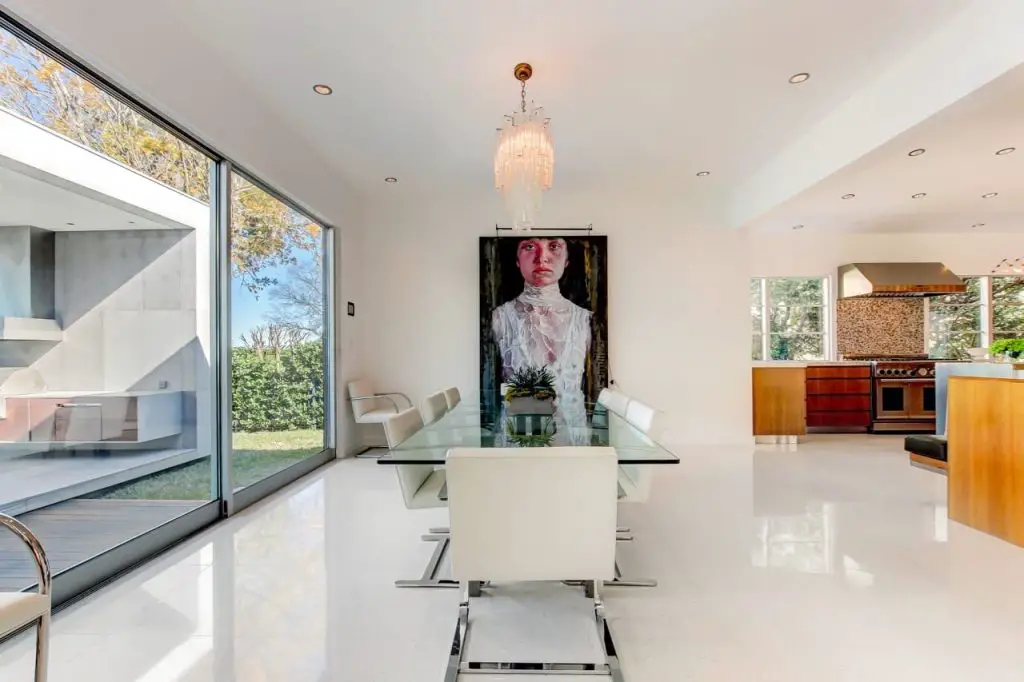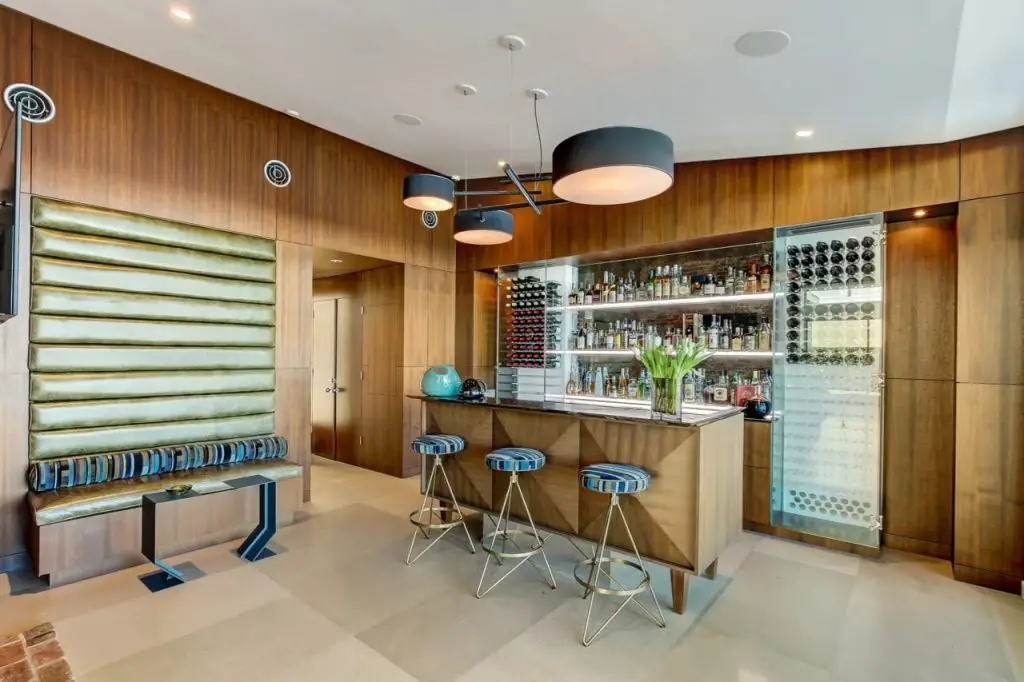 Mirroring the entryway gate, the homes front entrance is a show stopper. The dramatic glass door is framed by black metal and reveals a stylized white aluminum pattern of circles, providing the entrance with a dignified extra touch.
Circles are a repeated decoration throughout the property; concrete circles are evenly embedded into the pathway leading up to the homes entrance, marking entryway to each of the four garages.
From the seller:
"Unique features include a guest apartment, 4-car garage, a three-story athletic facility with an underground squash court, locker room and gym, and a separate pool house with bathroom, storage and entertainment sun deck overlooking the river."
For sale enquires, click here.
For more info on the listing, click here.
House Specifications:
5 Bed | 6 Baths | 4 Car Garage | Athletic Facility
Land Size: ~ 1 Acre | SqFt: 8240
Riverfront | Jacksonville Florida
Price: $6,995,000