For his design for the Caso Do Patio, architect Leo Romano has balanced features carefully throughout the house to create a wonderful sense of movement and play. Located in Goiania, Brazil, and finished in November 2013, it follows a mid-century design updated with numerous classy modern touches.
Following this site's coverage of Toshiko Mori's renovation of Marcel Breuer's New Canaan house, with its dynamic window-lined passageways, it appears movement is quite a theme lately. In this regard, the first thing that stands out about this building is its abstract triangle patterned trellis.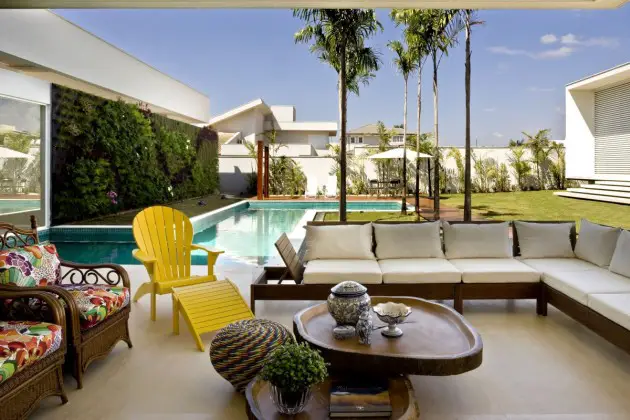 Counterbalancing the stark, plain white wall on the other side of the entrance, the trellis sets the tone for the rest of the house with its similarly dynamic feel, created through a deceptively simple form and its irregular triangular spaces making for a seemingly chaotic appearance.
READ ALSO: A Mid-Century, White, Palm Springs Oasis
The furniture also adds to the general feeling of movement in the house, with multiple sliding doors, patterns on the rugs and fridge, and in the dining chair, which change from rectangular to a swan-like appearance depending on the perspective.
Also notable, is the jumping ballerina on the TV, another playful hint from the architect that the emphasis is on both movement but also elegance.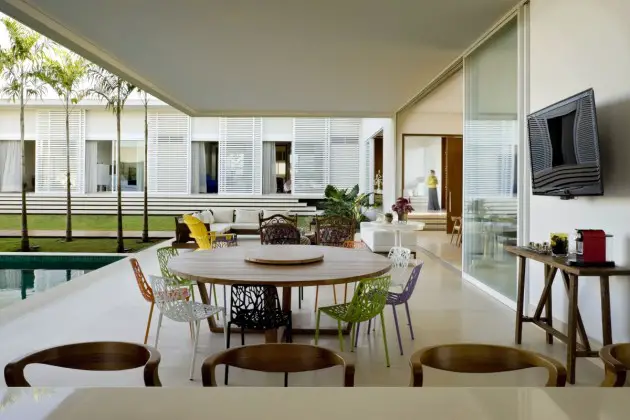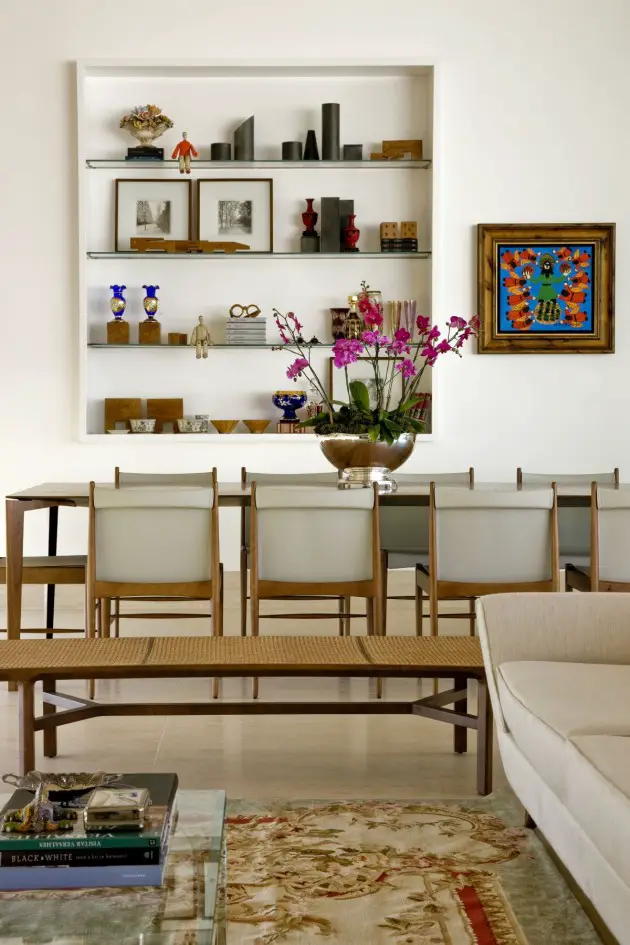 Such elegance, is also emphasised in Romano's use of thin lines, which are particularly pronounced in the enclosed garden. The main structure, the steps, the door frames and the window shutters all comprise these delicate lines. Even the trees, with their wispy forms, reflect this.
ALSO READ: Case Study Apartments No.1. Good Design, Affordable Price
Yet these elegant qualities do not come at the expense of durability, which is evidently ensured by the formidable central structure and solid inner furnishings, all of which allow the more subtle and playful elements to shine through without the composition coming across as flimsy.
Do you live in a mid-century or modernist-inspired contemporary house and want to be featured on Mid-Century Home? Contact us with some photos and a short description of your house at: info@midcenturyhome.com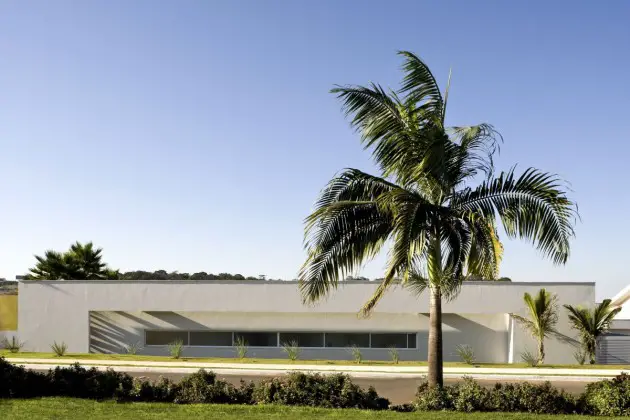 Photos via Architect Leo Romano
[/vc_column_text][/vc_column][/vc_row]