The Casa en el Valle is a modern house highly influenced by the Californian mid-century style: a real thing of beauty. Resting in solitude in the Valley of Guadalupe, Baja California, Mexico, its simple form makes it a wonderful subject to photograph.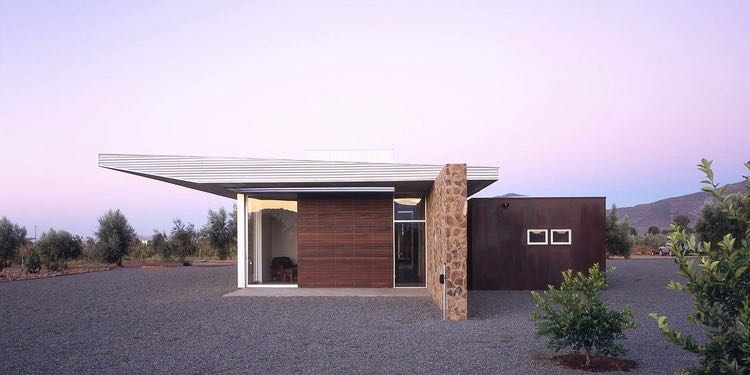 The photos lend a somewhat ghostly intensity to the house, helped by its lonely presence in the middle of the desert surrounded only by mountains, dirt roads, vineyards and olive trees: the valley is famous for its wine production.
ALSO READ: Donald Wexler's home still shines in Palm Springs
The house itself also deserves some description, if only to underline the exceptional simplicity of its form. A simple flat corrugated steel roof extends across the length of the house. Meanwhile, one of the principal stone walls supporting the roof similarly runs the whole length (54m to be exact).
READ ALSO: E. Stewart Williams' Edris House, Grows Out Of The Ground
With the rooms taking shape around this central axis, such an impressive wall is able to feature in both the exterior and interior of the house, thereby underlining the blurred boundaries between indoors and outdoors.
Besides its structure, perhaps one of the most pleasing aspects of this house is that it's impossible to tell where the entrance is. Begging the question, does there even need to be one in a house so exposed to the outdoors?