Mr. Roberts is the owner of one of the most beautiful Mid-century desert houses that we have ever seen: the Edris House designed by architect E. Stewart Williams. Buying it was a dream come true. Watch the interview above or read the transcription below. Enjoy!
Interview transcription:
Probably my favorite feature of the (Edris) House is something that as you move through the house, you notice but you don't really focus on, and that's the fact that the windows go all the way up into the ceiling. It makes the house feel much bigger than it is.
So the fact that the windows go to the floor and all the way up into the ceiling with no break is probably my favorite feature. In order to do that, he (architect E. Stewart Williams) had to do something pretty tricky structurally: the whole roof is held up on its own.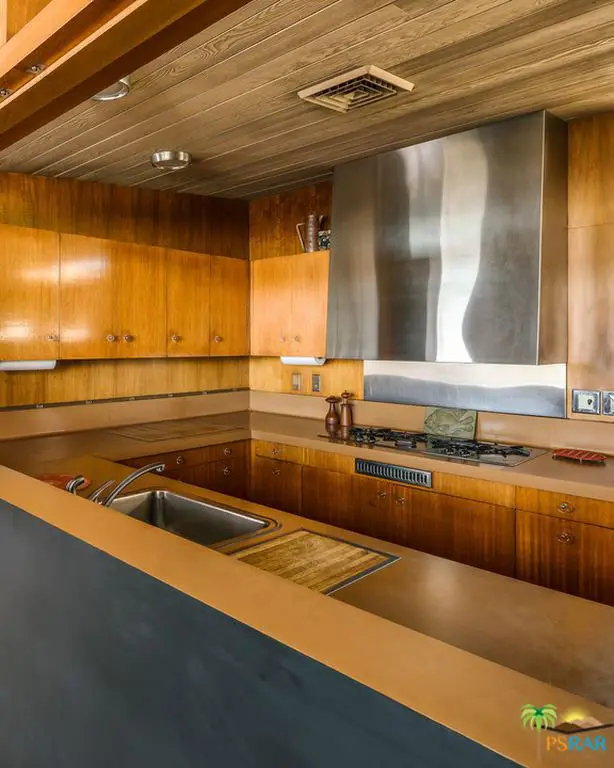 All the walls and windows could be pushed away, but all of these brown things that look like wood are really steel posts and they're holding up the whole roof.
The (Edris) house was built between 1953 and 1954. It was built for Margarie and William Edris, who were very good friends of (architect) E. Stewart Williams who, of course, is a famous architect or what I like to call one of the pioneer architects here in Palm Springs.
The house that you're seeing is exactly what he designed for them originally. Every color, every finish, every knob, every lighting fixture is all original. And the only thing that's changed is my furniture.
Stewart was quoted as saying about this house, that it was important for this house to look as if it grew out of the ground, rather than falling out of the sky. I think he nailed it. I think of any homes I know, this house literally looks like it's growing out of the ground.
People come here and comment, 'my god, I didn't even necessarily see the house from the road because it was so much a part of the land and part of the rocks'. That was his goal.
When I bought the (Edris) House I decided that I would commit to sharing it. So from museums and schools and things like that, I wanted to share it. And one of the reasons why, besides it just being a cool house and I felt lucky to own it, was that people very often when they think of modern or Mid-century Modern, they think cold.
I think this house is a perfect example of a modern house that's truly modern. It's very warm and inviting. Most of the people that come up here they might not even understand modern design, but can see themselves living in a house like this just because it's warm because all the wood and all the warmth. Although it's got hard surfaces, it's still very warm.