Text by Nakhshab Development & Design
San Diego-based Nakhshab Development & Design, Inc. (NDD) has completed Athina House, a modern and minimal, splendid-yet-serene, 3800 SF single-family residence in San Diego, CA's North County just 11 months after breaking ground, and in the midst of a pandemic.
Nestled amongst horse stables and a hillside of chateaus on a 3.7-acre site by the sea, Athina's presence is oasis-like; softly veiled by an outer façade of drought-tolerant plants and trees, its clean lines have a discreet presence that interacts well with the more traditional neighboring properties.
Grout-free natural stone walls surround and flow into the residence, furthering the merger of the home with its coastal landscape while providing the client's desired level of privacy. "The primary concept of the home is its relationship with its environs," explains Soheil Nakhshab, CEO of NDD. "Not only have we surrounded the site with nature, but we've inserted pockets of nature into the structure itself."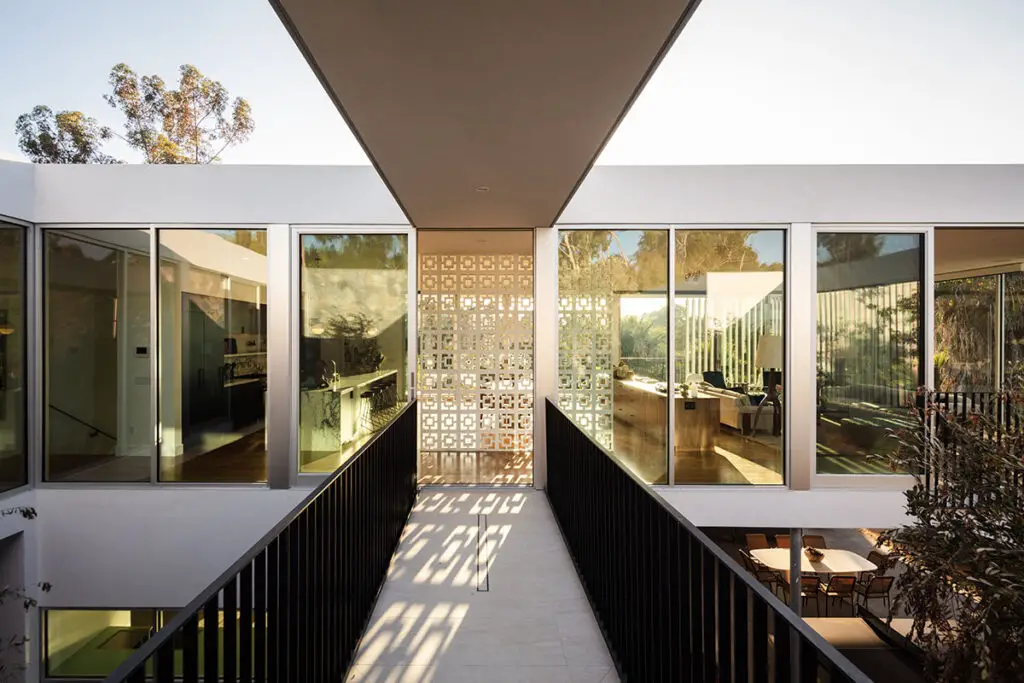 Any boundaries between Athina's indoor and outdoor aspects are brilliantly blurred. The flow of its open space—yet not fully open and not fully compartmentalized—allow for a simultaneous sense of vastness, intimacy, and tranquility. 
With plans for the property entailing the new resience, garage and carport, outdoor entertaining space, a guest house, chicken coop, horse corrals and stables, Nakhshab opted to tuck the home into a sloped corner of the lot using structural steel columns, creating the sense of an ethereal floating treehouse overlooking a sprawling private patio below. 
Floor to ceiling windows dressed in custom vertical airfoil blades provide private and expansive views of a massive interior courtyard, existing pond, liage-laden grounds, and those spectacular Pacific sunsets.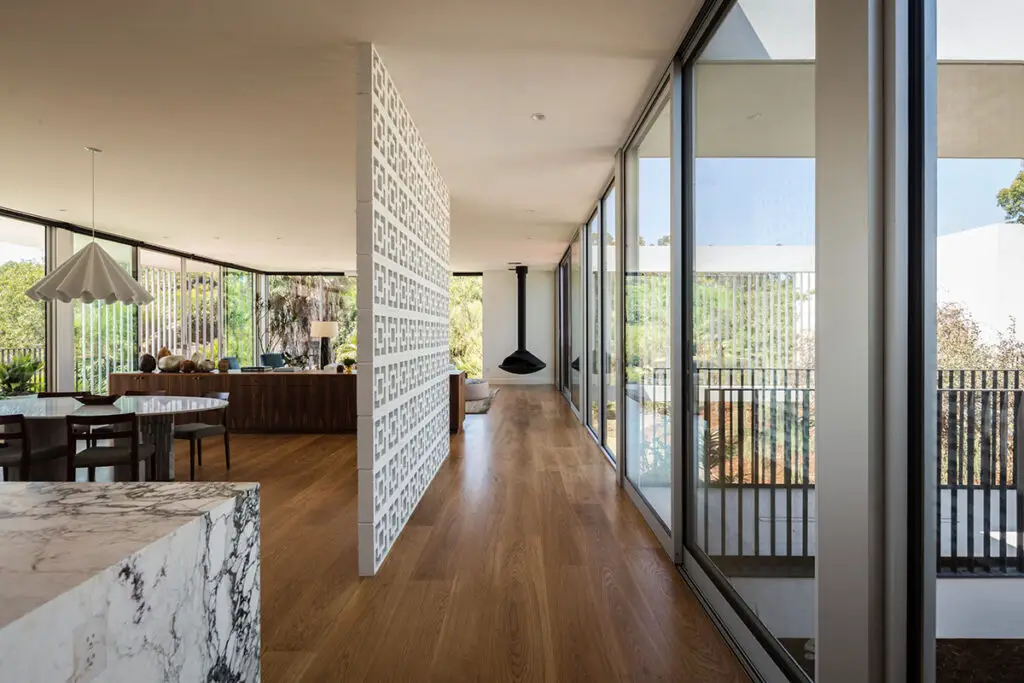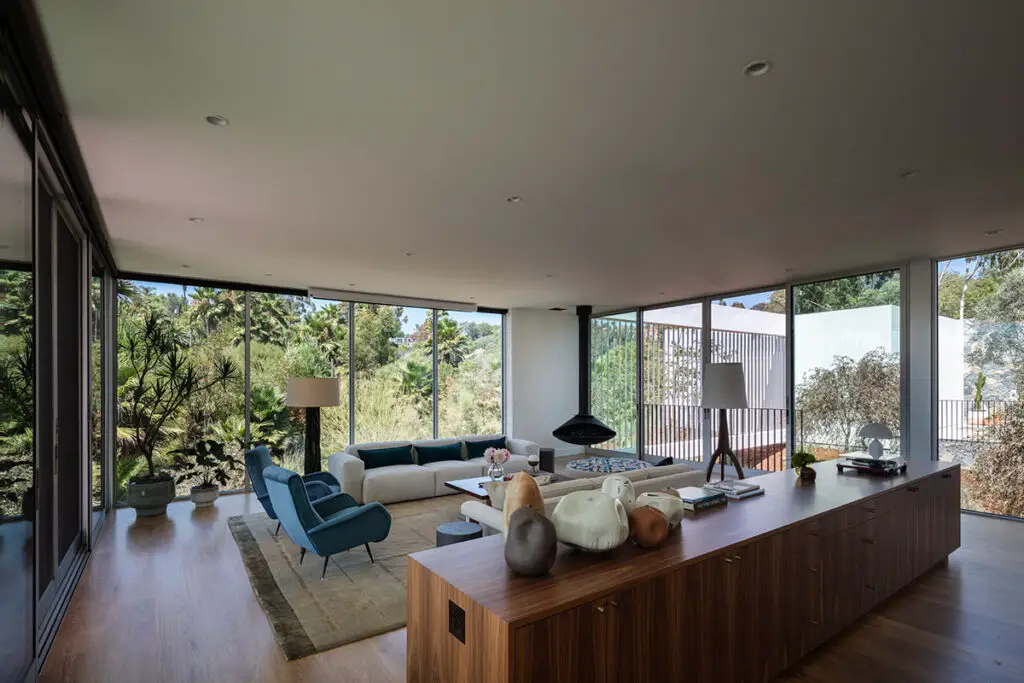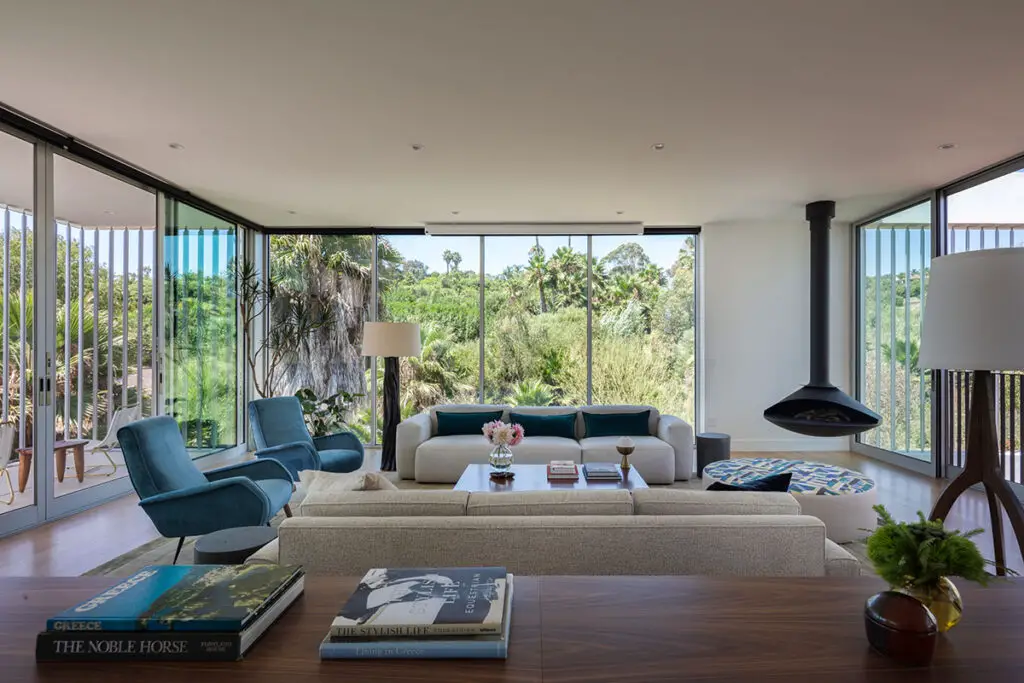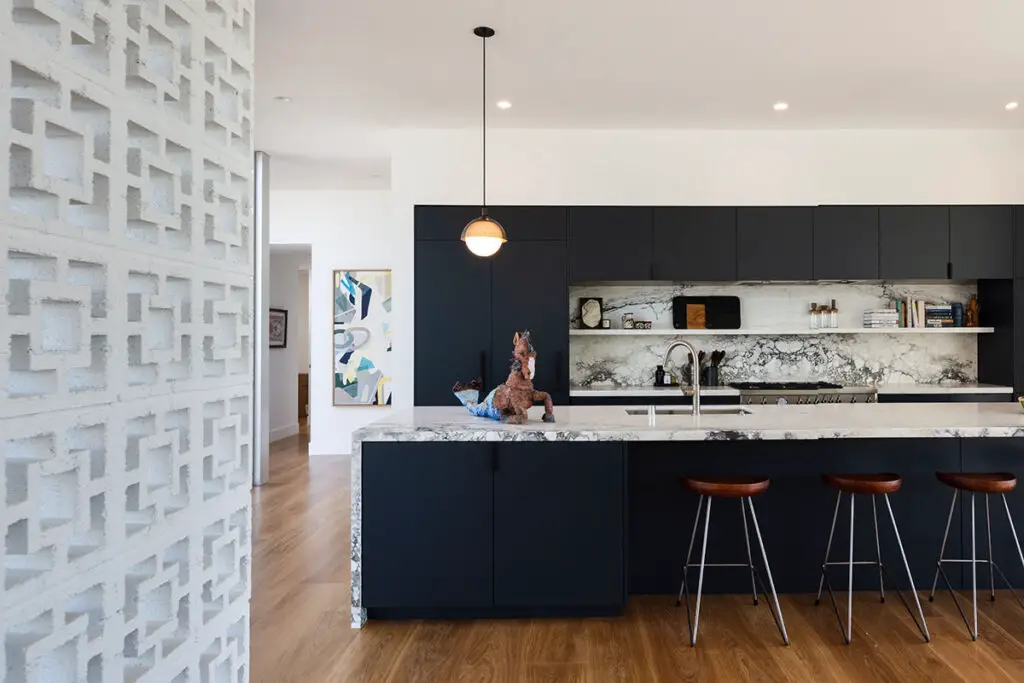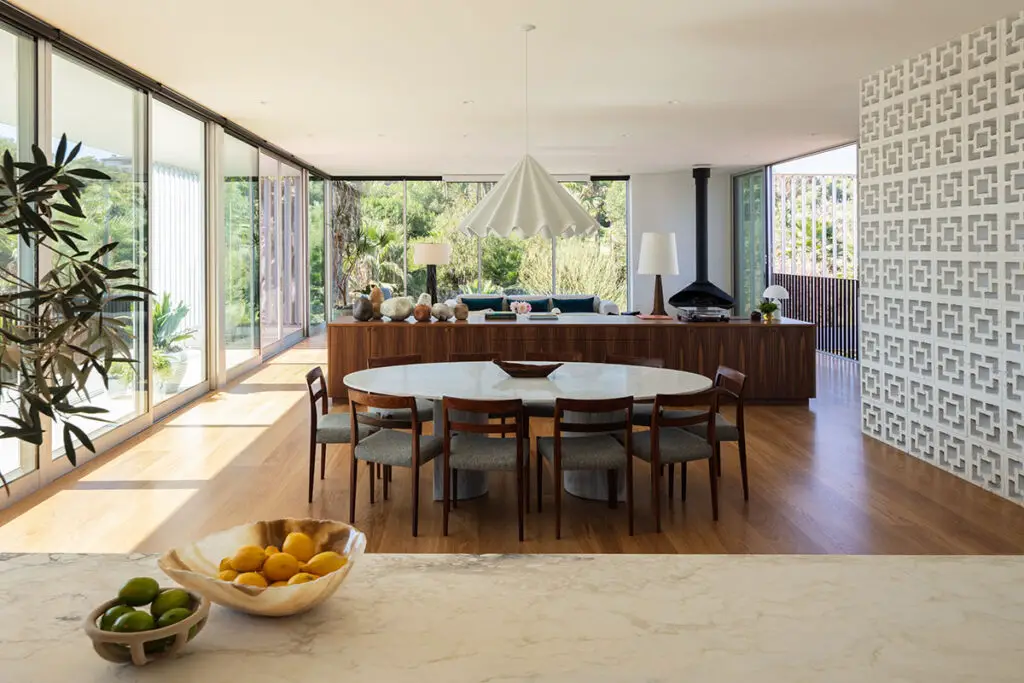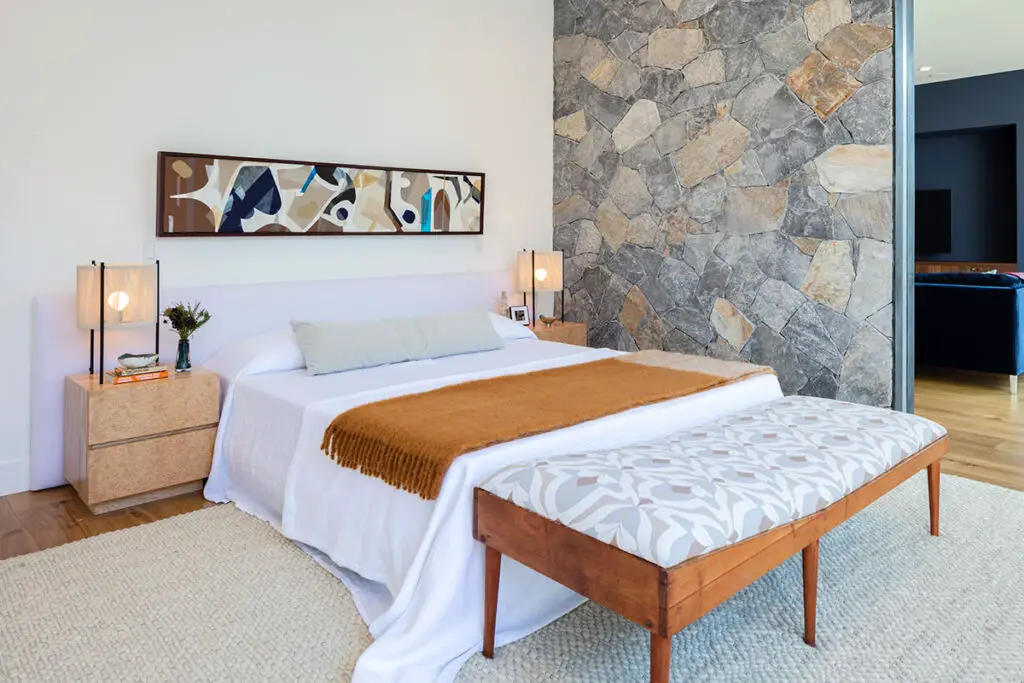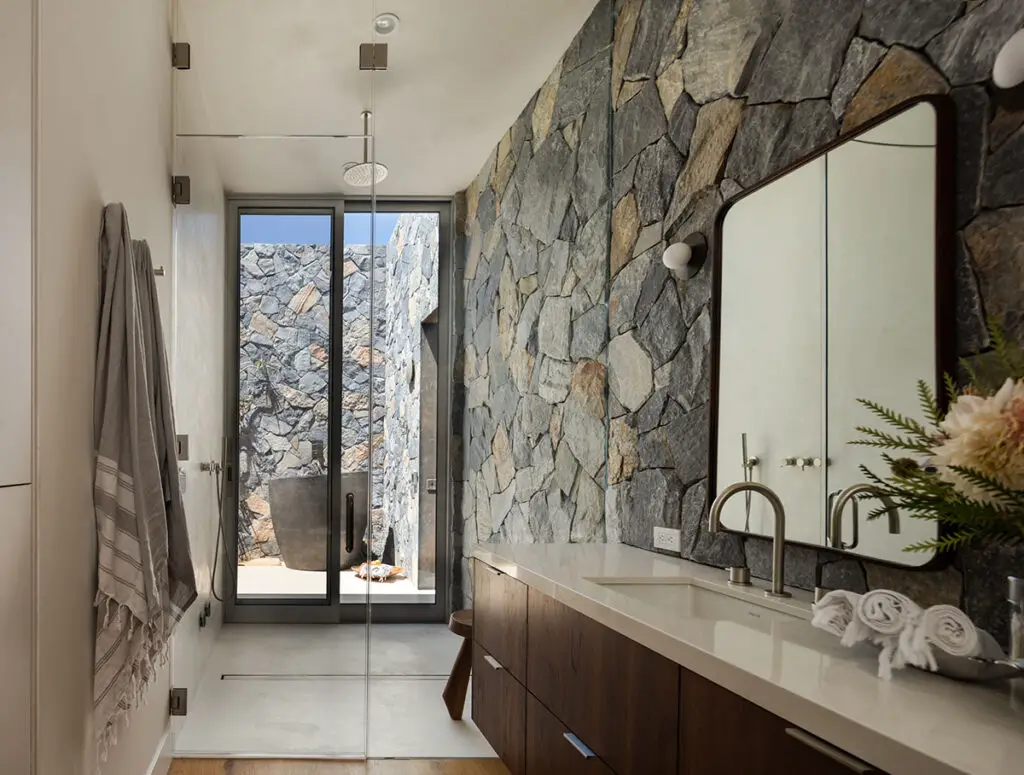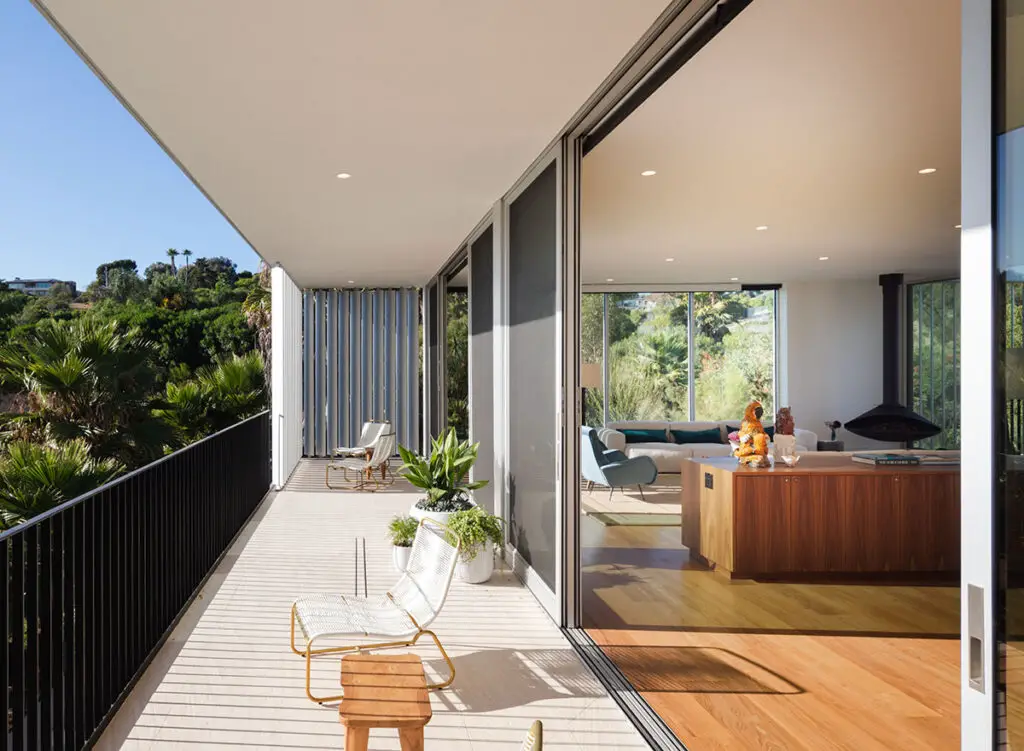 Athina is replete with organic materials and meticulously crafted minimalistic details; a big, beautiful breezeblock partition, sleek cantilevered staircases, custom steelwork, and built-in walnut furniture and storage all accentuate the home's quiet elegance. Kitchen surfaces of Italian Breccia Capraia marble are framed in custom cabinetry, providing a luscious canvas for culinary exploration and dining.
The quintessential master-builder, Nakhshab served as Athina's architect, landscape architect, engineer, builder, interior designer, and furniture-maker. NDD's comprehensive approach provides a streamlined and personal experience for the client, ultimate control and malleability of the design and construction throughout the project, and an especially efficient navigation of permitting and construction guidelines, which enabled the fast-track completion of the home.
The result is an elegant and cohesive project from beginning to end, where a clear, distinctive vision translates across the architectural and landscape designs to the finishes and furnishings.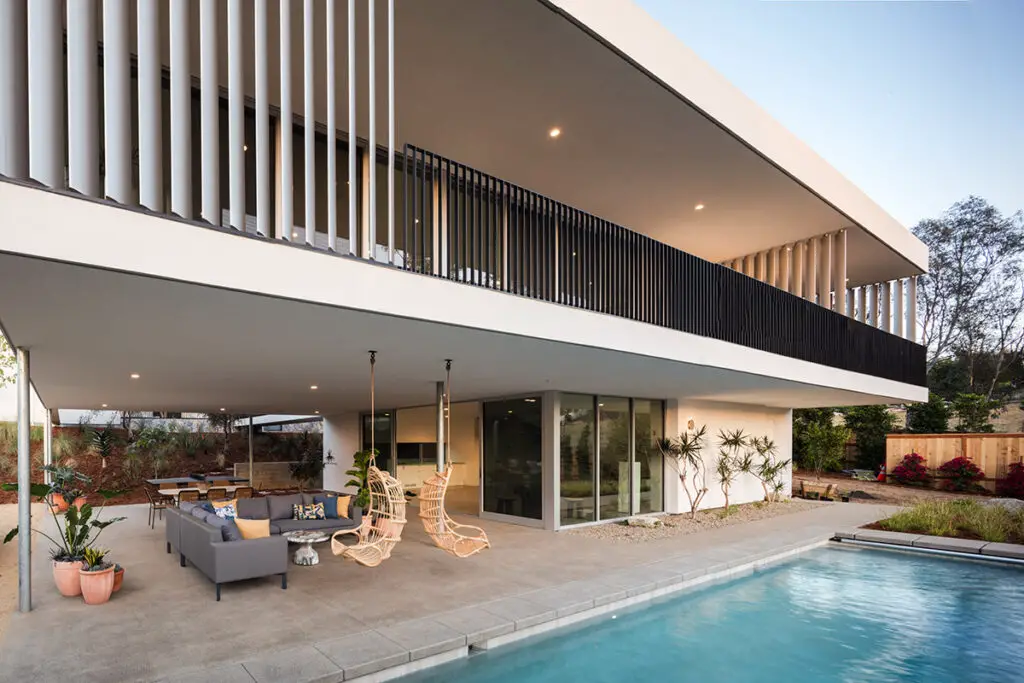 Photos by Darren Bradley